The Democrats' Worst Race
Despite thriving in Montana recently, the party has failed to find a viable Senate candidate with just three months left before the election.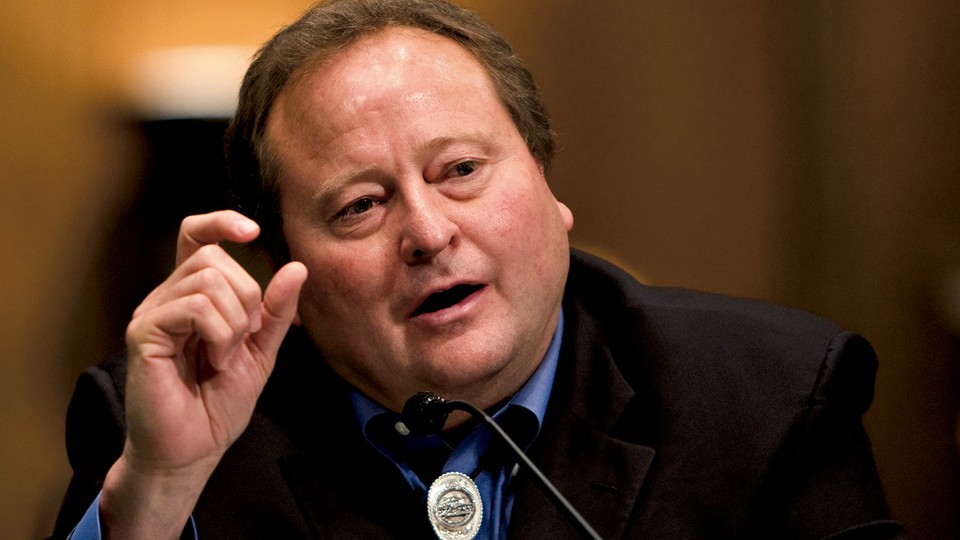 Sen. John Walsh's decision Thursday to prematurely end his campaign for a full term in the Senate caps an 18-month tumble for Democrats in the Montana contest. The party has been forced to discard — depending on whom you count — up to three different candidates and watched its chances of retaining the red-state seat drop from likely victory to nearly inevitable defeat.
It's hard to remember than when the political cycle began, most Democrats pegged longtime Sen. Max Baucus as a relatively safe bet to win reelection. Of the seven red-state seats the party must defend this year, Montana's was considered the least likely to flip.
But Baucus's unexpected decision to retire, announced in April of last year, flipped the race on its head and touched off a still-ongoing scramble to find a replacement. The process has been a disastrous one for the Democratic Party, and left it in the unenviable position of effectively launching the campaign of a new candidate just three months before November's election.
The Democrats had one Hail Mary pass in former Gov. Brian Schweitzer, whose name ID could would have made him the only truly viable candidate in the race. But after Schweitzer declined to run last summer, most took it as a sign he was worried about the dirt Republicans had on him. Not to mention that controversy of late has damaged his reputation as a serious politician. Hours after Walsh's decision, Schweitzer announced he would not be running for the seat.
With or without him, the party is in serious danger of losing a seat it has held for more than 100 years and giving Republicans a key boost in their efforts to retake the Senate majority. And Democrats — who are nonetheless considering a host of possible replacements for Walsh — are left to ponder how they squandered a race once leaning in their favor.
It's an unusual spot for Montana Democrats, who unlike many of their red-state counterparts have a strong recent record of victories. Sen. Jon Tester won reelection in 2012 alongside Democratic Gov. Steve Bullock (Walsh was his running mate). Baucus had served since 1979 while winning most of his elections with ease, and the state had even spawned an unusually strong class of Democratic operatives, like former Obama campaign manager Jim Messina.
Instead, it's Republicans who are doing the gloating.
"[Rep.] Steve Daines is one of the strongest Senate candidates in the country, was in the process of defeating Senator Walsh, and will defeat whichever Band-Aid candidate Democrats can persuade to get in the race," Brad Dayspring, spokesman for the National Republican Senatorial Committee, said in a statement Thursday.
No Senate race has undergone as many transformations in the last year-and-a-half than the Montana contest. Since Baucus's announcement, Democrats have penciled in the popular former governor, Schweitzer, to take his place; settled on then-Lt. Gov. Walsh when Schweitzer unexpectedly bailed on a bid; then celebrated when Baucus (again unexpectedly) became the U.S. ambassador to China, which let Walsh take his seat in the Senate.
But then the newly christened senator, already an underdog in his race against the GOP's Daines, was dealt a campaign-ending blow when The New York Times reported last month that he had blatantly plagiarized a thesis he wrote at the Army War College. That led to his decision Wednesday to drop out, and left Democrats looking for a new candidate yet again.
The Democrats' history of success in Montana explained why Democrats were initially confident about the chances of Baucus and later Schweitzer, and why some held out hope that Walsh could make a late charge in the race. There was some limited evidence he was doing just that last month, before the Times story broke. But the plagiarism scandal brought harsh rebukes from some of the state's largest newspapers, which called on him to end his Senate campaign.
The criticism was also starting to seep into some of the senator's Democratic allies.
"I'm troubled by the proposition that I need to support a candidate who's a Democrat who has severe deficiencies in his judgment like that," Democratic state Sen. Dave Wanzenried told National Journal before Walsh dropped out the race.
Whomever Democrats nominate to replace Walsh, they face an unusual, and uphill, task in pulling together a statewide campaign in such a short time. It's a daunting prospect, and one that could scare away otherwise credible nominees — especially given Walsh's struggle to make the race competitive even before the plagiarism scandal.
Democrats aren't deterred, but they are realistic.
"We only have 90 days to get this campaign put together," said John Bohlinger, a former lieutenant governor who finished a distant second to Walsh in the party's primary this year. "It would be a scramble, but it could be done."
Bohlinger himself said he would be interested in accepting the party's nomination, but only on the condition that it guarantee he would have enough money and staffers to run a competitive race.
Update: This story has been updated to reflect Brian Schweitzer's decision not to run in Montana.