Rick Perry and Other Republicans Are Loving an Obama-backed Green Car Company
Green loans are a GOP target during campaign season, but job-producing projects of any color are hard for governors to turn down.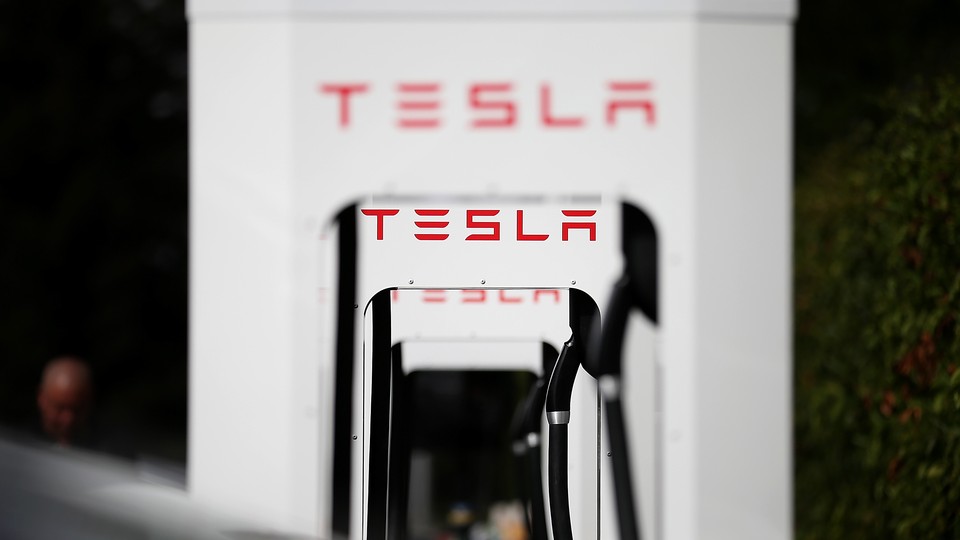 Presidential candidate Rick Perry wanted to shut down the Energy Department. Texas Gov. Rick Perry is scrambling to bring an Energy Department-backed car company's jobs to his state.
Perry is not alone: Perry's one of several conservative Republican governors battling to win favor with an unlikely partner: Tesla Motors, the California electric-car company that has drawn attacks from Sarah Palin and Mitt Romney.
Arizona's Jan Brewer, New Mexico's Susana Martinez, and Nevada's Brian Sandoval are competing to lure Tesla's planned multibillion-dollar battery plant, called the Gigafactory, to their states. Jerry Brown, California's Democratic governor, wants the project — which is expected to create thousands of jobs — built at home.
Nevada is the front-runner. Tesla broke ground in June on a site outside Reno, but the company insists the other states are still in the running. Tesla told shareholders on July 31 that a final call will depend on factors including "agreement on the relevant incentives." CEO Elon Musk told financial analysts that he expects the state that wins the competition to put up about 10 percent of the estimated $4 billion to $5 billion the project will cost.
The GOP courtship of Tesla underscores Republicans' difficulty with federal alternative-energy supports: spending on green technology is a great small-government talking point when it fails, but the economic goodies that successful spending produces are tough to turn down.
During the 2011 GOP White House primary season, campaign Perry railed against government "picking winners and losers" in energy markets and bashed the Obama administration over the collapse of the Energy Department-backed solar-panel manufacturer Solyndra. (Although Perry's campaign, in 2011, also said he didn't consider loan guarantees to be subsidies in a Washington Post story about Perry supporting federal support for a proposed nuclear project in Texas.)
But Solyndra proved to be among the exceptions, as the Energy Department's overall loan profile has succeeded at a high rate despite a few misfires. Tesla is among the the success stories: The company received a $465 million Energy Department loan in 2010 to help finance the California factory for its Model S electric sedan, then repaid the loan in 2013 — nine years early.
Perry, who is weighing another White House bid, works aggressively to lure companies to his state. In June, Perry even drove around California's state capitol of Sacramento in a Tesla Model S, emerging to speak with reporters in sunglasses that, as BuzzFeed put it, "look like they're from the Matrix."
But his futuristic look isn't far removed from the recent political past.
In recent years, a slew of Republicans with national stature have attacked Solyndra and other flops, and the Energy Department's green-technology loan programs more broadly.
The competition to woo Tesla, despite the criticism of the program that helped spawn it, recalls the congressional probes of Solyndra. GOP led House committees aggressively investigated Solyndra and the loan program more broadly.
But program supporters fought back by circulating letters these same lawmakers — including House Oversight and Government Reform Chairman Darrell Issa — had previously written to the Energy Department seeking loans for projects in their states.
"Cognitive dissonance is an element of the modus operandi of the Republican Party on energy these days," said Ryan Cunningham, a public-affairs strategist who represented Solyndra and other green energy clients while with the Glover Park Group.
"If the elected officials can be held to account and forced to reconcile their rhetoric with their very rational and correct support for renewable energy, then I think we would have a much more sane conversation about these technologies," said Cunningham, who now heads Cunningham Strategic Communications.