Republican Governor Candidates Pitch Big Tents in Florida and Illinois
RIck Scott and Bruce Rauner are spending millions of dollars to attract the type of voters that Republicans didn't get in 2012—and will need in 2016.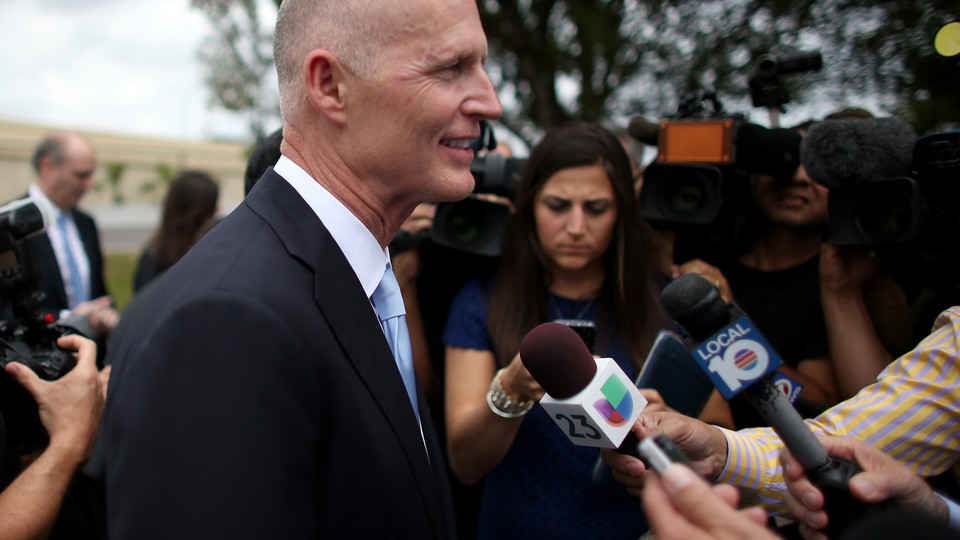 Coming out of the 2012 presidential election, Republicans knew their party needed to improve relationships with minority voters if it had any hopes of winning the White House again. But the 2014 election landscape offers few testing grounds for the GOP to start working toward that goal, which will grow in importance in the 2016 presidential race.
Two notable exceptions, though, are the gubernatorial races in Florida and Illinois. Polling shows tight campaigns in both states, and Republicans Rick Scott and Bruce Rauner are casting wide nets, letting every voter know they are seeking their support.
Florida Gov. Scott is running one of the most aggressive efforts ever seen by a state-level candidate to capture the Hispanic vote in the Sunshine State, and in Illinois, first-time candidate Rauner is attempting to unseat Democratic Gov. Pat Quinn while simultaneously trying to disband conventional wisdom that says the African-American vote in Chicago is a foregone Democratic conclusion.
Scott's deputy campaign manager, Tim Saler, said the campaign's Hispanic communications strategy has "been built into what we've been doing from day one." Scott and allied political committees have aired six Spanish-language TV ads, and they started in April, earlier than ever before. The campaign even launched a radio ad in Creole this summer to reach members of the state's small Haitian-American population.
The campaign employs two press staff dedicated to Spanish media and three Spanish-speaking regional field staffers. It estimates staff and volunteers have made roughly 100,000 person-to-person contacts with Hispanic voters in Spanish. Their message is largely the same as those geared toward English speakers. It focuses on Scott's record on jobs and the economy.
The campaign of Republican-turned-Democrat former Gov. Charlie Crist, by contrast, tallies about 550,000 total voter contacts, including those made to Spanish-speaking voters, and he has yet to go on the air with Spanish-language TV or radio ads.
One reason Scott got off to such an early start communicating with Hispanic voters this year: He won't have Sen. Marco Rubio on the ballot this time. The two ran on the same ticket in 2010, which may have helped Scott even though he ran behind Rubio among Hispanics, according to exit polls.
Still, Scott won Florida's Hispanic vote in 2010, and if he does it again, Republicans would welcome the turnaround from 2012, when Mitt Romney lost this demographic by a stunning 21 percentage points. Former Rubio field director Anthony Bustamante attributes Romney's poor performance to his "failure to articulate a message, a plan and a vision."
"If you don't articulate your vision, someone else is going to do it for you," Bustamante said. "Scott got on TV early to explain what he's done, and that's really helped him."
Democrats say that ultimately Hispanics will still side with their policies despite Scott's work to reach them. Both campaigns nominated Hispanic running mates, but Democratic LG nominee Annette Taddeo says policy promises will matter more. "Its extremely important and nice to have two of us, but at the same time, you can look the part but you've still got to have the right policies toward Hispanics," Taddeo said.
While Scott woos Hispanic voters in Florida, wealthy equity investor Rauner is seeking African-American votes in Illinois. The effort is as personal as it is political. The Chicago-area native and his wife, Diana, estimate their net worth to be somewhere in the "hundreds of millions of dollars," and they have invested in education-reform initiatives in poor neighborhoods in the city for decades. "Even though he's a first-time candidate, his investment and concern for the communities on the west and south sides of Chicago has been demonstrated for a very long time," said Rauner communications director Mike Schrimpf.
Rauner ran two TV ads earlier this year targeting African-American voters, who made up 19 percent of all Illinois voters in 2010. He makes regular appearances at local parades, attends African-American church services on Sundays, and may be the first-ever Republican to open up a campaign office on 79th Street, in the heart of Chicago's South Side.
Local Democrats, who aren't used to seeing Republicans compete for black votes, have reacted furiously.
In an interview with WLS-TV in March, Cook County President Toni Preckwinkle skeptically referred to Rauner's overtures as "all smoke and mirrors. When Rauner pledged $1 million to a South Side Community Federal Credit Union in July, Secretary of State Jesse White, who is African-American, accused Rauner of trying to buy black votes.
Tom Bowen, the former political director for Chicago Mayor Rahm Emanuel, thinks Rauner's antitax message could resonate with tax-sensitive minority voters. But he was skeptical about Rauner's efforts to turn a Democratic voter group slightly less Democratic.
"If you could try to get the ratio of African-American votes to go from 90-10 to 85-15, or target the ratio of women to go from 50-50 to 60-40, it's better to spend your time" targeting female voters, Bowen said.
Bowen noted that past Illinois statewide contests have been won or lost based on the votes of suburban women. And Bowen said Rauner's various efforts to reach Hispanic voters, a less reliable Democratic bloc, through radio and TV have caused more worry for Illinois Democrats.
The real takeaway from Scott's and Rauner's efforts may simply be that if you want to branch out, money matters.
Rauner has already poured nearly $10 million of his personal fortune into his race, and Scott, who isn't self-funding like he did in 2010, has pledged to raise and spend $100 million. The sums put both men on track to place their races among the most expensive ever run at the state level. Candidates with scarcer resources can't afford to spend time trying to expand their base in tight elections.
"Rauner has resources, so he's going to use them," Bowen said. "When you have resources to spend, their strategy is do a little bit of everything."