Obama: U.K. and France Will Join U.S. In Delivering Aid to Iraq
The president made a short statement and answered questions on Iraq Saturday morning.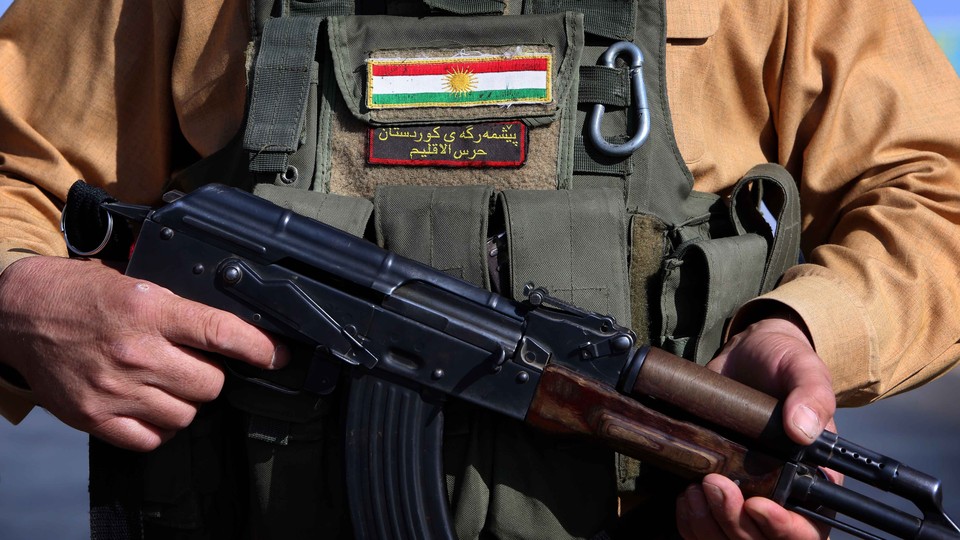 President Obama announced that Britain and France will join the United States' humanitarian efforts in Iraq during a Saturday morning news conference from the White House's South Lawn.
"This morning I spoke with Prime Minister Cameron from the United Kingdom and President Hollande from France and I'm pleased both leaders express strong support for actions and agreed to join us in providing humanitarian assistance," he said. Obama did not say if France and Britain would be aiding in military efforts against ISIS.
Obama also addressed the administration's goal in conducting strikes on Islamic State in Iraq and Syria targets. The "initial goal is to not only make sure americans are protected, but also to deal with this humanitarian situation in Sinjar," he said. "We feel confident that we can prevent ISIL from going up a mountain and slaughtering the people that are there, but the next step is how do we get safe passage to the people down from the mountain and how do we re-locate them so that they are safe," the president said.
"So far these strikes have successfully destroyed arms and equipment that ISIL terrorists could have used against Erbil," Obama said. He continued, saying that "If these terrorists threaten our facilities or our personnel, we will take action to protect our people."
ISIS' advance over recent months "has been more rapid than the intelligence estimates, and I think the expectations of policymakers, both in and outside of Iraq," he said.
"We have to make sure that ISIL is not engaging in the actions that could cripple a country permanently," he said, adding that the U.S. has been "working diligently...for a long time" on a "counterterrorism element" to make sure militants in Syria and Iraq don't launch attacks on western or American targets.
Obama emphasized that his administration is focused on getting a new Iraqi government "formed and finalized," putting more pressure on current Iraqi Prime Minister Nouri al-Maliki. "It is so important to have an Iraqi government on the ground that is taking responsibility, that we can help, that we can partner with, that has the capacity to get alliances in the region," he said. Maliki is quickly losing allies around Iraq, including among his own State of Law party, and the U.S. has reportedly pushed for his ouster.
When asked about a timeline for ending U.S. intervention in Iraq, the president did not commit to a firm date: "I don't think we're going to solve this problem in weeks"¦.I think this is going to take some time. [...] This is going to be a long-term project."
The president was adamant, however, that the U.S. would continue to play a limited role in addressing the conflict.
"The nature of this problem is not one that a U.S. military can solve," Obama said. "We can assist, and our military can obviously play an extraordinary role in bolstering efforts of an Iraqi partner as they make the right steps to keep their country together, but we can't do it for them."
The president said that he will continue to consult with Congress as operations go on. Right now, he said, his administration does not need any additional funding from Congress for the operations.
The first U.S. airstrikes in Iraq came early Friday morning, just hours after Obama announced that he had authorized strikes against ISIS targets to go along with humanitarian aid to the tens of thousands of refugees under siege by the extremist group. The initial strikes, coming in two rounds announced by the Pentagon, targeted ISIS mortar positions as well as a vehicle convoy and were said to have "successfully eliminated" ISIS militants.
On Saturday morning, more humanitarian airdrop operations were conducted over Sinjar Mountain, dropping more than 28,000 meals ready to eat and over 1,500 gallons of drinking water.
Despite U.S. intervention, the situation in Iraq continues to deteriorate. Iraqi officials said Saturday that ISIS had taken hundreds of women hostage. The kidnappings targeted Yazidi women, adherents of a religion that blends Islam, Christianity and Zoroastrianism.
Later Saturday morning, President Obama will head to Martha's Vineyard, Massachusetts.