Exit Montana Democrat John Walsh
After The New York Times busted him for plagiarism in his Army War College thesis, the recently appointed senator won't run for a full term.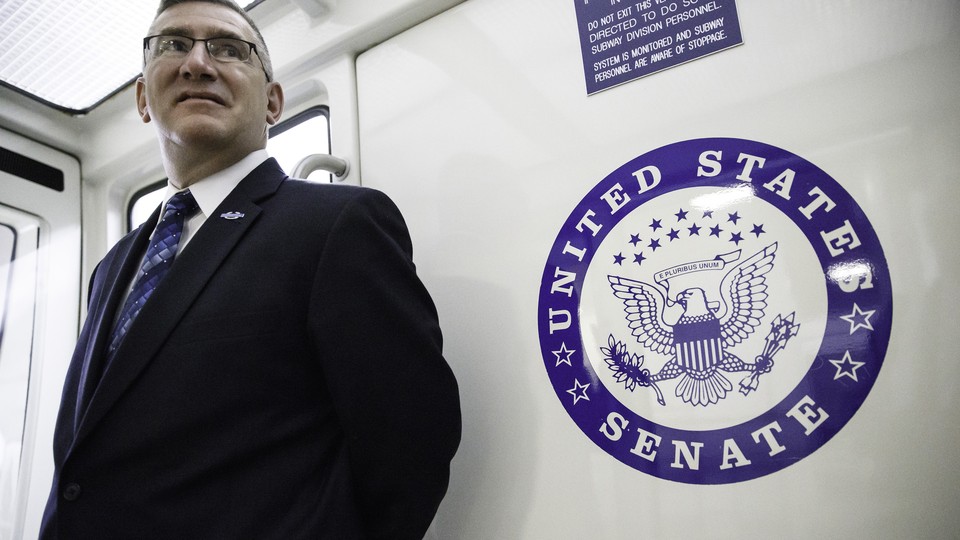 Democratic Senator John Walsh suspended his campaign for a full Senate term on Thursday, bowing to pressure to back out of the race after a plagiarism scandal threatened to eliminate his already slim chance of victory in Montana.
In a statement to Lee Newspapers, Walsh said he wanted to focus on finishing his term as a senator.
"It is time for us all to return to the real issues of this election," he said.
Walsh, the military veteran appointed to replace Senator Max Baucus in February, was running against Republican Representative Steve Daines in the Montana race. The state's Democrats now must scramble to find a replacement candidate in the next two weeks, an unenviable task just three months before Election Day in a race many already expected Republicans to win.
The news comes amidst heavy rumors that Walsh has been mulling his political future this week. Local news outlets reported that Walsh had canceled a series of public events, including a Tuesday night fundraiser in Jackson Hole, Wyoming—an indication that he is ready to end his campaign.
Originally, staffers were told they would receive a call or email Tuesday night with news about Walsh's decision, a senior Walsh aide told National Journal. Later Tuesday night, they were told the decision would instead be announced to staff on Wednesday morning. Walsh announced the decision on a call with staffers, the senior aide said, adding that Walsh's wife Janet was "openly sobbing" as she thanked members of the campaign.
Editorial boards across the state called for his departure from the race over the weekend. The Missoulian said Walsh needs to "bow out of the Senate race immediately"; the Billings Gazette wrote that Walsh should "stop campaigning and do his utmost to serve Montanans well" for the remainder of his Senate term.
A New York Times report in late July found that Walsh had plagiarized large portions of his masters thesis at the U.S. Army War College in Pennsylvania. Walsh initially apologized for his actions, with both the candidate and the campaign claiming his plagiarism was a result of post-traumatic stress disorder after serving in Iraq.
Walsh later reversed those statements, saying PTSD was not at fault: "I am in no way—no way—tying what I did to any type of PTSD," Walsh told a local radio station."It had nothing to do with the mistake that I made."
According to the Helena Independent Record, a nearly 200-delegate committee will convene to pick the new nominee, a group comprising party leaders from across Montana. They have until August 20 to do so.
Possible candidates to replace Walsh on the Democratic ticket include former NARAL Pro-Choice America President Nancy Keenan; EMILY's List President Stephanie Schriock; John Bohlinger, the former lieutenant governor who lost to Walsh in the Democratic primary; and rancher Dirk Adams, who also ran in the primary.
There will also be pressure on former Montana Governor Brian Schweitzer, who turned down a chance to run last year, to reconsider in the wake of Walsh's decision.
The man who finished a distant second to Walsh in the Democratic primary, Bohlinger, told National Journal he would be open to accepting the nomination.
"If they consider me a viable candidate, I would run with the provision that the Democratic Party provide sufficient money for a credible campaign as well as staff and volunteers around the state," he said.
He made clear, however, that he would not seek support for the nomination if the state party committee decided to pick another nominee.
Democrats worried not just about the negative impact of the Walsh allegations on his own race, but the ripple effect he could have on down-ballot races in the state—in particular, on the state's at-large congressional race, where Democrat John Lewis remains competitive.