Michael Brown's Unremarkable Humanity
On Monday, The New York Times published a profile of the dead St. Louis teenager, calling him "no angel"—part of a dubious language of "morality" about black men.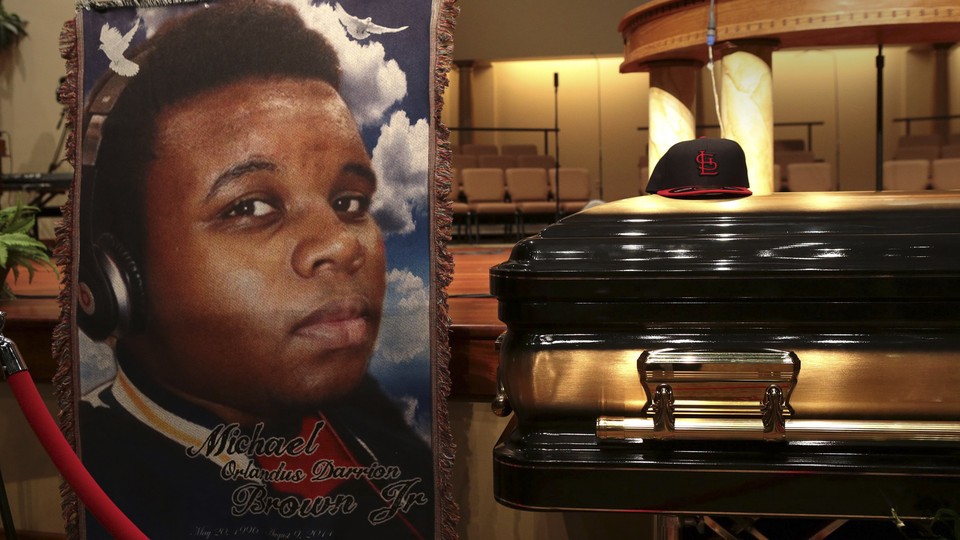 The New York Times has a feature today looking at the brief life of Michael Brown, informing us that he was "no angel." The reasons for this are many. Brown smoked marijuana. He lived in a community that "had rough patches." He wrote rap songs that were "by turns contemplative and vulgar." He shoplifted and pushed a store clerk who tried to stop him. These details certainly paint a portrait of a young man who failed to be angelic. That is because no person is angelic—least of all teenagers—and there is very little in this piece that distinguishes Brown from any other kid his age.
What horrifies a lot of us beholding the spectacle of Ferguson, beholding the spectacle of Sanford, of Jacksonville, is how easily we could see ourselves in these kids. I shudder to think of my reaction, at 17, to some strange dude following me through my own housing development. I shudder to think of my reaction, at 17, to some other strange dude pulling up next to me and telling me to turn down my music.
And if Michael Brown was not angelic, I was practically demonic. I had my first drink when I was 11. I once brawled in the cafeteria after getting hit in the head with a steel trash can. In my junior year I failed five out of seven classes. By the time I graduated from high school, I had been arrested for assaulting a teacher and been kicked out of school (twice.) And yet no one who knew me thought I had the least bit of thug in me. That is because I also read a lot of books, loved my Commodore 64, and ghostwrote love notes for my friends. In other words, I was a human being. A large number of American teenagers live exactly like Michael Brown. Very few of them are shot in the head and left to bake on the pavement.
The "angelic" standard was not one created by the reporter. It was created by a society that cannot face itself, and thus must employ a dubious "morality" to hide its sins. It is reinforced by people who have embraced the notion of "twice as good" while avoiding the circumstances which gave that notion birth. Consider how easily living in a community "with rough patches" becomes part of a list of ostensible sins. Consider how easily "black-on-black crime" becomes not a marker of a shameful legacy of segregation but a moral failing.
We've been through this before. We will almost certainly go through it again.