Lack of Oversight Leaves Massive Openings for Voter Fraud
Although fraud remains uncommon, a lack of cooperation between the states creates an opportunity even voter ID laws won't fix.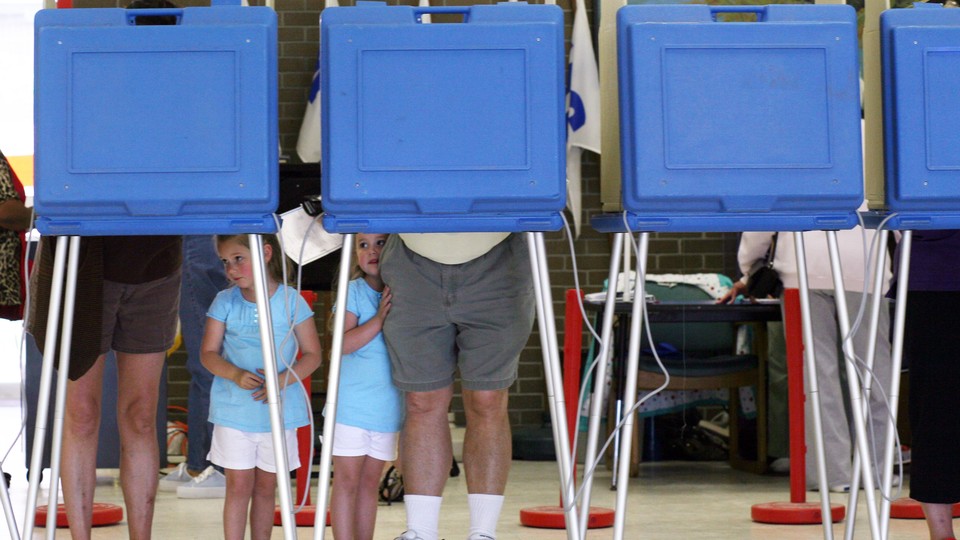 Nearly 12 percent of Americans pack up and move every year. Most of them assume that by registering to vote in their new home cities or states, their old records will be invalidated. In many cases, they're wrong. There is no unified system in the United States alerting election officials that former residents have moved away and plan to vote in someone else's jurisdiction.
As a result, millions of Americans are registered to vote in more than one place in any given election, leaving open the possibility of massive voter fraud that would not be halted by voter-identification laws that have swept through the country, particularly in red states, in recent years.
With the option of voting by mail gaining steam, particularly in Western states, the possibility of voters receiving multiple ballots at their homes in any given election is a frightening scenario for elections officials. Oregon and Washington now vote entirely by mail, and in the last presidential election, around half of voters in Arizona, California, and Colorado requested mail ballots as well.
Enter the Electronic Registration Information Center, or ERIC, a project created by the Pew Charitable Trusts that is now crunching voter-registration data in 11 states and the District of Columbia. The new system, which has been up and running since 2012, allows states to share and compare data about their voters, helping to eliminate those from the voter rolls who have either moved or died since they last voted.
Pew was alarmed to find in a 2011 study that about one in eight voter records are outdated. In cooperation with IBM and elections officials from across the country, the organization created ERIC to help solve the problem. ERIC software compares motor-vehicle records, voter records, Social Security information, death records, and change-of-address records. Pew has since taken a backseat, allowing the states to handle the administration of the program themselves. Using the ERIC software created by IBM, states can now create lists of individuals the program flags as improperly registered to vote either because they have moved or have died. The states then contact those individuals to confirm their status before removing them from the rolls.
In just the first seven states that joined ERIC's pilot program in 2012 — Colorado, Delaware, Maryland, Nevada, Utah, Virginia, and Washington — the software found 60,000 people who had died but were still registered to vote. Additionally, ERIC discovered an astounding 1.5 million voters had moved from one part of a state to another with the state's elections department being none the wiser.
"You've got a situation where basically motor vehicles in these states had an up-to-date address ... but that information never made it to the elections department," said David Becker, the director of Pew's Elections Initiatives.
ERIC also found 250,000 people who had moved from one of the participating seven states to another. And these figures don't account for individuals who moved to states not tracked by ERIC, like California, New York or Texas. "You can just imagine what these numbers would look like if you included some large states," Becker said.
It is unlikely — but not impossible — that prior to 2012, voters who moved from Virginia to Maryland, for example, took advantage of their dual registration and crossed state lines to vote twice in person. But in places with all-mail or majority-mail balloting, like Washington and Colorado, it's very likely that some voters received multiple ballots in the mail, upping the chances of fraudulent voting.
David Ammons, a spokesman for the Washington secretary of state, pointed out that when individuals send in their ballots they must sign a declaration confirming their identity and asserting their voter status in that jurisdiction. Voting multiple times, language on the ballot warns, is a felony that includes a maximum penalty of five years in prison and a $10,000 fine.
But that won't deter everyone, Ammons admitted. "It definitely is something that we are constantly watching for," Ammons said.
Still, despite the lack of safeguards to prevent multiple voter registrations across the country, the actual incidence of voter fraud is extremely low. A five-year investigation by the Justice Department during the George W. Bush administration found just 120 cases of fraud it deemed worth taking to court, and many of them appeared to be accidental rather than malicious cases of improper voting. Loyola University law professor Justin Levitt, who studies voter fraud, wrote in The Washington Post earlier this month that he's found just 31 credible cases of fraud committed in the United States since 2000; that's out of more than 1 billion ballots cast.
In one highly publicized case earlier this year, Robert Monroe, a supporter of Wisconsin Gov. Scott Walker, was charged with 13 counts of voter fraud after he cast multiple ballots in several cities in two states as himself, as well as family members. As Levitt noted, it's unlikely that any of Monroe's crimes would have been prevented by stronger voter ID laws. But it appears that at least some of the allegations would have been prevented by a comparative records system, like ERIC.
Becker, of Pew, also noted that the incidence of voter fraud nationally is relatively low. But, he added: "No one even wants the perception of fraud out there, or the possibility of fraud out there.... Just the fact that there are ballots out there that can't be connected to a specific eligible state voter can be a problem."
And the problems go beyond issues of actual fraud. As Becker notes, improper voter registration can wreak all kinds of havoc. "It means you're sending mail to the wrong place. You're drawing precincts thinking a voter's there, when they're not," he said. "Voters aren't getting information on what polling place to go to, so they go to the wrong one which can cause lines [and] provisional ballots can end up being cast. Voters who vote by mail aren't getting their ballots or ballots are going to the wrong place."
ERIC has had other side benefits. In 2012, states used the program to help identify potentially eligible voters and getting them registered online long before Election Day. Voters tend to register in the weeks immediately before a presidential election, leaving officials with a short time period to get all of them in the rolls. Before the program came along, elections officials entered paper registrations by hand into computers, which lead to numerous entry errors. Registering some of those voters early and online through ERIC has saved time and money for participating states.
Since 2012, another four states — Connecticut, Louisiana, Minnesota, and Oregon — and the District of Columbia have signed up for ERIC. And, Pew says, many more are in the process of joining the program. Pew employees are hopeful that by 2015, they'll have even more state members sharing their voter-registration data.
But Becker acknowledges that there is some natural reluctance to joining a system like ERIC. The United States has "a long history of locally and state-run elections. We as a society have decided that we prefer decentralization of elections," he said. And given the amount of data that's shared between the states through ERIC, privacy issues also remain a concern, though Pew and IBM insist that the program uses "highly secure servers."
The Presidential Commission on Elections Administration, which was formed in 2013 to help streamline the modern elections process, recommended earlier this year that every state join up with ERIC. The commission is cochaired by Robert Bauer and Benjamin Ginsberg — who served as counsels for the Obama and Romney campaigns in 2012, respectively — and their opinions are helping the process along, Becker said.
"It's one of these reforms that I think is gaining traction," he said. "I think more and more states will see that this is a tool that they can't afford not to use. Especially as big states start joining there's going to be tremendous value" in ERIC's data.