James Brady Revolutionized the Gun-Control Debate. Does It Stop With Him?
The man who took a bullet for Ronald Reagan spurred the most productive effort to restrict gun ownership in history.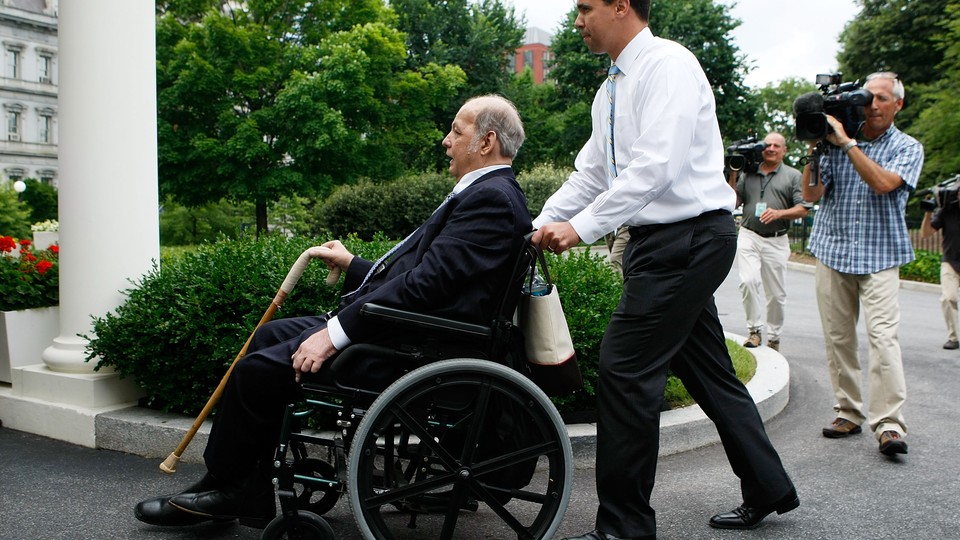 Maybe you've heard this: On March 30, 1981, White House press secretary James Brady was wounded in an assassination attempt against President Reagan. Brady was shot in the head, losing about 20 percent of his frontal brain tissue, according to a New York Times report of the incident. The injury was so bad, in fact, that speaking in the White House Situation Room the day of Reagan's assassination attempt, Richard Allen, then national security adviser to the president, pronounced Brady dead.
He didn't die that day though. He died today: Monday, Aug. 14, 2014. And in the intervening three-plus decades he changed the way we talk about gun control forever.
James and his wife, Sarah Brady — sometimes described as the "first family" of gun control — became passionate evangelists for the gun-control movement, lobbying for stricter laws and eventually forming the Brady Campaign to Prevent Gun Violence. Their efforts culminated 12 years after the shooting with the passage of the Brady Handgun Violence Prevention Act, known as the Brady Bill. Signed into law by President Clinton, the new law ushered in the era of mandated federal background checks and waiting periods for many gun buyers.
When the law passed, the Reagan assassination attempt was still relatively fresh in America's collective conscious, and Brady served as a powerful reminder of the need for such regulations. "What I was, I am not now," Brady said at the time. "What I was, I will never be again."
It wasn't the last gun-reform bill Congress would pass, but even today, it's the floor any subsequent legislation will stand on.
A year later the gun-control movement would gain more steam when Clinton signed the Violent Crime Control and Law Enforcement Act into law. This law banned 19 different types of assault weapons, including AK-47s, as well as the manufacture and distribution of magazines holding more than 10 rounds of ammunition.
But the progress on magazines proved temporary. In 2004, 10 years after it became law, the provision banning possession of high-capacity magazines expired through a sunset provision.
In 2007, in the wake of the Virginia Tech shooting, Congress would call again on reforms first enacted under the Brady Bill. The NICS Improvement Amendments Act, signed into law by President Bush in January 2008, required states to provide data on mentally unsound individuals to National Instant Criminal Background Check System, a database first mandated under Brady's landmark law in 1993.
Since then, however, congressional reforms have stalled.
Gun-control reform efforts following the Newtown, Conn., shooting failed loudly (see, for instance, the demise of an expanded background-check bill in April 2013 or the failure of a renewal of the Undetectable Firearms Act the previous winter). And in the wake of it, President Obama has set to work introducing his own executive actions on gun control. His dozens of orders include guidelines for preparing local law enforcement and schools for potential shootings, as well as rules for responding to shootings and keeping guns out of the hands of felons. But they don't approach what might be accomplished by comprehensive legislation passed through Congress.
Much of the problem, according to Sarah Brady, has to do with the increasingly partisan politics of the issue. "When we passed the Brady Law, we had support of Republicans and Democrats and President Reagan," she told me on the 30th anniversary of the Reagan assassination attempt. "But the Republican Party has become a lot more conservative and more rural than it was 20 years ago, 15 years ago, and as a result it's kind of hard to read how some of these newer members are going to be, which is why you need to get to them and get their feelings on it and what's holding them back."
More than 2.8 million people have been killed or injured with guns in the United States in the 30-plus years since Brady was shot, according to the Brady Campaign's estimates.
There's no estimate of how many lives the passage of the Brady Bill has saved. But according to the group's website, more than 2 million attempts by "prohibited buyers" to purchase firearms have been thwarted. And even if a tiny percentage of those attempts would have resulted in crimes, recall that the unit we're measuring in is human lives.