Is It Too Soon After the Recession to Roll Back Food-Stamp Programs?
States with high unemployment are rejecting a federal option that makes food stamps more accessible.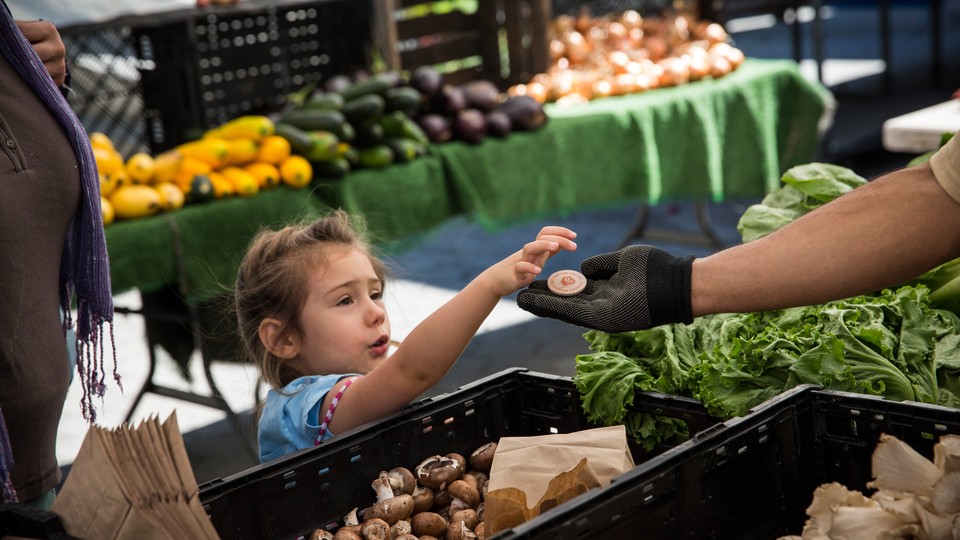 As the U.S. economic recovery accelerates, states are beginning to wind down special allowances for food assistance that were put in place during the recession. Some states no longer qualify for allowances because their economies have recovered, while others reject them for political reasons.
These allowances come in the form of waivers that allow states to provide low-income residents access to the Supplemental Nutrition Assistance Program, known as food stamps, without requiring that they work at least 20 hours a week. A 1996 federal welfare-reform bill introduced these waivers; states are only eligible to apply for one if they meet certain criteria for need, such as having an unemployment level above 10 percent or experiencing a low and declining employment-to-population ratio.
The recession that began in 2008 was the first event that pushed many states beyond the unemployment cutoff. A large number chose to take the waiver in order to ease the burden of the economic downturn on residents: At the beginning of fiscal 2014, 42 states and the District of Columbia were implementing a partial or complete waiver.
But not all states that qualify for the waiver choose to take it. Political considerations have driven some states that are considered in need to turn down the federal waiver and reimplement work requirements for food-stamp recipients.
Earlier this week, New Mexico Gov. Susana Martinez proposed shedding her state's waiver and reestablishing work requirements for low-income residents who receive food stamps, a move that will affect the approximately 26,600 "able-bodied adults" without dependents who currently participate in the state's food assistance programs. The change would go into effect in October, after which food-stamp recipients will be required to work 20 hours a week to receive benefits. Community-service hours and job training can count toward the weekly requirement.
New Mexico will implement the requirement for the first time since 2009, when it first took advantage of the federal waiver.
Martinez's proposal has a twin in Maine, where Gov. Paul LePage wants to get rid of a six-year-old work-requirement waiver. The move would hold all 12,000 "able-bodied food stamp recipients" in Maine to the 20-hour-a-week requirement, with allowances for community service, also starting in October.
But New Mexico and Maine are still facing serious economic problems. According to data from the U.S. Agriculture Department, New Mexico is the second-largest food assistance provider in the country, proportional to its population. Maine ranks 12th on the same list. New Mexico's unemployment rate was at 7.3 percent in June, more than a percentage point higher than the federal rate. And although Maine's unemployment is at a six-year low, it has only recovered 63 percent of jobs lost in the recession, compared with 106 percent job recovery nationwide.
Nationwide, food security remains a pressing issue. In August 2013, 20.0 percent of Americans reported that they have struggled to afford food in the past year, a rate barely lower than the peak rate of 20.4 percent reported in November 2008, at the worst point of the global recession.
If New Mexico and Maine reject work-requirement waivers, they will join five other states that meet the requirements for waivers but don't take them: Delaware, Kansas, Oklahoma, Utah, and Wisconsin. Some states like Ohio only waive the requirement for residents of a few of their most economically depressed areas.
More and more states are likely to drop out of the waiver program as the economic recovery renders them ineligible for the criteria to participate. But as they are joined by particularly needy states like New Mexico and Maine, which reject the waiver on political grounds, many residents could be left unable to find jobs that would qualify them to remain a part of food-stamp programs that they've participated in for years.