Iraq, Afghanistan War Vets Target the Senate in 2014
Combat veterans' numbers in Congress have dwindled, but three candidates are hoping to be the first from these wars elected to the upper chamber.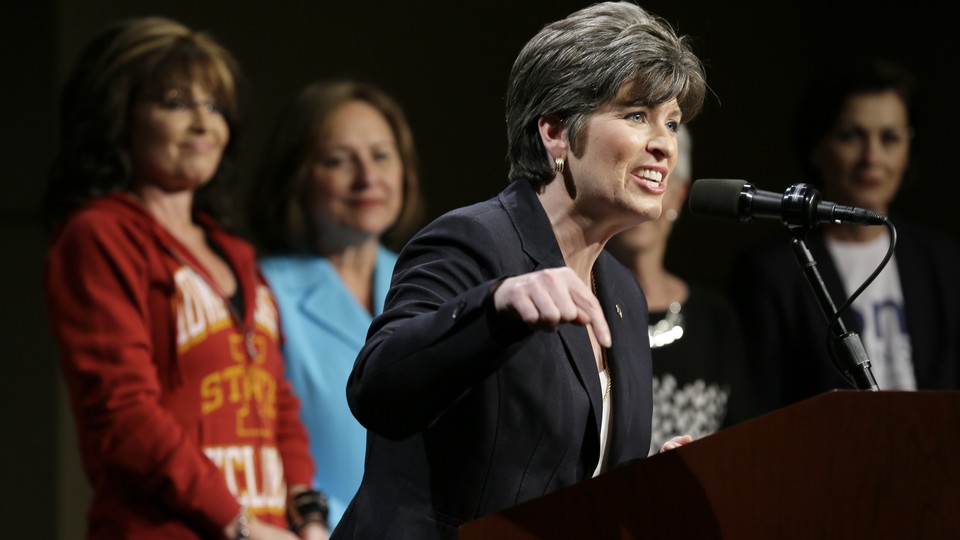 If Republicans take the Senate in November, it could be thanks to two candidates who could form their own first-of-its-kind caucus: combat veterans of the wars in Iraq and Afghanistan elected to the Senate.
Rep. Tom Cotton, the Republican Senate candidate in Arkansas, completed tours in Iraq and Afghanistan as an infantry officer. Joni Ernst, a Republican state senator from Iowa, would also be the first female combat veteran in the Senate if she wins in November. Both are locked in tough races for Democratic-held seats this fall that are critical to GOP hopes. Democratic Sen. John Walsh, a former Montana National Guard commander who served in Iraq, is also running for a full term after a February appointment — though his prospects may be dimmer ahead of a tough campaign.
More victories would swell the ranks of veterans of the recent Middle East wars in Congress — a new wave of politicians that observers from both parties hope will bring a dose of perspective and pragmatism to veterans' issues, even if they don't always align ideologically.
Cotton says that the 2015 Senate class he hopes to be a part of would be just the beginning.
"For the most part, Iraq and Afghanistan veterans are still a little young to have reached the stage in life to be running for public office — or at least federal office — in large numbers," Cotton said. "But I think over the next six to eight years, you'll begin to see the number of veterans rebound."
The number of veterans in Congress has been dwindling since the 1980s, as World War II veterans began leaving office. Veterans' share of Congress dipped to just 20 percent in the current Congress, as the Senate's last World War II veteran, Sen. Frank Lautenberg, died last year.
But Afghanistan and Iraq veterans in the House have begun to fill in the gaps. And even though veterans in Congress run the ideological gamut, some hope new ones can change the political discussion in the ossified Senate.
Jon Soltz, the chairman of the left-leaning VoteVets PAC, notes that recent combat veterans from both parties in the House — like Republican Chris Gibson and Democrats Tammy Duckworth and Tulsi Gabbard — have tended toward less-interventionist foreign policy than some of their Vietnam-era counterparts like Republican Sen. John McCain. Lawmakers and advocates agreed that soldiers' enhanced understanding of the on-the-ground situation in the Middle East allows them to serve a unique function in foreign policy legislating.
And veterans contribute to issues beyond foreign affairs. Cotton said those with military background bring "a sense of perspective and also a sense of seriousness and purpose."
Gibson, a moderate Republican, said he was looking forward to having more members with similar experience throughout Congress, who he said "with few exceptions" are more pragmatic than their civilian colleagues. "You can have any idea you want. This is America," Gibson said. "But at the end of the day, you have to get the job done."
Cotton and Ernst's military biographies are playing a role in both campaigns. Ernst, a lieutenant colonel in the Iowa Army National Guard, has campaigned on her time as a company commander running convoys from Kuwait into Iraq. And advertising in both Iowa and Arkansas has touted the Republicans' military service.
Ernst and Cotton could join a number of other post-9/11 war veterans in the Senate even if Montana's Walsh loses. Alaska Republican Dan Sullivan, another 2014 Senate candidate and a lieutenant colonel in the U.S. Marines Corps Reserves, deployed to Afghanistan in 2013, though he has stressed he's not a "combat" veteran. And Sens. Mark Kirk and Lindsey Graham deployed to Afghanistan on reserve duty while serving in the Senate, as did then-Sen. Scott Brown when he was representing Massachusetts. Brown is running in New Hampshire this year.
Soltz, a veteran of the Operation Iraqi Freedom, believes more post-9/11 vets will run for the Senate in 2016, including repeat Pennsylvania Senate candidate Joe Sestak, now that they have built up political infrastructure and careers outside of the military.
"[Ernst, Cotton, and Sullivan] are professional politicians. These aren't people that are straight off the plane running for office," Soltz said. "This is not what we see here. And that's why we're seeing an evolution now, people who have worked their way up in politics that are now running for statewide office."
To that point, victories by Cotton and Ernst wouldn't be universally celebrated. Soltz has vowed to spend "hundreds of thousands of dollars" working to defeat them (part of $5 million overall to ensure Republicans don't take control of the Senate) as well as any candidates that do not align with VoteVets on issues such as non-interventionism, Veterans Affairs reform, and energy independence.
"I'm going to probably go after all of them," Soltz said. "...Those aren't the types of people that we feel represent veterans' interest in Congress. Period."