Inside the Democrats' Plan to Save Arkansas—and the Senate
The party's desperate bid to hang onto the majority rests on an unprecedented political organizing effort in red states like this one.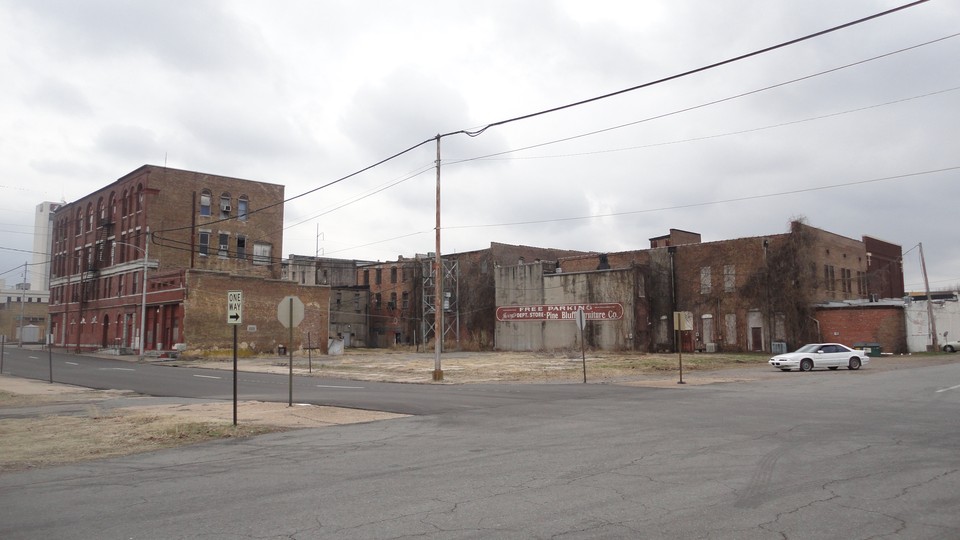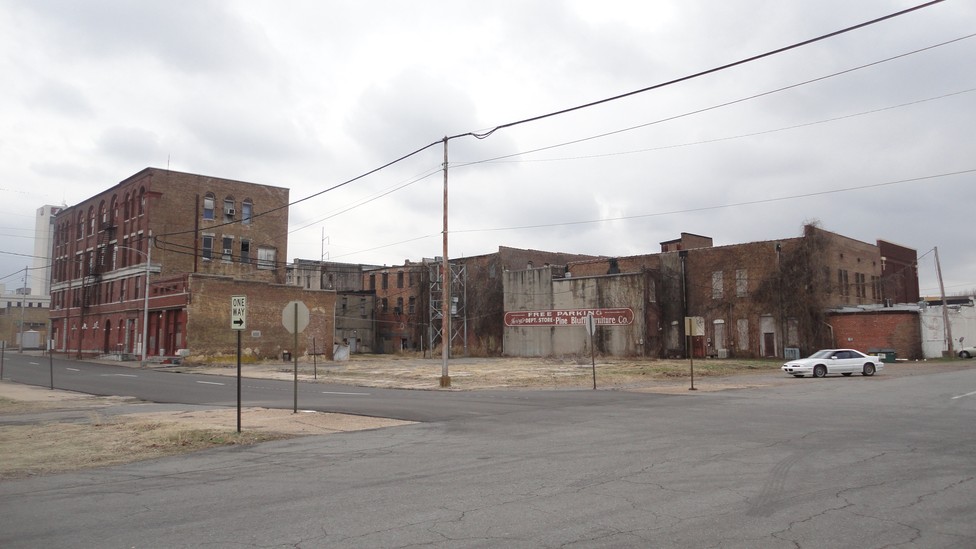 PINE BLUFF, Arkansas—No sign announces the purpose of this little storefront, squeezed between a Bestway Rent to Own and a Rent-a-Center in a dilapidated shopping center. But the words hand-lettered in black and red marker on three pieces of paper taped to the window—"Register to Vote Here"—and a cluster of placards for candidates give it away: It is a Democratic Party field office.
Democrats aren't advertising this office and 39 others like it that are scattered around Arkansas—in fact, their locations are a closely guarded secret. When I visited last week, having tracked it down through creative public-records sleuthing, I took Chita Collins, the field organizer on duty there, by surprise. But I wanted to see the evidence of what Democrats have been claiming they're building in states like this one, and what could be crucial to their uphill quest to keep the Senate: an Obama-style community-organizing effort of unprecedented scale for a non-presidential election.
The office in Pine Bluff is a cavernous, mostly empty space. Six full-time, paid staff work out of the unit, which is open seven days a week. Long tables line the right side of the room; three staff offices—messy and largely uninhabited thanks to some recent water damage—line the back. A long list of rules scribbled on a paper tacked to the wall begins with these two bullet points: "Goals are mandatory. Meetings are mandatory." Another handwritten sheet bears a quotation from Barack Obama: "Yes we can."
Every weekday morning and evening, this space fills up with volunteers. Some stay in to make phone calls; others are sent out with a list of addresses to knock on doors, looking for voters. (On weekends, the effort intensifies.) Weeks like this, when it's 95 degrees out with 50 percent humidity, it is punishing work, but they have been at it for months, and they will not stop until November. "Oh yeah," says Collins, a friendly Pine Bluff native in her 40s, when I tell her I'm trying to confirm this field organization really exists. "We real."
This year, Arkansas is home to one of the nation's most intense Senate races, as incumbent Democrat Mark Pryor faces a challenge from a first-term congressman, Representative Tom Cotton. Like many of this year's competitive Senate contests, it features a Democratic incumbent desperately trying to survive in deeply hostile territory—in this case, a state Mitt Romney won by 23 points, or more than 250,000 votes. Other seats Democrats are trying to hold onto are in similarly tough states such as Alaska, North Carolina, and Louisiana.
To beat the odds, across the country Democrats have mounted an ambitious political organizing effort—the first attempt to replicate the Obama campaign's signature marriage of sophisticated technology and intensive on-the-ground engagement on a national scale without Obama on the ballot. The effort is particularly noticeable in states like Arkansas and Alaska, which have small electorates and which haven't been presidential battleground states for a decade or more. (In 2004, John Kerry initially tried to compete in Arkansas, but pulled out of the state three weeks before the election and lost it by 10 points.) In Arkansas, campaigns traditionally begin after Labor Day; this year, the airwaves have already been blanketed with campaign ads, from both the candidates and deep-pocketed outside groups, for months.
The Democrats' Arkansas organizing effort kicked off with a canvass on June 7. "People were saying, 'Robert, the election's six months away! What are you doing?'" Robert McLarty, the director of the Arkansas Democratic Coordinated Campaign, tells me. "We are starting from a blank slate. People here have never seen what folks in Ohio and Pennsylvania are used to every year." Throughout the entire 2010 election the party recruited 1,210 local volunteers; that number was surpassed in the first 30 days of this year's effort. Seventy percent of the volunteers recruited so far have never worked for a campaign. They have registered more than 6,000 new voters. The Democrats believe there is an iceberg-like mass of latent votes that are theirs for the asking but have simply never been mobilized before.
That the Republicans don't have an office in Pine Bluff isn't surprising—there aren't a lot of Republican voters here. Arkansas's ninth-largest city, an impoverished, crime-ridden burg of about 50,000 people, is predominantly African American and sits in one of the 10 of Arkansas's 75 counties that went for Obama in the last election. Pine Bluff is exactly the kind of place from which Democrats need to extract more voters if they want to reshape the electorate. On my way out of town, I saw one of the most depressing signs I've ever seen, a mortuary touting its bargain prices: "Complete Funeral $2,490."
Republicans say they, too, are mounting a massive, never-before-seen effort in Arkansas, part of the Republican National Committee's vow to beef up the party's ground game and technological efforts post-2012. Last week, the RNC's chairman, Reince Priebus, visited Little Rock and touted the party's work. "We call it 'Victory 365': our plan to be everywhere, all the time, nonstop, ground game, data, and being obsessed with the mechanics," Priebus told reporters at the Cotton for Senate headquarters on the top floor of a Regions Bank building. While some might consider such nitty-gritty work boring, he said, "I happen to believe races are won and lost on the ground. They're won and lost now with data, infrastructure, and technology."
Republicans now have 11 offices open across Arkansas, party officials told me, all of them staffed by field organizers. They have recruited "hundreds" of volunteers, and the RNC has had staff here for almost a year. This effort is indeed bigger than anything the party previously built in this state. "We clearly have the largest mobilization we've had in my memory, which is pretty good," the state GOP chairman, Doyle Webb, tells me, crediting the RNC for stepping up its game. "We've been waiting for the cavalry, and now it's here."
But the Republicans' effort pales in comparison to what the Democrats have built: Democrats are spending more than five times as much money in Arkansas, and have four times as many field offices and triple the number of staff. In the month of July alone, the Arkansas Democratic Party reported nearly $900,000 in federal campaign spending, while Arkansas Republicans reported $155,000. (Most of the money the Democrats are spending has come directly from the Democratic Senatorial Campaign Committee.) Democrats listed 64 staffers on their payroll; Republicans listed 22. The RNC claims it has 50 people on the payroll in Arkansas, including some being paid by other GOP committees, but I could not find a record of them and staffers on the ground were not aware of them. According to public records, there are Democratic staffers in places like Cabot (population 24,000), Marion (12,000), Arkadelphia (11,000), and Dardanelle, Tom Cotton's hometown, with fewer than 5,000 residents.
Republican candidates also have organizing help from Americans for Prosperity, the conservative nonprofit supported by Charles and David Koch, which has sought to build its own ground game separate from the Republican Party. Many Arkansans told me the group had the state's most visible canvassing effort. It has five full-time staff on the ground in Arkansas and offices in Little Rock, Jonesboro, and Rogers, spokesman Levi Russell told me. But AFP can't work directly with the Republican Party, meaning the party has no control over its activities. And there are indications AFP's Arkansas efforts aren't meeting their goals. A memo written by a fired AFP Arkansas consultant that was leaked to Mother Jones in April lamented "declining tea party engagement" that was diminishing the group's pool of activists.
If, as many believe and some studies have shown, the Starbucks-like proliferation of swing-state campaign offices and staff helped Obama win in 2012, Republicans appear to be in danger of being organizationally overmatched once again.
Democrats believe the ground game has powered them to victory in unlikely circumstances in the past. In 2010, the year of the Obama backlash and the Republican tsunami, Colorado Senator Michael Bennet managed to buck the tide and win by a narrow margin after his campaign invested heavily in data-driven field operations—a daring choice that went against the traditional campaign's reliance on advertising. (Bennet, who chairs the senatorial committee, is the brother of The Atlantic's editor in chief and co-president, James Bennet.) Inspired by Bennet's success, in 2012, Democrats built large field operations in Montana and North Dakota, two red states untouched by the presidential candidates. Turnout in those states exceeded the national average, and Democrats won both states' Senate races even as Obama lost both states by wide margins.
This year marks Democrats' attempt to roll out the program on a national scale. Dubbed the Bannock Street Project, after the Bennet campaign's Denver headquarters, it will, by the time the election is over, comprise a 4,000-employee, $60 million effort in 10 states. The voter-contact metrics recorded in each state are uploaded in real time to the Washington headquarters of the senatorial committee. While such efforts are commonly described as turnout operations, Matt Canter, the committee's deputy executive director, says there's more to it than that. "This is about much more than [get-out-the-vote]," he tells me. "This is not just identifying supporters and turning them out. This is actually building sustained voter contact programs through multiple face-to-face conversations that can persuade voters to change their minds and vote Democrat."
Democrats believe they have a technological edge in their ability to use data to model and target voter preferences. Republicans, who have invested heavily in technology since 2012, are working to catch up. But on a basic level, turning out voters relies on the simple arithmetic of the application of resources—bodies on the ground, close to their communities, tirelessly recruiting volunteers who will work to activate their neighbors and family and friends. On a recent evening in Little Rock, two retirees—Jim Hickman, a former social worker, and Susan Hickman, a former psychiatric nurse—were pulling their regular weekly phone-calling shift along with 21 others at the campaign office. Lifelong Democrats, the Hickmans are regular volunteers for the first time.
Jim uses his personal cell phone in hopes of getting more people to answer, but very few do. "The answering machine rules," he says. Of those who do pick up the phone, many either have no idea what's on the ballot or have already made up their minds. But Hickman hopes he is making a difference. "At least I sleep better," he says. "I go as long as my battery lasts."