If Democrats Lose the Senate, Harry Reid Deserves the Blame
The Senate majority leader's aggressive tactics have backfired, threatening his hold on leadership.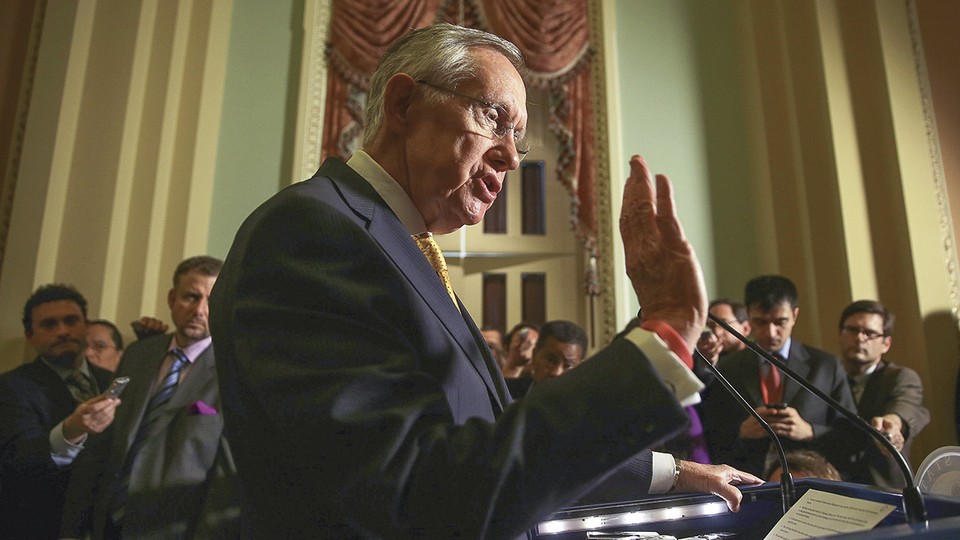 Senate Majority Leader Harry Reid is having a summer like his baseball idol, Nationals outfielder Bryce Harper. His political operation isn't living up to the hype, he's striking out as he's tried to intervene in pivotal Senate contests, and there's a growing chance he'll be sent to the minority at the end of the year. (Harper, for all his struggles, looks like he's avoided that worst-case outcome.)
For all the internal Republican Party divisions, the GOP's party committees and allied outside groups have overcome their biggest challenge entering the year. They've successfully navigated incumbents and favored Senate candidates through difficult primaries, avoiding the specter of terminally weak candidates emerging in battleground races. The same can't be said for Democrats, who frittered away opportunities in South Dakota and Montana because of internal conflicts and botched maneuvering. Meanwhile, Democratic attempts to intervene in Republican Senate primaries haven't worked, depriving several Democrats of the chance to run against weak challengers. Reid's fingerprints are over all those moves, with his majority on the line.
"Reid loves to meddle in other races, especially when it involves him. I dubbed him the meddler in chief many years ago, though he's much more adept in meddling in his own races than the outside ones," said veteran Nevada political analyst Jon Ralston. "He thinks he knows better than any political consultant, and he doesn't trust the polls."
The Democratic stumbles haven't gotten as much attention because they've mostly taken place behind the scenes. Appointed Sen. John Walsh's abrupt withdrawal from the Montana race in the wake of plagiarism charges drew outsized coverage last week, but underplayed was Reid's own involvement in the failed scheme. Worried about the party's ability to hold retiring Sen. Max Baucus's seat, Reid helped engineer Baucus's appointment to become U.S. ambassador to China so Walsh could boost his stature in the Senate. At the time, Walsh was Montana's little-known lieutenant governor and a Senate candidate, but Democrats believed that if he held the position of senator for a year, voters would view him more credibly. (Montana Gov. Steve Bullock, a Democrat, didn't interview anyone for the seat, drawing criticism for the secretive nature of the appointment.)
The move backfired badly, after The New York Times revealed that Walsh plagiarized his thesis paper for the Army War College. With Walsh out of the race and few credible candidates willing to run, Democrats now acknowledge that the seat is all but lost. It would have been a challenge to hold regardless, but the elaborate efforts made on Walsh's behalf demonstrate how important the Senate race was to the party's hopes. Without a competitive contest, Republicans are already halfway toward picking up the six seats necessary for the majority.
The other one of the three seats that Democrats mishandled is in South Dakota, where Democrats once held hopes for contesting the seat. Reid aggressively worked to recruit former Rep. Stephanie Herseth Sandlin in the race, because she was one of the few Democrats who could run a competitive race in the conservative state. But Reid was unable to persuade former Daschle aide Rick Weiland to drop out of the race, and Herseth Sandlin passed on the contest. Annoyed by the outcome, Reid went so far as to criticize his own party's candidate even after he locked up the nomination.
The Democratic establishment, like their GOP counterparts, can misfire when trying to control events from Washington.
The races show that the Democratic establishment, like their GOP counterparts, can misfire when trying to control events from Washington. Reid overestimated the level of support Walsh had in his home state, and he didn't do enough vetting to reveal his plagiarism problems. And in South Dakota, Reid underestimated the depth of liberal grassroots discontent toward Herseth Sandlin, who was accused of being a moderate sellout by the party's small but vocal base.
Reid's struggles haven't been limited to the Democratic side. He's also failed to achieve one of his signature accomplishments in 2010 and 2012—getting Republicans to nominate their weakest candidates by meddling in certain primaries. One of Reid's most successful interventions came on his own behalf in 2010, when his campaign attacked his most credible challenger, Sue Lowden, during the primary. Republicans ended up nominating state Assemblywoman Sharron Angle, an archconservative who predictably ran a disastrous campaign. Democrats repeated the tactic in Missouri in 2012, with a Reid-aligned super PAC airing ads in the primary that hit wealthy businessman John Brunner, the GOP's favored challenger to Sen. Claire McCaskill. Todd Akin won the closely contested nomination, and a once-doomed McCaskill cruised to victory.
"Getting involved in Republican primaries was unusual and showed that Reid was not afraid to mix it up and get in the middle of things," said former Reid adviser Jim Manley.
But this year, the results have been different. Senate Majority PAC, run by former Reid Chief of Staff Susan McCue, spent more than $2.2 million in the North Carolina Senate primary to oppose Republican Thom Tillis, hoping to at least push him into a runoff against a tea-party-aligned challenger. Tillis won the nomination outright. In Alaska, the Put America First super PAC (mostly funded by Senate Majority PAC) has spent nearly $4 million in ads attacking GOP Senate front-runner Dan Sullivan in hopes of wounding him, but he remains favored to win the GOP primary later this month. The ads have dented their popularity, but Republicans have passed through the primary season without nominating any unqualified nominees. (The Reid-connected Patriot Majority PAC also spent money to intervene in two Republican House primaries, both unsuccessfully.)
Meanwhile, Reid is the mastermind behind the Democrats' strategy of tying Republicans to the Koch brothers, an unconventional strategy that's been embraced by leading campaigns across the country. Democrats are hoping their attacks against the deep-pocketed, GOP-supporting businessmen will persuade voters that GOP candidates are beholden to a policy agenda catering to the richest Americans. But attacks against secretive moneymen are usually the last refuge of a party without issues to run on. In 2006, Republicans lamely tried to make Democratic donor George Soros an issue in the midterms. They lost control of both houses of Congress that year. And in 2010, President Obama made the Supreme Court's Citizens United ruling a central issue in the midterms, calling the increased flow of outside money a threat to American democracy. That year, American Crossroads founder Karl Rove was the Democrats' boogeyman.
"He's laid down the strategy he's hoping people would follow. You've got to have a foil, and you have to have something to contrast with. It's one of the oldest tricks in the book," said Manley.
While the midterm elections are emerging as a referendum on President Obama's performance, they're also providing a verdict on the efficacy of Reid's tactics. Publicly, Reid is dismissive of the possibility that Republicans could regain the majority. Privately, he must know that his challenges shaping the elections to his liking are related to the problematic position his party faces this November.