How the Massacre of Religious Minorities Is Driving U.S. Action in Iraq
The Obama administration and Republican lawmakers alike are calling for U.S. protection of religious groups threatened by Islamic militants.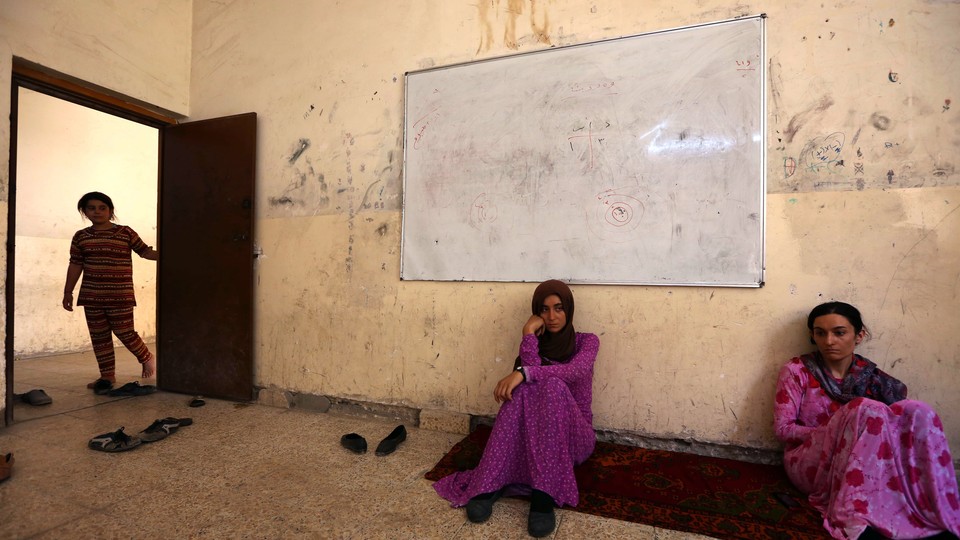 There are about 600,000 Yazidis, one of Iraq's oldest religious minorities, living in the world. About 40,000 of them are stranded on a mountain in northwest Iraq, running out of food and water and fearing death at the hands of the Islamic militants who drove them there.
The specifics of the humanitarian crisis, with Iraqi Christians also playing a large part, has White House officials, Republican lawmakers, and others on the same page for increased support as American air forces and aid reach Iraq.
The Yazidis fled to Mount Sinjar, a mile-high ridge, this week because of a resurgence in attacks by the extremist group Islamic State in Iraq and Syria. U.S. forces came to the Iraqis' aid late Friday morning local time, dropping 5,300 gallons of fresh drinking water and 8,000 meals ready-to-eat by aircraft.
Yazidis are ethnically Kurdish and most speak the Kurdish language, but their faith separates them from the majority Sunni Kurds in Iraq. Yazidis' beliefs weave together elements of Islam with Christianity and Zoroastrianism, an ancient Persian religion practiced by very few today. Cast as "devil-worshippers" by outsiders, members of the Yazidi community have faced persecution for their beliefs from both Arabs and Kurds.
The plight of Iraq's Christian minority in particular has drawn the attention of Americans, and is steadily worsening. On Friday, ISIS forces overran Qaraqosh, Iraq's largest Christian town. Thousands have fled the northern town since ISIS fighters gave them an ultimatum: Leave, convert, or die. Two smaller Christian villages nearby were also attacked on Thursday and Friday, forcing hundreds of families from their homes. The Chaldean archbishop of Kirkuk, Joseph Thomas, called the circumstances "catastrophic, a crisis beyond imagination."
Iraq is home to other small religious minorities, including the Shabak and the Turkmen. ISIS has systematically killed members of both groups as its militants have swept through the country this year.
The extremist group's actions against these religious minorities has President Obama saying that an ISIS attack on the Yazidis stranded on the mountain "would constitute genocide." The humanitarian crisis is different than other foreign conflicts, he said Thursday night, which means it merits an immediate U.S. response:
When we face a situation like we do on that mountain — with innocent people facing the prospect of violence on a horrific scale, when we have a mandate to help — in this case, a request from the Iraqi government — and when we have the unique capabilities to help avert a massacre, then I believe the United States of America cannot turn a blind eye. We can act, carefully and responsibly, to prevent a potential act of genocide. That's what we're doing on that mountain.
Secretary of State John Kerry said that ISIS's attacks against Iraqi civilians, including Yazidi and Christian minorities, "bear all the warning signs and hallmarks of genocide." "For anyone who needed a wake-up call, this is it," Kerry said.
The only Yazidi member of the Iraqi parliament said this week that ISIS is waging a "campaign of genocide" in Iraq. "An entire religion is being exterminated from the face of the Earth," Vian Dakhil said Tuesday.
Several high-profile Republican officeholders have expressed the need to support the Kurdish people. "If there is one part of Iraq that is very important to us, it is Kurdistan," Texas Gov. Rick Perry said Friday morning at a gathering of conservatives hosted by the website RedState. "The leadership there, big Christian population, there are a number of good, legitimate reasons to protect them."
"The United States is right [to] intervene in Iraq to provide humanitarian assistance to persecuted religious minorities — including the Yazidis currently surrounded by ISIS forces in northern Iraq and Iraqi Christians, who have been brutalized as ISIS has swept through their villages," Sen. Marco Rubio said Friday.
Sens. John McCain of Arizona and Lindsey Graham of South Carolina said Thursday night that they agreed with the administration's decision to provide humanitarian relief to the civilians stranded atop Mount Sinjar. House Homeland Security Committee Chairman Michael McCaul of Texas, said Friday that targeted airstrikes can help the Yazidi and Christian minorities. "I appreciate that the administration finally acknowledges that genocide against Christians and other minorities is occurring in the region" said Virginia Rep. Frank Wolf, a longtime advocate for religious freedom.
The administration's use of the term "genocide" and lawmakers' calls for protection of religious minorities signal the size and scope of a U.S. mission in Iraq. The timeline for potential future air-drops of supplies remains unclear, but a senior administration official said Thursday that the U.S. is prepared for "a long-term effort" against ISIS.