How Republicans Flip-Flopped on Government-Run Internet
Letting cities provide Internet service to their residents wasn't always a partisan issue.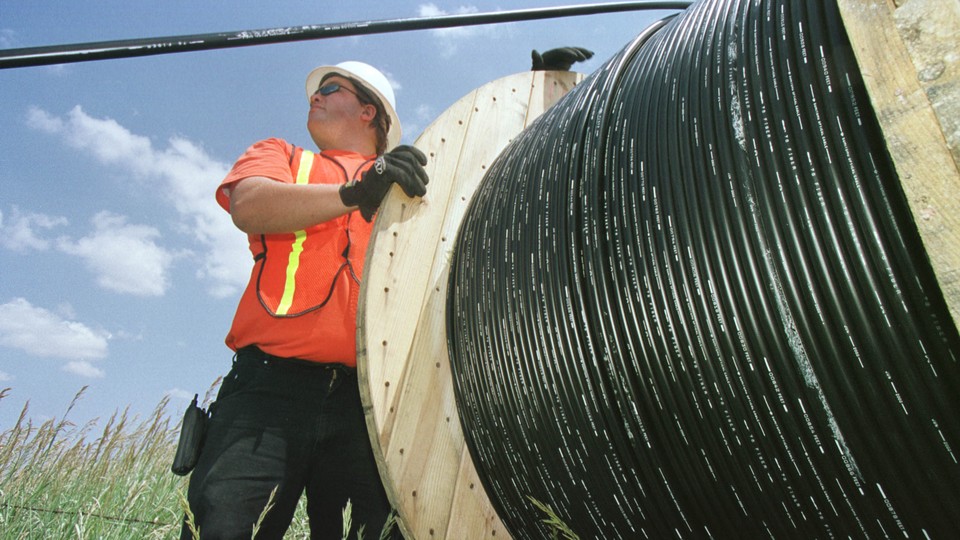 Government-run Internet service is an abomination, a waste of taxpayer funds, and an assault on private industry. And if states want to ban it, the federal government should get out of their way.
That's what congressional Republicans are saying now, but just a few years ago, top GOP lawmakers were not only on board with municipal Internet—they were actively working to protect it.
In 2005, Republican Sens. John McCain, Lindsey Graham, and Norm Coleman—along with Democrats Frank Lautenberg, John Kerry, and Russ Feingold—introduced a bill to block states from restricting local governments' ability to provide publicly run and funded Internet service. Republican Sens. Ted Stevens, Olympia Snowe, and Gordon Smith joined as cosponsors in 2007 when the bill was reintroduced.
And Republican Rep. Fred Upton, now the head of the powerful Energy and Commerce Committee, was a lead sponsor of the legislation's House counterpart in 2007. At the time, the Republicans argued that the municipal Internet projects could boost competition and spur economic growth.
Those days are over.
Virtually every House Republican—including Upton—voted in July to block the Federal Communications Commission from striking down state laws that prevent municipalities from setting up their own broadband services. The provision is now attached to the House's version of a 2015 funding bill for the FCC and other agencies.
And 11 Republican senators fired off a letter to the FCC in June, saying it would be "deeply troubling" for the agency to "force taxpayer funded competition against private broadband providers."
The Republican opposition follows FCC Chairman Tom Wheeler's announcement earlier this year that he will consider overturning such state limits. And Wheeler's commission is now reviewing petitions from the cities of Wilson, N.C., and Chattanooga, Tenn., to bypass their states' laws on municipal broadband.
The roles of Comcast, the FCC, and Obama
So what explains the GOP's change of heart?
Some Republicans argue the debate is not about the virtue of municipal Internet, but rather the question of a federal board intervening against state laws. States should be able to overturn local officials' decisions, but the FCC shouldn't overturn the states' decisions, they argue.
An Upton spokesman claimed there's nothing inconsistent about supporting a bill to nullify state restrictions and opposing FCC action that would do the same thing.
"Voters and their elected representatives, not bureaucrats at the FCC, should make the decision whether to spend tax dollars on municipal broadband," the spokesman said in a statement.
Matthew Berry, an aide to Republican FCC Commissioner Ajit Pai, argued in a speech last week that the FCC can't strike down state laws because it doesn't have clear authorization from Congress.
But it's hard to ignore the most significant change since the Republicans sponsored the municipal broadband bills a few years ago: The Obama administration has taken a position on the issue.
In February, Wheeler announced he would rewrite net-neutrality regulations that had just been struck down in federal court. As part of the announcement, Wheeler said he also wanted to look for opportunities to "enhance Internet access competition." Overturning legal restrictions on community broadband would be "one obvious candidate" for boosting competition, Wheeler said.
The statement, which connected municipal broadband to the controversial net-neutrality rules, instantly made the issue more partisan. Wheeler's push on the issue has polarized Republicans, but it's also rallied Democrats to his side.
"Communities are often best suited to decide for themselves if they want to invest in their own infrastructure," eight Democrats, led by Sen. Edward Markey and Rep. Mike Doyle, wrote in a June letter to the FCC chief. The Democrats implored Wheeler to "utilize the full arsenal of tools Congress has enacted to promote competitive broadband service."
While Republicans are new opponents of municipal broadband, cable and telecom companies have been fighting the projects for years. The companies argue that it's not fair to have to compete with government-backed providers and they claim the projects drive away commercial investment. Also, like many Republicans, the companies have warned that the projects can sour into multimillion-dollar boondoggles.
Comcast, AT&T, Verizon, and other large commercial broadband providers have been lobbying state lawmakers around the country to set up restrictions on local Internet service.
"Virtually every state barrier to community broadband initiatives and public-private partnerships has been the product of heavy lobbying by cable companies, telecom companies, or both," according to Jim Baller, an attorney who defends municipal broadband projects.
The companies also aren't shy about donating heavily to Republicans—and Democrats—on the federal level.
An alternate history
This debate would never have happened if the bipartisan coalition supporting municipal broadband had succeeded a few years ago.
In a 2005 Senate floor speech, McCain argued that his legislation to override state restrictions was necessary to meet President Bush's goal of providing "universal, affordable access" to broadband.
"When private industry does not answer the call because of market failures or other obstacles, it is appropriate and even commendable, for the people acting through their local governments to improve their lives by investing in their own future," McCain said.
When Upton introduced his bill, he said that tearing down barriers to municipal broadband would "foster even more competition and choices for consumers across the nation."
In 2006, their bill was a few short steps away from becoming law, as it was included as a provision in a broader overhaul of telecommunications regulation. That larger bill, authored by Republican Rep. Joe Barton, then chairman of Energy and Commerce, passed the House with 321 votes—including 215 Republicans. Only eight Republicans voted against it.
But fights over net neutrality and other issues bogged the legislation down in the Senate, and it never became law.