How Much Would You Pay to Watch NBC?
The leaders of the Senate Commerce Committee want to unbundle broadcast TV channels.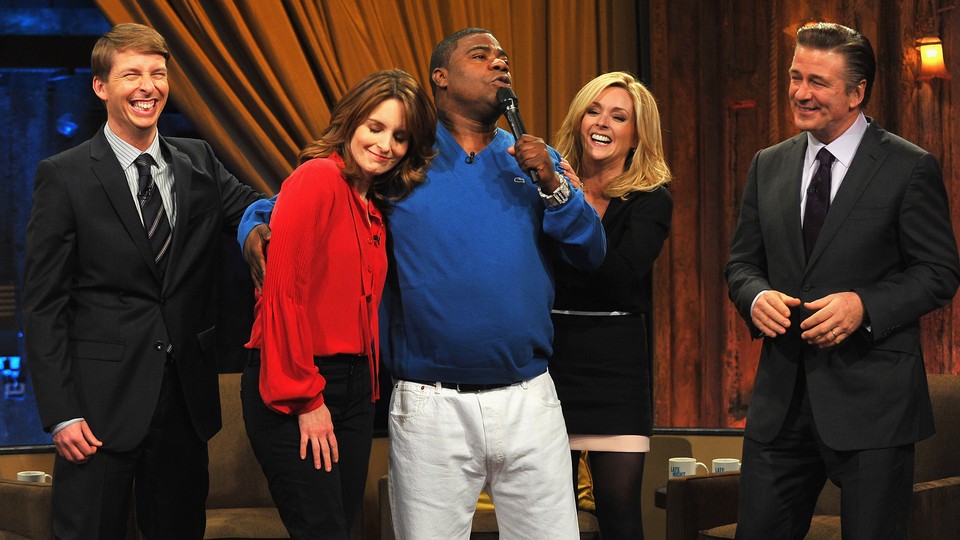 A proposal from two key senators would let you pick and choose which broadcast TV channels you want.
So viewers who want to save some money on their monthly cable bill could drop Fox. Or NBC. Or any local over-the-air station.
Sen. Jay Rockefeller, the Democratic chairman of the Commerce Committee, and Sen. John Thune, the panel's top Republican, unveiled the proposal Friday.
One broadcast TV advocacy group, TVFreedom, has come out swinging against the idea. Robert Kenny, a spokesman for the group, argued that hidden charges, equipment rental fees, and expensive cable channels are the real reason for soaring TV bills.
The Senate proposal would only let consumers unbundle broadcast stations — not cable channels like ESPN.
"This approach fails to offer consumers real programming choices or serious economic relief, yet forces them to continue overpaying for rarely watched cable channels such as Spike TV and TruTV," Kenny said in a statement Monday, arguing that popular broadcast channels amount to a "pittance on the price of a monthly pay-TV bill."
But that "pittance" has been rising steadily in recent years. Broadcast stations are expected to rake in $5.1 billion next year in fees from cable providers, according to an analysis by research firm SNL Kagan. When negotiations between broadcasters and cable providers break down, it leads to blackouts that leave viewers without access to their favorite shows.
The government gives broadcasters access to valuable public airwaves, and the stations are available for free over-the-air to anyone who sets up a TV antenna. But most viewers watch the stations as part of packages from their cable provider, and the cable fees have become an increasingly critical revenue source for the broadcasters.
The goal of the Senate proposal, called "Local Choice," is to prevent channel blackouts and to allow consumers to drop broadcast stations they don't want. Broadcasters would have to convince individual consumers of the value of their channel.
The National Association of Broadcasters, the main lobbying group for the TV networks, issued a more cautious statement than TVFreedom, questioning whether there is enough time before the end of the congressional session "to give this proposal the thorough review that is warranted."
The American Cable Association, which represents small cable providers, said Rockefeller and Thune deserve the "highest praise" for offering a proposal that would "provide consumers with more choice in the selection of TV station programming than they have seen in decades." The group has long argued that increasing broadcast fees have meant higher bills for consumers.
But the National Cable and Telecommunications Association, which represents giant cable providers like Comcast, has been silent on the proposal, which if approved could be a slippery slope to an "a la carte" style system for all cable television. Sen. John McCain and others have pushed legislation that would let consumers pick and choose any individual channels they want — not just broadcast stations.
NCTA represents an array of media interests, such as Comcast's NBCUniversal, that are opposed to "a la carte" programming.
Rockefeller and Thune plan to include their proposal as part of legislation to reauthorize the Satellite Television Extension and Localism Act, which is set to expire at the end of the year. The law allows about 1.5 million satellite TV subscribers in rural areas to access broadcast channels, and many lawmakers consider the reauthorization bill "must pass" legislation.
But their proposal looks like a long shot in the waning days of the Congress. Senate Majority Leader Harry Reid has said he is reluctant to take up any controversial legislation.
"You can't come up with a more controversial proposal than this one," one TV industry official said.
The Senate Judiciary Committee has already approved a "clean" update of the satellite TV law, and the House passed a reauthorization bill that only makes minor tweaks to the TV industry.
Lawmakers are expected to begin work next year on the first major rewrite of communications law since 1996. The "Local Choice" proposal could be an important starting point in those negotiations.
House Energy and Commerce Committee Chairman Fred Upton issued a statement saying it is "imperative" that the Senate act quickly to reauthorize the satellite TV law. But he said he looks forward to working with the Senate on the broader Communications Act rewrite.
"Providing innovative solutions to meet the challenges of an outdated Communications Act should be encouraged and applauded," Upton said.
{{ BIZOBJ (video: 5156) }}