How Lamar Alexander Kept His Most Dangerous Opponents From Running
A number of Republicans could have given Alexander a tougher time in the Tennessee primary. But he and other incumbents have effectively used their power to ward off such challenges.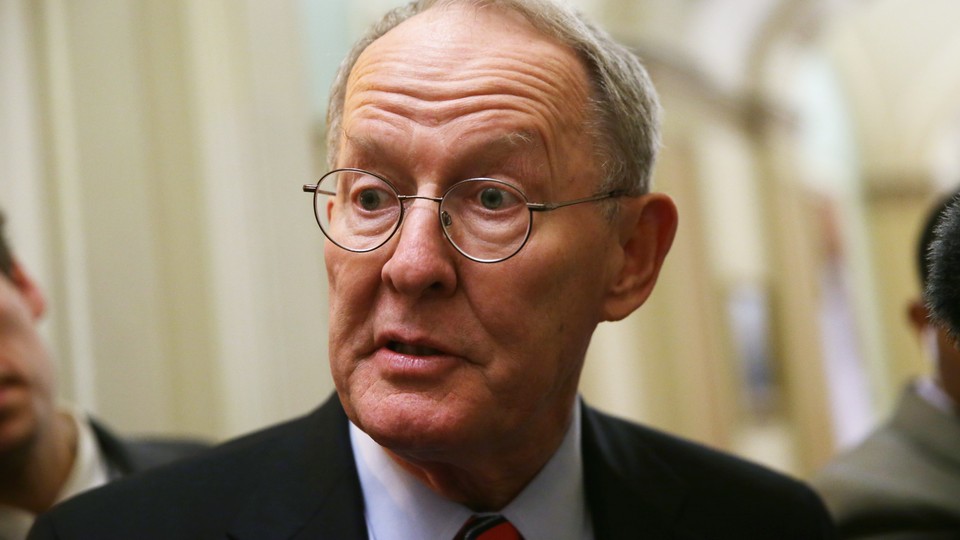 Monty Lankford has been a champion of conservative politics in Tennessee for years. He served as the state finance director for Newt Gingrich's presidential campaign, and he knows how to raise money — more than $3.5 million for Republican candidates over the years. But when conservatives approached Lankford to run against Sen. Lamar Alexander, one of the more moderate Republicans in the upper chamber, Lankford eventually said he wasn't interested. And neither were most of his fellow conservatives.
By many standards, Alexander is the type of incumbent Republican that tea-party groups love to hate. He's been a political fixture for the better part of four decades, and he regularly works across the aisle. Most sinful of all, Alexander voted for the Senate's bipartisan immigration bill in 2013. He easily could have faced a primary race with some real money behind it, like we saw in Kansas earlier this week, but he hasn't. His main challengers are a guy local Republicans big-footed out of running for the House of Representatives, state Rep. Joe Carr; and a late-entering doctor who is polling at less than 5 percent, George Flinn — another failed House candidate.
To hear Alexander's campaign tell it, his smooth-sailing primary position (even tea-party activists concede he will almost certainly win) reflects the senator's intraparty appeal, combined with a diplomatic approach to winning over potential opponents. And to some extent, they're right. Alexander convinced the entire Tennessee delegation, except scandal-troubled Rep. Scott DesJarlais, to not only stay out of the race, but also to join his campaign as co-chairs.
But Alexander's lack of a credible challenger also underscores one of the tea party's biggest shortcomings across the Senate map this cycle: They're having trouble convincing good candidates to run.
"People need to understand how hard it is to recruit," said Daniel Horowitz, a conservative consultant formerly with the Madison Project, which has not endorsed either of Alexander's challengers. "I've seen polling that had Trey Gowdy crushing Lindsey Graham straight up in a head to head ... but to get a guy who's impressive enough, has the ability to raise money, is smart on the issues, shares our values, and is willing to put his neck out, is a huge brain drain. By virtue of being a prominent prospect, you're not going to want to destroy yourself."
The fact is, political institutions like Alexander and Graham wield a lot of power in their states — not just within their congressional delegation but on down to state-level politicians, local party chairs, mayors, and fundraisers.
When local tea-party leaders approached FreedomWorks about finding potential candidates nearly a year or more ahead of this election, they had a list of well-qualified people outside of the congressional delegation. Among those considered were Nashville lawyer and Senate Conservatives Fund favorite Kevin Kookogey, Knox County Mayor Tim Burchett, and wrestler Glenn Jacobs. Other Republicans mentioned state Sen. Mark Green, state House Speaker Beth Harwell, and Lt. Gov. Ron Ramsey as potential challengers to Alexander.
One by one they all declined, and many actually went on to assist Alexander's campaign.
For Lankford, the decision to sit the race out was one of the hardest he'd ever made. He has long dreamed of going to D.C. (he lost a congressional bid against former Democratic Rep. Lincoln Davis in 2008) and even called himself an unofficial candidate for this race at one point.
"I got calls just about every day from someone saying, 'Please run against Lamar,' " Lankford said. "But finally I decided it wasn't about me, and my time is better spent turning blue seats red."
The change of heart baffled the conservatives courting him.
Lankford insists Alexander didn't pressure him not to run but says the senator did reach out immediately after he made the decision. Lankford says Alexander thanked him personally and offered to help him in any capacity going forward.
Like most of the folks on the list, Lankford has long-term political aspirations, and Alexander's future support will go a long way even if the two don't always see eye to eye.
For others, the directive from Alexander was more firm. Flinn, who remains on the ballot, says Alexander and his allies actively pressured him to stay out of the race.
"They said, 'I guarantee you he'll ruin you in the Republican Party,' " Flinn said of the calls.
Nashville Tea Party President Ben Cunningham described Alexander's defense strategy as tireless and aggressive but said he was running an aggressive campaign himself. Cunningham and his colleagues had been out speaking with Sen. Ted Cruz's supporters to learn best practices for taking on the incumbent.
He said the senator sat down with him for the first time ever following a radio interview Cunningham gave about potential challengers. The senator seemed to be doing opposition research, he said.
"Lamar tried to talk to everyone," Cunningham said. "He'd try to convince them they wouldn't have a chance against him."
When the dust settled after the lengthy recruitment process, just Carr and Flinn remained serious challengers in the race, and conservative outside groups were less than thrilled with their options. Though some, like the Tea Party Patriots, eventually rallied around Carr, endorsements were late in coming and brought little financial support. Even more telling: A large tea-party gathering in June brought Sarah Palin and Rick Santorum to the state, but neither endorsed or campaigned for either of Alexander's challengers.
Palin later endorsed Carr on Facebook, but the decision to have a candidate-free rally highlights the lack of a tea-party bench for such a challenge. Steve Osborn, the chairman of the Sevier Country Tea Party, which planned the event, is backing Carr, but he said the rally was purely intended to build momentum in the state's conservative movement.
{{ BIZOBJ (video: 5152) }}