How House Republicans Sabotage Their Presidential Candidates
Friday's immigration vote and others like it are repelling the voters a GOP nominee will need to take the White House.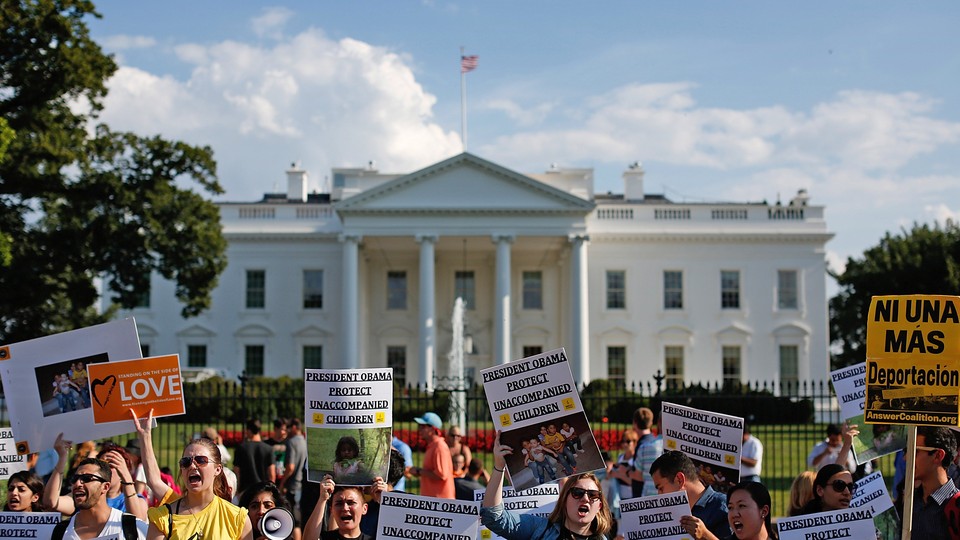 House Republicans' bill to undo one of President Obama's immigrant-protection programs will never become law. But it could still cause the GOP trouble in the next presidential election. To understand why, just look at how Rep. Cory Gardner voted on Friday night.
Faced with a similar vote in 2013, the Colorado Republican stuck with his party and voted to end the program. But this time, facing a tough Senate campaign in the one 2014 battleground state that most epitomizes a rapidly diversifying America, Gardner split from party leaders to oppose the GOP effort to kill the immigration program.
Gardner, who represents a safe Republican district, has modified several positions over the past year to better position himself to win statewide in Colorado, the tipping-point state in the last two presidential elections. He appears to be following the playbook most Republican political thinkers prescribe if the party hopes to attract the new voters necessary to retake the White House after a crushing disappointment in 2012.
But, as Friday's House vote on the Deferred Action for Childhood Arrivals (DACA) program demonstrated, most Republicans aren't making similar changes to their immigration positions. And consequently, it's unlikely the next GOP presidential nominee, put through the rigors of a hyper-competitive primary controlled largely by conservative activists, will have the same flexibility, given opposition to DACA is now thoroughly woven into orthodoxy. The party's standard-bearer, in effect, will have to try to win Colorado after taking policy positions the state's current GOP Senate nominee plainly thinks would hurt his chances at victory.
"Short-term, this is a lot tougher for Democrats than for us," said Republican pollster Wes Anderson, referencing polls showing immigration hurting Democratic incumbents across the country in 2014. "Long-term? I think Sen. [Marco] Rubio's experience with the issue has taught most Republicans to tread very lightly into these waters."
What happened Friday night is, in many ways, representative of how congressional Republicans have hurt their party's attempts to win back the White House in 2016.
After the 2012 elections, Republicans declared with great urgency that the party must broaden its appeal to women and racial minorities or face near-permanent exclusion from the White House. But in the 21 months since that election, GOP lawmakers have gone the other way, whittling away at their party's appeal among the voters a Republican candidate would need to take the White House.
"There are a number of things Republicans can do to be more open to courting Hispanics and courting women voters," said Glen Bolger, a Republican strategist. "The question is, does the party have the willpower to do it? So far since 2012, the answer would have to be no."
That's not to say Republicans are destined to lose the next White House race, or even perform worse with voters (like Latinos) who turned away from them in droves two years ago: Obama's dismal second-term approval numbers and an ingrained pessimism about the direction of the country present huge challenges to any potential Democratic nominee, including Hillary Clinton. But just as Obama's deep advantages with African-American, Hispanic, and certain white groups of voters lifted him to a relatively comfortable reelection victory, the party's ready-made demographic edge could carry his successor in just over two years.
Republicans were supposed to start easing those disadvantages after 2012. And the lack of progress might not hurt much in a 2014 landscape that marginalizes Latinos and some other growing Democratic constituencies.
But Colorado is the one major 2014 state that illustrates the GOP's longer-term problem on immigration. While several vulnerable red-state Democrats have cautioned Obama not to move too far, too fast on immigration unilaterally, Sen. Mark Udall has leaned hard in the other direction. In June, the Colorado Democrat took to Latino radio to urge the president to unilaterally do more to stop deportations of undocumented immigrants if the House didn't act. And while most House Republicans didn't budge on DACA between 2013 and 2014, Gardner did.
Unlike their Senate counterparts across the country, Udall and Gardner are competing in a state that mirrors the growing Hispanic vote nationally. According to exit polls in Colorado's last Senate election in 2010, 12 percent of voters were Hispanic—almost exactly the same share of the national electorate that Latinos will likely comprise in the next presidential race. And though most House Republicans' districts are shielded from these demographic changes, their votes still affect their party's chances of improving on Mitt Romney's 27 percent showing among Latinos in the last presidential race.
It isn't just immigration, either. This congressional session, Republicans have embraced an array of other potentially problematic agendas that could alienate the type of swing voters they need.
Take gun control, an issue almost completely absent from the 2012 presidential race that has since emerged as a visceral topic in the national debate. Republicans' opposition to legislation that would expand gun-sale background checks puts them at odds with most voters, especially residents of cities and moderate, suburban women.
Plus, socially moderate women might be alienated by a debate about Republican support for a ban on all abortions after the 20th week of pregnancy or one about the Supreme Court's Hobby Lobby decision that curtailed access to some forms of birth control.
Individually, these issues pale against political behemoths, such as the state of the economy. But stacked on top of one another, like bricks in an ever-growing wall, they make it harder for Republicans to connect with the voters they need. As National Journal's Ronald Brownstein has argued, Democrats are confident about their chances in the 2016 races in large part because they have aligned themselves with the country's growing cultural majority while Republicans, by and large, have resisted it.
Prospective Republican presidential candidates aren't bound to any of these positions: Rubio, for instance, can credibly separate himself from his party's conservative wing on immigration policy.
But most of the policies embraced by House Republicans are now part of conservative orthodoxy, and—at minimum—deviating from them during the primary will come at a price. And on an especially potent issues like gun control, it's hard to imagine Republican candidates doing anything other than toeing the party line.
"There's no question what's going on right now is going to be an issue in the presidential primaries," Bolger said. "It's going to impact the debate on the Republican side."
Absent any significant gains with minority voters, the GOP's path to the White House depends on winning an even higher share of the white vote than Romney's near-60 percent support in 2012. That's a daunting task, especially if the GOP does face former Secretary of State Clinton on the ballot in November 2016.
Most early polls pitting Clinton against a hypothetical Republican opponent show her carrying a sizable lead. Two years out, those numbers don't mean much. But what does matter is why she carries a strong early advantage: her strength with white, college-educated women.
It's a group Obama actually struggled with two years ago, winning the lowest percentage of white-collar women (46 percent) for a Democratic presidential nominee since Michael Dukakis in 1988. But a Quinnipiac University poll from July showed Clinton drawing at least 53 percent support from that group in a hypothetical matchup with five potential GOP opponents (Chris Christie, Jeb Bush, Mike Huckabee, Paul Ryan, and Rand Paul), according to crosstab data shared with National Journal.
Clinton doesn't perform better than Obama with any other group of white voters, the poll shows. But her popularity with well-educated white women alone would make replicating Romney's support with white voters difficult to replicate.
It's why making progress with minority voters was considered so important among Republicans.
"Absolutely, I'm concerned," said Rep. Adam Kinzinger, an Illinois Republican who voted against the GOP bill Friday, about what it means for his party's Hispanic outreach. "I think we've got to get together as a party and be for something, have a real talk about immigration reform. And, you know, have a real sit-down talk about it. It's going to be difficult, but you know, we'll get there. And that's going to take our 2016 candidate to lead."
---
Sarah Mimms contributed to this article