House Democrats Claim Momentum Heading Into August
Facing a difficult political environment, the DCCC's executive director writes that Republican missteps have energized Democrats ahead of the fall campaign.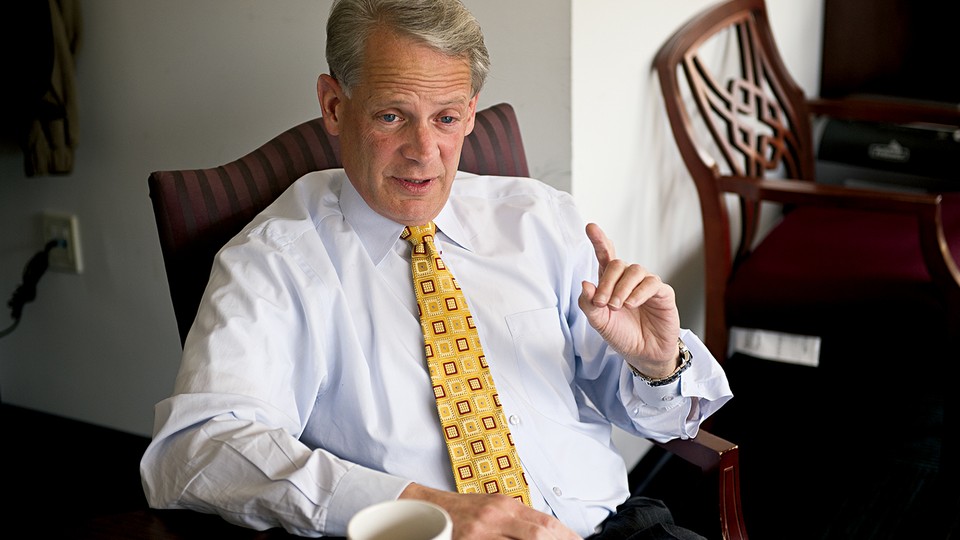 House Democrats head into the August congressional recess and the fall campaign season with a newly energized base, after some unpopular moves by their Republican counterparts, the head of the Democratic campaign committee argues in a new memo.
Facing a challenging congressional map and political environment ahead of the November elections, Democratic Congressional Campaign Committee Executive Director Kelly Ward touted the DCCC's end-of-July fundraising spree, criticized House Republicans' border bill, and called their vote to take President Obama to court out of the mainstream in the memo, which was obtained by National Journal. And Ward continued the Democratic drumbeat against the GOP's "impeachment talk" — a key fundraising driver which has grown louder than any Republican talk of removing the president.
"House Republicans made their only 'accomplishment' a taxpayer-funded lawsuit against the president" before recess, Ward wrote, dismissing the Republican border-security bill as oriented toward "the tea-party base." Ward cited recent CNN polling showing 57 percent of Americans disagreeing with the decision to push the lawsuit and more, 65 percent, saying they don't think President Obama should be impeached.
House Speaker John Boehner has ruled out impeaching Obama, but a majority of Republicans, including scattered high-profile ones (such as Rep. Steve King of Iowa, who brought it up in the context of Obama's potential immigration orders over the weekend), say they favor such a move, which has sparked a clamorous Democratic response.
Democrats leveraged those sentiments to bring in campaign cash over the past week. "Our grassroots supporters are stepping up like never before to show their support for" Obama, Ward wrote, reporting that the DCCC had its "best online fundraising week of all time" last week, bringing in over $4.8 million from more than 240,000 donors.
Ward said that the DCCC raised $1 million last Monday alone, its highest-grossing day of an election cycle in which the Democratic committee has again outraised its Republican counterpart despite being in the minority.
If the increased activity by Democratic donors does in fact represent an uptick in intensity from Democrats in general, that would be big news for the party. An early-July survey from the Pew Research Center found that Democratic supporters were less engaged and enthusiastic about voting than their Republican counterparts, with 37 percent of Democratic-aligned respondents saying they were "more enthusiastic about voting than usual" compared with 45 percent of those who said they support Republican candidates. In the same poll, 76 percent of Republican supporters said "they are absolutely certain to vote," while only 67 percent of Democratic supporters agreed.
On top of that, Democrats have more competitive House seats to defend than Republicans. The latest ratings from The Cook Political Report put 26 Democratic seats in some degree of jeopardy, compared with 15 Republican seats. Democrats would need to net 17 seats in November to take control of the House.