Guns to Play Big Role in First Post-Newtown Connecticut Governor's Race
Democratic Gov. Dannel Malloy will be carrying the flag for gun-control supporters in his close bid for reelection.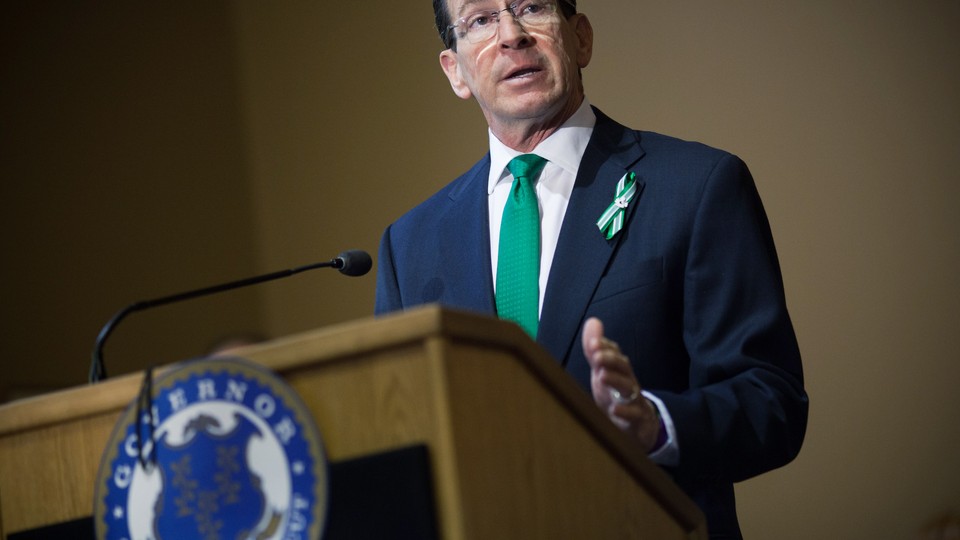 Debate over the nation's gun laws largely receded from national politics after the Senate failed to advance a bill requiring universal background checks for gun buyers in 2013. But the issue remains at the forefront in one campaign this year in Connecticut, home of the Newtown tragedy that galvanized federal lawmakers at the beginning of last year.
Less than two years after the December 2012 shooting at Sandy Hook Elementary School that left 26 people dead, the package of gun laws passed posthaste by the Connecticut Legislature in April 2013 is poised to play a significant role in the race between Gov. Dan Malloy and his Republican opponent, Tom Foley.
Malloy has made the new laws a centerpiece of his campaign, even as guns have caused political trouble for another Democratic governor in a state affected by a mass shooting, Colorado's John Hickenlooper. In Connecticut, the issue is putting the main Republican candidate on the spot as the state moves into general-election mode following Tuesday's primary.
The state reform package accomplished several goals the Senate couldn't find votes for, including universal background checks, an expanded ban on assault weapons, the abolition of high-capacity magazine sales — covering magazines holding more than 10 rounds.
Connecticut's gun laws played almost no role in the state's gubernatorial contest four years ago, when Malloy narrowly beat Foley by 6,404 votes, but that's bound to change this year now that the governor is focusing on his leadership in the aftermath of the shooting and using the issue as a wedge in an otherwise deadlocked race. The most recent public opinion poll, conducted in May by Quinnipiac University, had the candidates tied at 43 percent apiece.
The first two televised ads run by Malloy's reelection campaign tout his leadership during tough times, including in the aftermath of the Newtown shooting and during recovery efforts after Hurricane Irene and superstorm Sandy. One of Malloy's ads features Nicole Hockley, whose son Dylan was one of the 20 students killed at Sandy Hook. In the ad Hockley praises the governor for having "the courage and conviction to stand up and do the right thing."
Malloy's embrace of the issue could vex Foley, who has yet to articulate a clear stance on the state's bans on assault weapons and high-capacity magazines, in the fall campaign.
Indeed, the May Quinnipiac survey found that 56 percent of Connecticut voters support the state's new, stricter gun laws, while just 38 percent stand opposed.
Shannon Watts founded the grassroots group Moms Demand Action for Gun Sense in the days after the Newtown shooting and recently merged the organization with Mayors Against Illegal Guns to form an umbrella group, Everytown for Gun Safety. The groups are now working to mobilize 1 million voters in the 2014 midterms nationwide to vote for candidates who support stricter gun laws, with a particular focus on women. Watts says they haven't yet rolled out a list of 2014 endorsements, but the Connecticut governor's race is one she's keeping an eye on.
"I think [Foley] has been pretty clear he does not want to discuss gun safety," Watts said. "It's probably not helpful for him to discuss it because the voters of Connecticut support gun laws so overwhelmingly."
The businessman and former ambassador to Ireland has criticized the 2013 gun bill and said he would veto additional gun-control measures if elected, but for the most part, Foley has avoided discussing the issue if he can. During a joint interview with the editorial boards of several local newspapers in early August, Foley described the events in Newtown as "something that happened several years ago," and said, "I'm looking down the road. I'm looking ahead. I'm looking at jobs and the economy. I'm not governor and I wasn't governor at the time."
Foley spokesman Chris Cooper said the Republican would have taken a different approach to reform. "He believes in focusing on the mental health aspect of these issues," Cooper said.
That's opened Foley to criticism from his GOP primary opponent, John McKinney, a state senator whose district encompasses Newtown and who supported the new gun legislation.
Foley is likely to withstand McKinney's challenge in Tuesday's primary, thanks partly to the superior statewide name identification earned during his 2010 race, but the attacks won't go away. Mark Bergman, a senior adviser to Malloy's campaign, indicated the governor has no intention of shying away from the issue.
"Part of the progress Connecticut has experienced over the last three years under Governor Malloy has been because of the passage of one of the country's smartest, strictest gun laws in 2013," Bergman said. "That's part of his record, and his record is going to be an important part of his campaign."
Cooper argued the focus is there for a different reason. "It's about the only part of his record that polls well with people," Cooper said. "When they look at him on jobs and the economy, he doesn't look so good."
Malloy isn't the only Democratic governor who pursued gun reforms during his first term who faces a tough race for reelection in 2014. Hickenlooper led his state's efforts to pass similar legislation in 2013 in response to both Newtown and the shooting at an Aurora movie theater, but he faced quick reprisal in the form of recall elections that cost two Democratic legislators their seats later that year.
This midterm election is short on races where gun laws have featured prominently, but Connecticut and Colorado may come to be examples of how members of both parties can successfully handle the issue in 2016. Just as gun control was absent from Connecticut elections in 2010, it was absent from the 2012 presidential race — but it likely won't be in two years. Hillary Rodham Clinton has been vocal in her calls for renewed action to address gun violence, for example. Democratic victories in places like Connecticut could embolden the party to use the issue in swing suburban areas such as Philadelphia in 2016.
On the flip side, if Malloy or Hickenlooper loses, that means voters will have rejected some of the only governors to try new gun legislation in the last couple of years. Despite the complex nature of both contests, Watts understands what's at stake. "The gun lobby will claim it as a win if it has anything to do with guns at all," she said.