Getting Indicted Might Actually Be Good for Rick Perry
A flimsy, politically motivated charge makes the governor look like a victim—and distracts from his sometimes questionable use of power.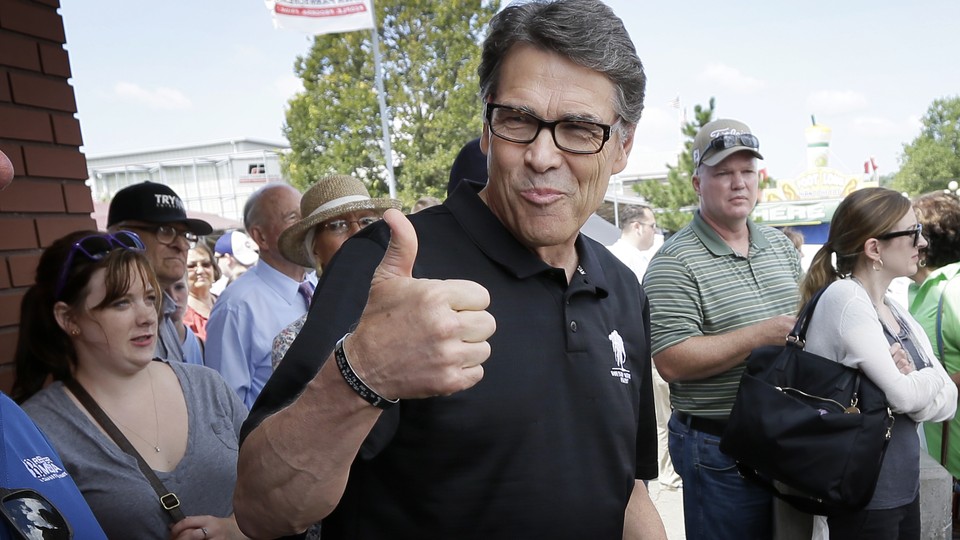 After the schadenfreude surrounding news of Rick Perry's indictment subsided on Friday night, America awoke this weekend to a general consensus that the case against the Texas governor was overblown. After a close read of the situation, New York's Jon Chait summed it up thusly: "Perry may not be much smarter than a ham sandwich, but he is exactly as guilty as one."
What had first appeared a gross abuse of power seemed more reasonable given the revelation that the public official he sought to oust was caught driving very, very drunk. Indeed, upon a little analysis, Perry's conclusion that District Attorney Rosemary Lehmberg was no longer fit to lead the Public Integrity Unit in Travis County seemed, if anything, perfectly logical.
Casting the indictment as part of a liberal witch hunt, Perry stood behind his actions in media appearances over the weekend, and conservatives across the spectrum helped bolster his case. "Breaking: Travis County prosecutor indicts Rick Perry for trying to cut the prosecutor's budget," tweeted conservative writer Erick Erickson. Ron Paul, after noting that he's no fan of the governor, told Andrea Mitchell the Perry indictment is "pure politics."
If anything, the indictment news cycle has been kind to Perry. "GOP state level activists love nothing more right now than a leader with the guts to stand up against a system they believe is failing the people and protecting the elites," Republican strategist Bruce Haynes of Purple Strategies told Politico. "Ultimately this may not be a threat to Perry as much as it is a gift."
Perry's indictment could even help him rally support in some corners of the GOP. As news of the indictment broke, Perry tweeted a link to his newly formed political-action committee, RickPAC: "I started RickPAC to help elect strong candidates that share the conservative vision for the nation. Donate today!" Whether you think his timing was unfortunate or brilliant depends on your interpretation of the situation, but recall how well Democrats raised funds off impeachment threats.
Perry's biggest vulnerability moving forward is that the case will surely highlight various facets of the cronyism he's long traded in. At the time of Lehmberg's arrest, for instance, her Public Integrity Unit was investigating Perry's appointees at the state's Cancer Prevention Research Institute, which is accused of improperly distributing millions in grant money to a Dallas firm with ties to the governor. In revoking the funds for the Public Integrity Unit when Lehmberg refused to step down, Perry was effectively gutting one of the few entities with the capacity to expose his web of political favor-peddling.
Such tactics, Alec MacGillis argued recently in The New Republic, are perfectly in line with the governor's character. "Where Perry made his mark, once he ascended to the governorship," wrote MacGillis, who profiled Perry for the magazine in 2011, "was not in advancing a policy agenda but in wielding power to curry favor with the wealthy supporters who made him the most formidable fundraiser in the history of a state with next to no limits on campaign contributions. Often, this meant taking actions that were in contravention of some elements of conservative orthodoxy." Had his presidential campaign not self-combusted sometime during the 2012 Republican debates, the American public might have become better acquainted with this side of Perry.
And yet, allegations of cronyism are decidedly not the question at hand. Instead, it's whether it was legal for Perry to use strong-arm tactics to pressure a genuinely compromised public official out of her job (and if he's found guilty, he could be sentenced to prison for anywhere from five to 99 years). As Michael Lind, a veteran of the Texas statehouse, put it Monday in Salon, "This isn't Watergate. It isn't even Bridgegate .... Rosemary Lehmberg does not make a very good martyr for Dems to rally around."
Sure, Perry was happy to be have the occasion to push her out. And it's very possible that, given the opportunity, he'd replace her with someone in his likeness. But, as Axelrod argued earlier, unless it can be shown that Perry was actively trying to scrap the ethics unit for reasons other than getting rid of her, his detractors will have a decidedly uphill climb.