Five Days in August: What It Was Like to Report Watergate
Forty years after Richard Nixon's resignation, a journalist relives the bizarre moment when a president stepped down in disgrace.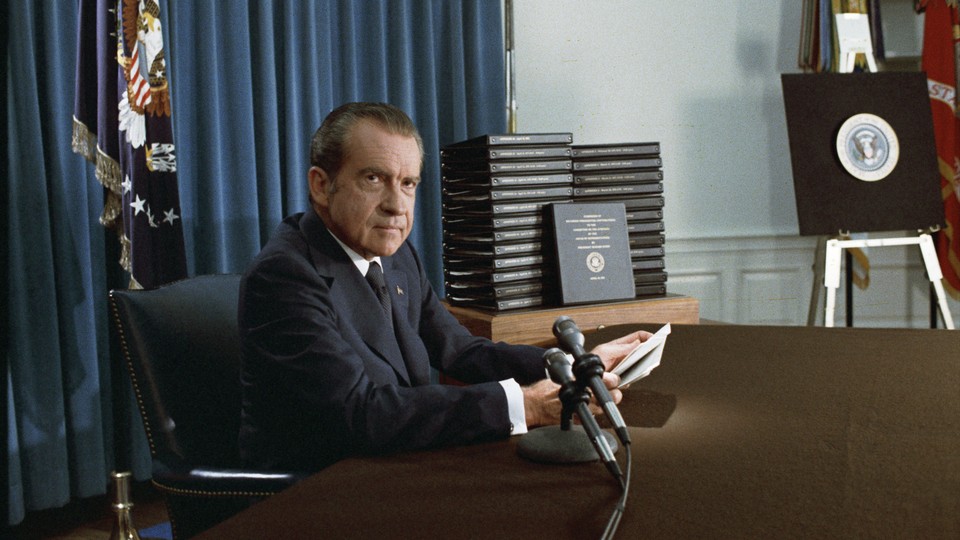 Forty years ago Friday, America's gravest constitutional crisis since the Civil War ended with the unthinkable—the resignation of an American president in disgrace. After more than two years of legal and political trauma that wracked and divided a nation, the 2,026 days of Richard M. Nixon's presidency were over.
It's difficult to convey the enormity of those harrowing times to generations who have lived through 9/11, two polarizing wars, a presidency decided by the courts, the first African-American president, and the Great Recession. Yet in its day, Watergate was just as seismic.
It shook the foundations of our republic, engaging all three branches of government on an ugly collision course, pitting millions against one another in ideological combat, and shattering the country's faith in its leaders and institutions.
America's commitment to civil liberties was sorely challenged by a "plumber's unit" created to spy on White House political adversaries and antiwar zealots. A president of the United States tried to conceal criminal deeds by claiming his agents were protecting national security. When a special prosecutor who was appointed to find the truth came too close to it, the president fired him in the infamous "Saturday Night Massacre." It was, unbelievably, the stuff of banana republics.
In today's 24/7, social-media-driven universe, Watergate would have played out in a few months; it dragged on for parts of three years, riveting the nation and dominating headlines morning and night.
Though justice ultimately prevailed and our democratic processes survived, Watergate's corrosive fallout is with us still. Ever since, political leaders are viewed with more suspicion and cynicism. Presidents aren't considered nearly so trustworthy anymore. Escalating polarization between Congress and the White House has crippled bipartisan governance. Reporters and presidents have little use for each other now. All this traces to Watergate.
What follows is a personal remembrance—not just of history, but history that altered America forever. I was fortunate to watch it all unfold firsthand, especially that fateful final week, as the 29-year-old White House correspondent for Newsweek.
Four decades later, in one of life's small ironies, my office at National Journal is in the Watergate complex. Driving to work I pass the old Howard Johnson's motor lodge, now a George Washington University dorm, where Nixon partisans monitored a botched burglary of the Democratic National Committee's Watergate headquarters across the street on the night of June 17, 1972.
* * *
At 12:20 p.m. on August 8, 1974, Richard Nixon's press secretary entered the White House briefing room. We knew it must be serious—Ron Ziegler had checked his Marlboro Lights, Styrofoam cup of coffee, and trademark cockiness at the door.
Ziegler's briefing lasted just 83 words and he had trouble finishing. "Tonight at nine o'clock Eastern Daylight Time," he announced, struggling to maintain his composure, "the president of the United States will address the nation on radio and television from his Oval Office."
As Ziegler left the podium, a Wall Street Journal correspondent once again shouted the question he'd been asking at every press briefing for weeks: "Ron, is the president going to resign?"
Early on, Ziegler had denounced the break-in as a "third-rate burglary." Even a year into the scandal, Nixon professed his ignorance and innocence. "I am not a crook," he famously insisted in Orlando, Florida, in November 1973.
By then, however, Nixon's damage-control efforts were cratering. Guided by an FBI agent known as Deep Throat, The Washington Post's Bob Woodward and Carl Bernstein had produced a steady stream of blockbuster scoops documenting that the Watergate burglars had been choreographed by retired intelligence agents with close ties to the 1972 Nixon reelection apparatus and within the White House.
A Senate special committee was trying to determine, in the immortal phrase of the late Senator Howard Baker, "what did the president know and when did he know it." Special Prosecutor Leon Jaworski, a legendary trial lawyer from Texas, was hauling presidential associates before a federal grand jury. Nixon's chief of staff and domestic policy adviser had been forced to resign after Woodward and Bernstein reported their complicity in the cover-up.
When White House aide Alexander Butterfield told the Watergate committee that Nixon had been secretly taping his Oval Office conversations, Jaworski subpoenaed the tapes. Nixon refused, claiming executive privilege. The special prosecutor sued the president, triggering a constitutional confrontation between the executive branch and the judiciary. On July 24, 1974, a unanimous Supreme Court ruled that Nixon must surrender the tapes.
Monday, August 5
After 26 months, the endgame reached a stunning crescendo in just five days, beginning on the afternoon of Monday, August 5, when the White House released transcripts of three tapes. Shortly before they were made public, Nixon's chief of staff, Alexander Haig, convened about 100 White House senior aides in the Old Executive Office Building. He warned that "material damaging to us" was about to be released and exhorted them to stay at their posts for the good of the nation.
Even more telling, Haig had already informed Vice President Gerald Ford that the tapes were a game-changer and that Ford should begin thinking about preparing himself to become president.
"After that meeting, the odds were overwhelming that I would be president," Ford told me 17 years later. "Of course, even then Haig was saying, 'One minute he's going to resign, the next minute he's going to fight it through.' "
The three 1972 conversations between Nixon and Chief of Staff H.R. Haldeman demolished Nixon's contention that he was merely the innocent victim of overzealous subordinates. They showed convincingly that Nixon had been deeply involved. In fact, one of them revealed he was conspiring to cover up the break-in six days after it happened—nine months before he claimed he first learned of the incident.
The incriminating transcripts not only sealed Nixon's fate, they coined a new phrase in the American political lexicon: "the smoking gun."
I called my boss, Newsweek's legendary bureau chief Mel Elfin, and read him what we liked to call the "nut graf" from each of the tapes. Mel had impeccable political instincts, but this was a no-brainer. "It's over," he said. "You're about to cover the biggest story of your life."
Tuesday, August 6
After a 10-minute haircut in the basement barber shop, Nixon walked upstairs for an emergency Cabinet meeting. For 88 minutes, he led the conversation as if the business of government were paramount on his mind. He began by saying he wanted to talk about the most important problem facing the country—inflation.
At some point he brought up the Watergate crisis, dissecting the mess for about 25 minutes. Yes, he acknowledged, he'd made some mistakes; these were difficult times for him and his family, but he intended to soldier on and let "the constitutional process" go forward.
The delusional quality of the meeting was jerked back to reality when George H.W. Bush, chairman of the Republican National Committee, politely suggested it was time for Nixon to resign. Several participants later reported that Nixon kept talking, ignoring Bush's recommendation as though it had never been uttered.
Certain that Nixon hadn't gotten the message, Bush followed up with a personal note:
It is my considered judgment that you should now resign. I expect in your lonely embattled position this would seem to you as an act of disloyalty from one you have supported and helped in so many ways. My own view is that I would now ill serve a president whose massive accomplishments I will always respect and whose family I love, if I did not now give you my judgment. Until this moment resignation has been no answer at all, but given the impact of the latest development, and it will be a lasting one, I now firmly feel resignation is best for the country, best for this president. I believe this view is held by most Republican leaders across the country. This letter is much more difficult because of the gratitude I will always have for you. If you do leave office history will properly record your achievements with a lasting respect.
By day's end, Nixon's defenses were crumbling. All 10 Republicans on the House Judiciary Committee who had voted against impeachment now agreed the president must go.
Wednesday, August 7
Late Wednesday afternoon, as what little political support he had left evaporated, Nixon met with three of his oldest friends from Congress: Senate Minority Leader Hugh Scott, House Minority Leader John Rhodes, and Senator Barry Goldwater, one of the president's conservative heroes. The meeting lasted only 23 minutes because the leaders carried a simple, nonnegotiable message: If Nixon didn't resign, the House would impeach him; he'd then be tried in the Senate, convicted, and removed from office. If he were lucky, they guessed, 15 of the 100 senators would stick with him.
Goldwater delivered the coup de grace: If it came to that, he told his old friend, he would be among the majority of senators voting to convict. Resignation was now a foregone conclusion.
Thursday, August 8
With Ziegler's noontime Thursday announcement of a primetime presidential speech, the Nixon death watch consumed a White House, city, and nation. Shaken Nixon staffers gamely carried on, struggling to cope with the reality that Nixon was a goner.
One press aide referred to the Nixon family dinner the night before as "the last supper." A dry-eyed West Wing secretary said in a voice scarcely above a whisper: "It's like death. You know it's coming but it doesn't really hit you until after it happens."
One of Nixon's stoutest defenders, who'd been with him since the ill-fated 1960 presidential campaign against John F. Kennedy, pronounced the valedictory to the tragedy of Richard Nixon.
"When you think," he said, pounding a fist on his desk, "what we could have done with the (second-term) mandate he got in 1972, it really makes you sick to your stomach."
Nixon's final full day as president began with a sleepless night. Between 3:58 a.m. and 5:15 a.m. he spoke twice with Ziegler and four times with speechwriter Ray Price.
At 11 o'clock he met with Jerry Ford, an old friend since their days in the House of Representatives in the late 1940s. For 70 minutes they talked and reminisced. Nixon emphatically urged Ford to keep Henry Kissinger as secretary of State; Ford eagerly concurred.
Nixon walked around his desk, wrapped his left arm around the about-to-be president and wished him well.
"I was surprised about how cool and composed he was," Ford told me in retirement. "It was a warm but ... obviously an emotional meeting. His composure was strong."
At 9:01 p.m. from the Oval Office, Nixon delivered a 15-minute farewell address to the nation, acknowledging his political base had eroded to the point where he couldn't be effective.
"I have never been a quitter," he said. "To leave office before my term is completed is abhorrent to every instinct in my body. But as president, I must put the interest of America first. America needs a full-time president and a full-time Congress, particularly at this time with problems we face at home and abroad.
"Therefore, I shall resign the presidency effective at noon tomorrow."
Across Pennsylvania Avenue in Lafayette Square, thousands of Nixon-haters, Vietnam War protesters, and gawkers had gathered in the enervating humidity to await the inevitable and witness a pivot point in history. At the precise instant Nixon announced his resignation, a shriek of jubilation erupted from the crowd, a roar so loud and guttural that it cascaded across the avenue, North Lawn of the White House, and through the sealed windows of the briefing room. As I watched from a small black-and-white television in the basement, the noise drowned out Nixon's next line: "Vice President Ford will be sworn in as president at that hour in this office."
The hair on my arms stood straight up. Forty years later, that happens again without fail each time I repeat the story.
What he termed "the Watergate matter" was mentioned in passing. "I would say only that if some of my judgments were wrong, and some were wrong, they were made in what I believed at the time to be the best interest of the nation," an assertion long ago rejected by a majority of Americans.
It was an eminently presidential performance, measured and statesmanlike, perhaps his finest speech in nearly 30 years as a congressman, senator, vice president, and president.
Friday, August 9
His official farewell had been delivered in a firm, steady voice, absent malice and devoid of emotion. Not so the next morning, when Nixon assembled several hundred friends and staffers in the East Room for a speech so wrenching to watch that even some archenemies admitted a pang of sympathy for a humiliated fellow human struggling to keep from unraveling.
As many in the audience wept openly and he himself almost broke down more than once, Nixon was rambling, disjointed, tortured, awkward, maudlin—and, in his own way, powerful.
Poignantly he paid tribute to his parents; first his father, a failed lemon rancher yet still a "great man" because he did his job despite many travails.
Then, he reminisced, almost breaking down, "My mother was a saint."
How Nixon got through it I'll never know. But somehow he did, at times rising to an eloquence that otherwise eluded him his entire career.
Toward the end, he spoke a line for the ages:
"Always remember, others may hate you, but those who hate you don't win unless you hate them—and then you destroy yourself."
Noble words, indeed. Yet this was the same guy, I thought at that moment, who kept an "enemies list" of political opponents, railed in private against blacks and Jews, and vowed to unleash the IRS to settle scores with those he was convinced were out to destroy him.
Still, it was arguably Nixon's most memorable moment in public life.
Waiting outside on the South Lawn, Manolo Sanchez, Nixon's faithful Cuban-born valet, was preparing to accompany the boss into exile with his wife Fina, Pat Nixon's assistant. "I decide is my duty to go with this man because I know he's kinda sad," a bewildered Sanchez told me. "I don't believe this thing happen."
Three minutes after his East Room farewell, Nixon and his family joined Jerry and Betty Ford. They walked down a long red carpet between a military honor guard. The wives embraced, their husbands shook hands.
"Dick, I'm sorry about this, you did a good job." Ford said. "Good luck, Jerry," the 37th president replied.
He briskly walked up Army One's ramp, turning for a magisterial wave to thunderous applause. Then, almost as an afterthought, he snapped off that final defiant gesture his liberal adversaries hated most: the double V-for-victory salute.
From his cabin, Nixon stared at the red carpet being rolled up, another metaphor of decline. The helicopter lifted slowly, banked to starboard toward the Jefferson Memorial, then turned left for the short hop to Andrews Air Force Base and exile to his La Casa Pacifica retreat in San Clemente, Calif.
Walking back to the press room to file a pool report, I happened upon a riveting image: the head of Nixon's security detail staring at the vanishing helo, tears streaming down both cheeks.
"I totally lost it," Dick Keiser told me years later over lunch. "I couldn't help it. We're all trained to react without emotion, to take a bullet for a guy no matter what we think of him personally. But after all he'd been through, you just couldn't help feeling bad for him."
Keiser is now a hale 80, long retired from the Secret Service, but the memories of that moment on the South Lawn endure. "You're willing to literally spend your life protecting someone," he remembered last week, "and all of a sudden watching them suffer the greatest hurt of their life and you can't do anything about it—I was helpless. It was very emotional for me."
Three minutes past noon, Jerry Ford was sworn in as the 38th president—on the same East Room platform where Nixon said his farewells two hours earlier. Technically, he was already president; Nixon's one-sentence resignation letter to Secretary of State Henry Kissinger was received at 11:35.
Ford had graciously set aside prime seats for many of Nixon's senior aides. I still remember Al Haig patting a grim-faced Rosemary Woods on the arm, trying to assure Nixon's most dedicated, loyal-to-a-fault personal assistant that time would heal her grief. Woods wasn't buying it; she stared wordlessly straight ahead at the podium where her beloved boss had still been leader of the free world just that morning.
"My fellow Americans, our long national nightmare is over," Ford reassured. "Our Constitution works; our great republic is a government of laws and not of men. Here the people rule."
When he asked the country to pray for Nixon, Ford's voice quavered and his eyes misted: "May our former president, who brought peace to millions, find it for himself."
It had been a remarkable 24 hours of triumph and tragedy—triumph for democracy's resilience and the rule of law, tragedy for a man and a president.
Leaving the White House hours later that monumental Friday, I unexpectedly came upon one last bit of drama, a hopeful omen that Nixon's leaving may have finally begun a healing process the country so desperately craved.
For weeks, a determined band of protesters on the north side of Pennsylvania Avenue had waved banners urging motorists to "honk if you think he's guilty." My enduring memory of that momentous summer was entering and leaving the White House serenaded by a cacophony of horns. The honking went on for hours day after day, well into the night.
Now, with one president abruptly gone and his successor pledging to "bind up the internal wounds of Watergate, more painful and more poisonous than any foreign wars," the horns at last were silent.