Even Liberals Are Dubious of Rick Perry's Indictment
The Texas governor has been charged with abuse of power, but some of his political opponents question the case against him.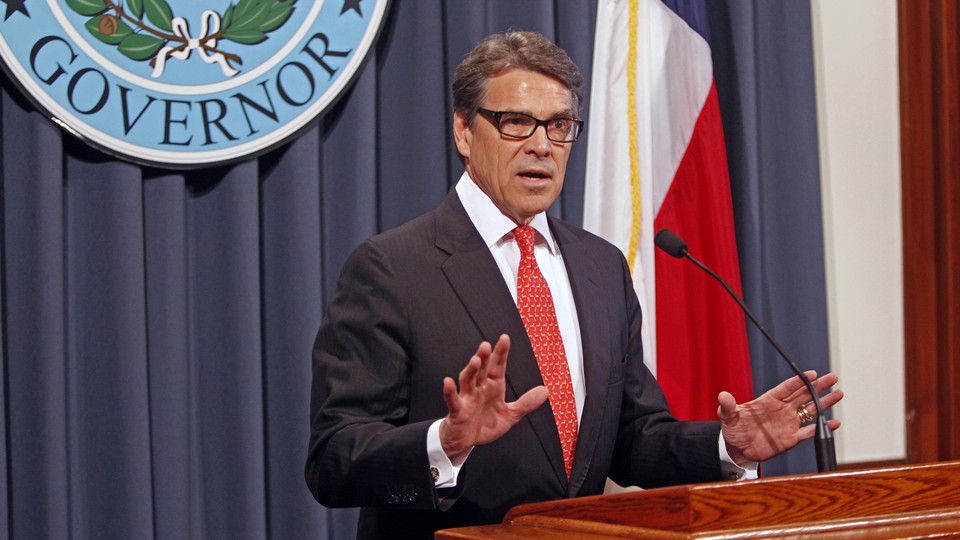 By now, you've probably heard the news: Gov. Rick Perry was indicted Friday on charges of abusing the power of his office and coercing a public official. It doesn't bode well for a man positioning himself to be the next president, and speaking about his indictment on Fox News Sunday, Perry offered a strange rebuttal: He invoked the defense of left-leaning observers. Specifically, of Obama adviser David Axelrod and Harvard Law professor Alan Dershowitz.
"Let me just share with you: David Axelrod said this was a very 'sketchy' indictment. Professor Dershowitz, who is not exactly my cheerleader, said that it was 'outrageous,' " Perry told Fox's Shannon Bream.
It's an odd defense for such a serious matter. Political leanings should have nothing whatsoever to do with the question at hand, which is whether Perry's actions were legal. Abuse of official capacity is a first-degree felony in Texas, and, if convicted, Perry could be sentenced to prison for anywhere from five to 99 years, according to The Dallas Morning News. (Coercion of a public servant, the less serious count with which Perry has been charged, is a third-degree felony with a penalty of two to 10 years.)
The indictment, at a glance, sounds like it could be the death of Perry's presidential ambitions: The Texas governor withheld funds from the state's Public Integrity Unit in Travis County (an area that includes the liberal flagship of Austin) after its head prosecutor, Rosemary Lehmberg, began investigating some of his fellow Republicans.
Yet a closer inspection reveals a version of this story that makes Perry's actions look eminently reasonable, or at least, more reasonable. That is the version he sought to drive home to his audience both on Fox and at a press conference held Saturday, after news of his indictment broke Friday night.
There was a clear line of logic to Perry's decision to withhold funds. Last year, Lehmberg, the highest ranking prosecutor in Travis County, was convicted of driving while intoxicated and received a 45-day sentence. Her blood alcohol level at the time was roughly triple the legal limit. "I stood up for the rule of law in the state of Texas, and if I had to do it again, I would make exactly the same decision," Perry said Sunday.
He added, "It's important for people to understand the details of this. The abusiveness—she was kicking on the door, she was abusing the law officials, she had to be restrained." Indeed, Perry's best case going forward, so far as public opinion is concerned, will likely revolve around video footage of Lehmberg's behavior following her drunk-driving arrest, which the Texas Tribune called "scandalous and highly embarrassing."
In the wake of the incident, Perry called on Lehmberg to resign and when she refused, threatened to gut her agency of funds. Lehmberg, in her refusal to step down, had support from state Democrats, who charged it would constitute a "huge blow" to the Public Integrity Unit's caseload, which included investigating wrongdoings by the state's GOP.
Perry has made no secret of his actions, but the question of whether he has the legal authority to strip the division of its funds remains an open one.
On Sunday, the governor argued that Lehmberg's irresponsible behavior and subsequent refusal to abdicate her office gave him little choice. "When you look at that, and you have to make a decision on whether or not $7.5 million of Texas taxpayer money is going to go to the unit that she oversees, I very clearly, I very publicly said as long as that individual is going to be running that agency, I had lost confidence in her," he said. "The public had lost confidence in her, and I did what every governor has done for decades, which is make a decision on whether or not it was in the proper use of state money to go to that agency, and I vetoed it."
Perry has said he lacks no deference for the law, and he wants people to believe that the investigation is driven purely by politics. Even some of Perry's political opponents, he pointed out, seem to agree:
This is not the way that we settle political differences, in this country. You don't do it with indictments. We settle our political differences at the ballot box and I think across the board, when you have David Axelrod and Harvard Law Professor Dershowitz saying the things that they said, it's reflective of what we're looking at.
Got that, guys? Even the liberal David Axelrod thinks so!