Education Department Launches Review of the University of Phoenix
While the analysis of the nation's largest student financial aid recipient is standard practice, it comes at a time of increased scrutiny for the for-profit college sector.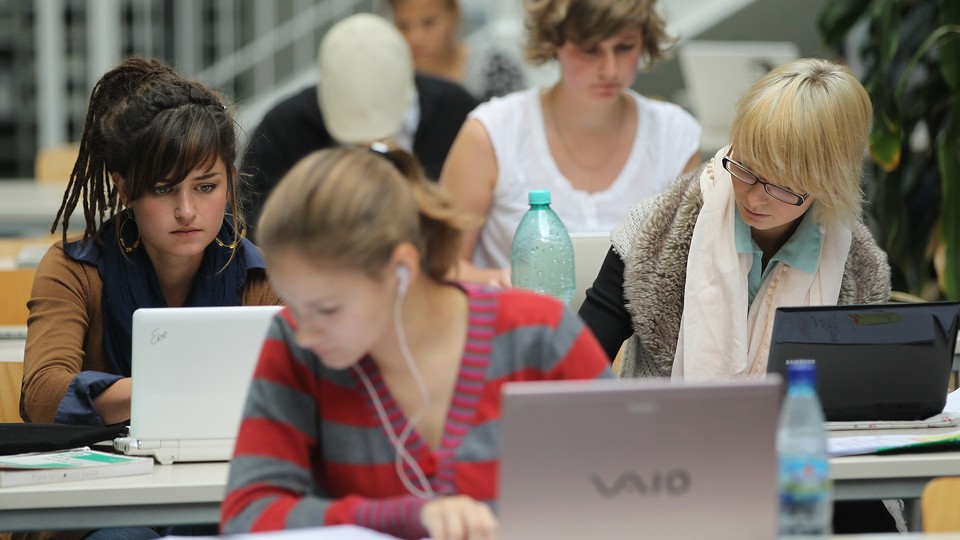 Last week, the U.S. Education Department began a regularly scheduled review of the Apollo Education Group, the publicly traded company that owns and operates the University of Phoenix. Federal authorities began examining how Apollo distributed federal student-aid dollars, whether it returned funds associated with students no longer enrolled, and how it reported on-campus crimes during the 2012-13 and 2013-14 school years.
While the review is a standard practice — the agency conducted more than 300 similar reviews last year — it comes at a time of increased scrutiny and regulatory activity directed at the for-profit college sector. The volume of financial aid collected by Apollo and the role that financial-aid funds play in the company's balance sheet also significantly raise the stakes of this review.
Public interest in the for-profit industry has grown as more Americans have pursued nontraditional paths to a college education. As enrollment has grown, state and federal investigators have examined recruiting and marketing practices as well as academic activities at a number of for-profit schools. In 2012, a U.S. Senate investigation found widespread evidence that for-profit schools often appear to prioritize business concerns over educational quality or student progress, with most producing low graduation rates but double-digit profit margins for publicly traded companies.
The corporations behind for-profit colleges together reaped 86 percent of their revenue from federal student-aid programs, the Senate investigation found, but they have not faced congressional regulation or consistent oversight that might protect the interests of students and taxpayers. In fact, during the 2008-09 school year, half the students attending for-profit colleges left school without a degree, according to the Senate report. Many of these students were drawn to the schools by multimillion-dollar ad campaigns and high-stakes recruiting practices and then left school with life-altering amounts of debt, the Senate report found.
The industry has often countered criticisms with claims that for-profit colleges provide educational services to working adults and low-income and minority students — populations they say traditional nonprofit colleges and universities have long neglected or underserved. And officials at Apollo describe their schools as institutions that bolster the country and its most important economic goals.
"A few years ago, the president said he wanted to have a 2020 goal of getting additional people into and through college," Mark Brenner, Apollo's chief of staff, told National Journal recently. "To do that through the community college system alone, an additional $13.1 million [people] would need to graduate. So we know that the University of Phoenix has a role to play in that big goal for the country and for our students."
Brenner also stressed that the University of Phoenix network, while an industry leader, is not synonymous with the entire for-profit college sector. The University of Phoenix has made efforts to improve the services provided to students — changes that Brenner said will ultimately boost graduation and loan-repayment rates.
Still, Apollo — which operates for-profit schools under a variety of names in the United States, United Kingdom, Mexico, India, Australia, and South Africa — and its University of Phoenix division have remained the subject of particular public attention. The investigators behind the 2012 Senate probe used pointed language to describe Apollo's operations:
Apollo Group, Inc. has the potential to be the industry leader in student success. Instead the investigation demonstrates that, at least during the period examined, the company invested relatively little in students and struggled to retain Associate degree students. While the company has started to take positive steps in the right direction, more remains to be done.
The Senate report also concluded that under its former corporate leadership, Apollo was a company fixated on increasing profits and share prices.
At the time, Apollo officials including Brenner responded to the Senate investigation by describing the changes the University of Phoenix had already made in methods used to recruit and retain students. Brenner also denied that the company employed "high pressure" sales tactics, and described recruiter compensation as "regulated."
In 2009, the company did agree to pay a $67.5 million settlement to the federal government and another $11 million in legal fees after former employees filed a suit alleging that the company tied recruiter pay to the number of students recruited or enrolled, a violation of federal law. Under the terms of the settlement the company admitted no wrongdoing. "Apollo Group is committed to rigorous regulatory and compliance systems to serve and protect the academic innovations for which we are known," Gregory Cappelli, then co-chief executive officer of Apollo Group, said in a statement issued by the company. Cappelli, who is now the company's sole CEO, made more than $25 million in 2011.
Apollo had also previously paid a $9.8 million settlement after Education Department officials found evidence in 2004 that the company violated federal rules regarding the role that student enrollment can play in recruiter pay. In that case, the company denied any wrongdoing as well.
Attorneys general in Massachusetts and Florida continue to investigate the company, according to Apollo's most recent quarterly report to the Securities and Exchange Commission. And in March, the company received a subpoena from the Education Department's Office of the Inspector General related to a range of activities including "marketing, recruitment, enrollment, financial aid processing, fraud prevention, student retention, personnel training, attendance, academic grading and other matters," according to the same quarterly report.
The University of Phoenix faces additional scrutiny from its academic accrediting agency, the Higher Learning Commission of the North Central Association of Colleges and Schools. In 2013, the organization reaccredited the college network for 10 years but placed it on a two-year notice plan due to concerns "regarding governance, student assessment and faculty scholarship/research for doctoral programs," according to Apollo's most recent annual report. A school is put on notice status when it appears that without changes the institution will fall out of compliance with the accrediting agency's standards.
Adding to the pressure faced by the University of Phoenix and the entire for-profit college industry is a proposed Education Department rule that could leave schools that have low levels of alumni employment or income levels and high student default rates unable to access the federal aid program. Federal data indicate that the median income of for-profit college graduates who were working and not in school in 2012 was $54,000, more than the $47,500 earned by graduates of private nonprofits and $45,000 for public nonprofit alumni. However, for-profit college graduates typically emerge with far more student-loan debt than students who attend nonprofit schools, according to a 2012 Project on Student Debt analysis.
Continued access to federal financial-aid dollars has already proven critical for some of Apollo's competitors. In late June, Corinthian Colleges — the nation's second-largest for-profit education provider — announced that it would soon enter bankruptcy, sell 85 of its campuses, and close at least 12 other campuses operating in 26 states. Like the University of Phoenix, the vast majority of Corinthian's revenue came from taxpayer-financed student financial aid. When a series of federal and state probes into Corinthian led the Education Department to withhold federal student-aid funds, the company's operations became unsustainable, Corinthian officials said.
In response to concerns raised by federal regulators and the Higher Learning Commission, as well as the company's educational goals, the University of Phoenix has hired more full-time faculty, reshaped the sequence of courses that students must complete, invested in a new online learning platform, and created a free, multi-week orientation period that aims to help students better understand and navigate the university, Brenner said.
In April, the University of Phoenix also hired Timothy P. Slottow, a former executive vice president and chief financial officer at the University of Michigan, to serve as the school's president. Apollo's most recent annual and quarterly reports to the SEC describe a company that has cut staff members, but is moving to align its academic programs with employer needs to help ensure that graduates find work with good pay. The company is also altering its student-body mix by recruiting more veterans and those seeking bachelor's or graduate degrees.
Financial aid dollars made available to veterans are not subject to the rule restricting the portion of a company's revenue that can come from federal financial aid. Students seeking bachelor's and advanced degrees are more likely to graduate, according to Apollo's annual report.
The entire suite of changes are expected to boost student graduation rates, Brenner said. Such a change could be good for the school, its students, and taxpayers because students who complete their degrees or certificate programs are far less likely than others to default on student loans.
Apollo continues to generate the vast majority of its operating revenue from the University of Phoenix, according to its 2013 annual report. And a large slice of the University of Phoenix's revenue — 83 percent — comes from federal financial aid. To remain eligible to participate in the federal financial-aid programs available to most students, for-profit colleges can not derive more than 90 percent of their revenue from these programs.
While the University of Phoenix operates below that limit, it remains the nation's single largest recipient of publicly financed federal student-aid dollars, according to federal education data. In fact, Apollo took in $3.4 billion in federal student loans and grants during the 2012-13 school year, the most recent federal data available. The nation's second-largest recipient, the Education Management Corporation, took in $2 billion during that same period. Education Management operates the Art Institutes and other for-profit colleges in states across the country.
Today, the University of Phoenix's for-profit college network continues to be the largest operation of its kind in the country, serving 269,000 students in December 2013 despite several years of declining enrollment. Brenner told National Journal that the school has topped the list of schools with large student bodies for several years. And while the University of Phoenix receives substantial revenue via taxpayer-funded financial aid, nonprofit public colleges and universities do the same while also depending on state governments for annual funding. Both private and public nonprofit colleges also typically do not pay property taxes to state or local governments, Brenner said.