During Africa Summit, a Rare D.C. Species Is Spotted: Bipartisanship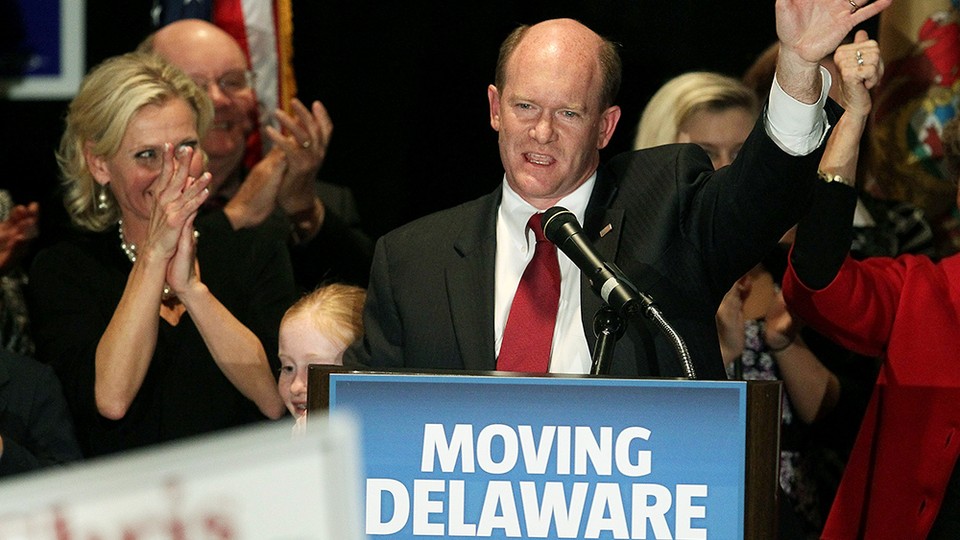 In other parts of Washington, participants in the U.S.-Africa Leaders Summit were talking Monday about how to save the endangered pygmy hippopotamus, the black rhinoceros, and the Ethiopian wolf. But on Capitol Hill, something even more threatened was on display — bipartisanship. There, in the Kennedy Caucus Room of the Russell Senate Office Building, Republicans and Democrats met with the visiting African leaders here for their three-day summit with President Obama.
Attendance was held down because of the congressional recess, but 23 members signed up for the session, 16 Democrats and seven Republicans, according to the office of Sen. Christopher Coons, D-Del., chairman of the Foreign Relations Africa Subcommittee. For Coons, the event simply makes public what he sees as the reality of American policy-making affecting the continent.
"One of the great things about U.S.-Africa engagement is that it is truly bipartisan in the interest and support in the Senate," Coons told reporters. "The legislation we need to move, the issues that deserve our attention, have as much support and engagement from senior Republicans as Democrats." Because of that, he said, there has been great continuity in American policy toward Africa from President Clinton to President George W. Bush and, now, to President Obama. "Virtually every one of President Bush's initiatives relative to Africa are continued or strengthened. And President Obama's administration has simply built on it," he said.
Sen. Jeff Flake of Arizona, the ranking Republican on the committee, did not attend the reception Monday night. But his office stressed it was because he is back in Arizona, not because of differences with Coons. In a statement to National Journal, he boasted of "a solid working relationship" with Coons, adding that "[I] admire the leadership he's shown on Africa issues."
Twenty years ago, that would have been an unremarkable statement in Congress. Today it is difficult to find many committees where there is as much comity. "There is just broad agreement on most of the issues that come before the subcommittee," said Jamie Serlin, a spokesman for Coons. She noted there are few differences between the House and Senate versions of Power Africa, Obama's proposal to double the number of people with access to power in sub-Saharan Africa. Both parties also support the renewal of the African Growth and Opportunity Act, first signed into law by Clinton. Bipartisan support also remains strong for the President's Emergency Plan for AIDS Relief, first championed by Bush.
"It is kind of a unique issue area where there are shared goals," explained Serlin. "Across the board, Democrats and Republicans want peaceful, democratic nations, strong trade partners and development in Africa. These are shared goals."
The shared goals have even led the White House to do something it rarely does these days — praise Congress. "Congress has played an enormous role on a bipartisan basis in supporting Africa policy," said Ben Rhodes, the deputy national security adviser for strategic communications. "It is important to note that in an environment in Washington where there's not a lot of bipartisan agreement, Africa has been the true exception."