Driving in D.C. This Week Will Be Even More Hellish Than Usual
The U.S.-Africa Leaders Summit means lots of walking for D.C. residents.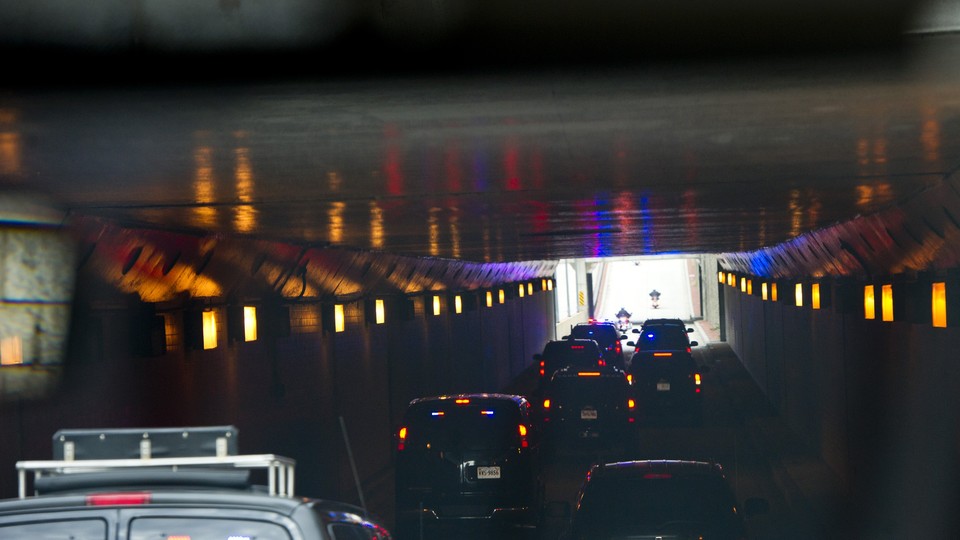 President Obama is hosting 50 leaders from across the African continent this week for a summit to discuss governance and international trade. And while it may be good for international development, it will be horrible for D.C. traffic.
A city that is routinely gridlocked by motorcades of its own leaders will be brought to even more of a standstill by the dozens of high-level international guests who are visiting this week. The Metropolitan Police have released a schedule of road closures and they are, well, extensive.
Here's just the list for Monday:
Desales St. NW between Connecticut Ave. NW to 17th St. NW from 4 pm to 12 am
22nd St. NW between C St. NW and Constitution Ave. NW from 12 am to 6 pm
Maine Ave. SW Westbound between 9th St. SW and 12th St. SW from 8/4/14 (10 pm) to 8/5/14 (6 pm)
Maine Ave. SW Eastbound between Ohio Dr. SW and 9th St. SW from 8/4/14 (10 pm) to 8/5/14 (6 pm)
Maine Ave. Frontage Rd. between the Mandarin Oriental Hotel and 14th St. SW & D St. SW from 8/4/14 (10 pm) to 8/5/14 (6 pm)
Maine Ave. Ramp between Southwest Freeway and 14th St. SW from 8/4/14 (10 pm) to 8/5/14 (6 pm)
D St. SW between 12th St. SW and 14th St. SW from 8/4/14 (10 pm) to 8/5/14 (6 pm)
12th St. SW between Independence Ave. and Maine Ave. restricted to visitors with official business and owners and employees from 8/4/14 (10 pm) to 8/5/14 (6 pm)
13th St. SW between C St. SW and D St. SW from 8/4/14 (10 pm) to 8/5/14 (6 pm)
The Secret Service has also released a (slightly confusing) map of scheduled closings. Click for a larger version.
+ (Secret Service)
The closures hit the heart of Northwest Washington — particularly around the White House, the State Department — and around the Mandarin Oriental Hotel on the Southwest waterfront. Metrorail be running per usual, but several bus lines have been rerouted. "Driving downtown probably will not be a good idea during this period, because there will be a lot of rolling closures," a D.C. Department of Transportation spokesperson told The Washington Post, most likely an understatement.
The U.S. Office of Personnel Management has gone as far as recommending telework or even vacation days for government workers so they don't get caught in the traffic. "Employees may be given the option to use their alternative work schedule days off, take annual leave, or use previously earned compensatory time off and/or earned credit hours under a flexible work schedule (if permitted under agency policies)," an OPM memo states.
Even the waterways may be restricted, if you're one to kayak to work. "There will be an enhanced security presence on the waterways of the Potomac River around Washington, DC," Metro Police states.
And to be sure, "[the Department of Public Works] will begin ticketing and towing vehicles from designated streets once the Emergency No Parking restrictions go into effect."
The summit lasts until Wednesday. Enjoy your walking! At least the weather will be decent.