Ben Carson Just Took One Step Closer to Running for President
That's great news for his burgeoning fan club.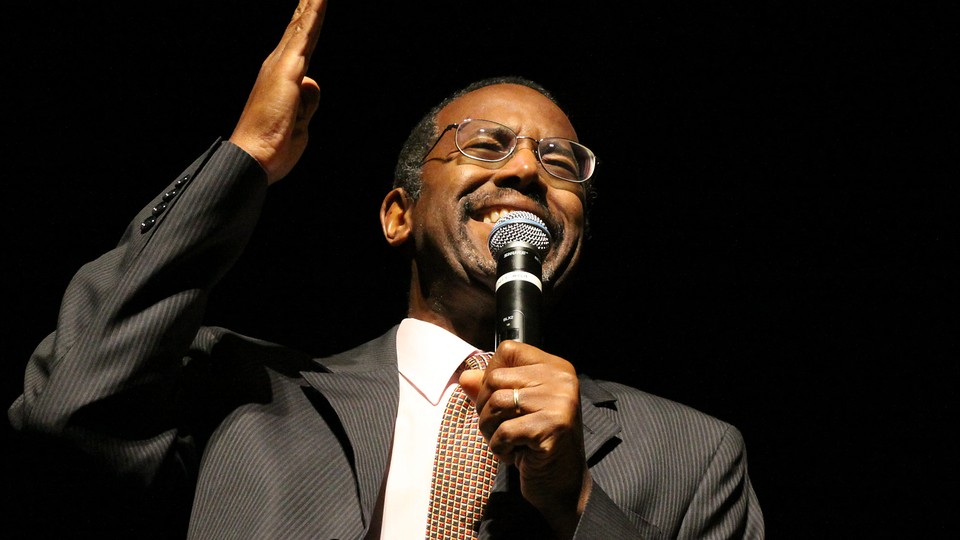 Dr. Ben Carson—the retired neurosurgeon-cum-conservative rock star—announced he is starting his own political action committee, taking him one step closer to announcing a presidential run in 2016.
The Washington Times, for which Carson writes a column, broke the news on Friday. The PAC, called One Nation, echoes the title of Carson's recent book, which he is on tour to promote.
"I would say we are definitely a step or two closer than we were a year ago," Carson told the Times when asked about the likelihood of running for president.
Carson gained notoriety among conservatives after delivering a fiery speech at the National Prayer Breakfast in 2013. He has gone on to irk liberals and delight conservatives with, shall we say, his imaginative language. He has said the Affordable Care Act is "the worst thing that's happened in this nation since slavery."
The One Nation PAC will be led by businessman Terry Giles. Like Carson, Giles has received the Horatio Alger Award for overcoming adversity.
A retired lawyer, Giles is now the head of Giles Enterprises, an investment firm based in Houston, Texas. When Giles was an attorney, he represented Kenneth Lay, the Enron founder who was convicted on 10 counts of fraud during the company's corruption scandal.
A multimillionaire, Giles lives in Houston with his wife but also owns houses in France and Mexico. He is also "well-versed in crisis management"—a good skill for any political manager to have.
As the head of Carson's new PAC, Giles will join an eccentric cast of characters who are already agitating for a Carson 2016 bid. As Marin Cogan wrote in National Journal last month, one of Carson's main boosters is John Philip Sousa IV, the great-grandson of the famous marching band composer John Philip Sousa.
Sousa has met Carson only once, but has successfully raised $7.2 million for Carson's candidacy through his own super PAC, the National Draft Ben Carson for President Committee. Vernon Robinson, who cofounded the organization with Sousa, says Carson's new PAC is a welcome addition to their efforts.
"We're ecstatic," Robinson told National Journal on Friday.
And while the pro-Carson group has earned grassroots enthusiasm—its Facebook page boasts more than 160,000 fans—the candidate himself is a ways off from becoming a presidential heavyweight. In a recent column, Carson chastised President Obama's foreign policy, especially with respect to the conflict in Ukraine.
"What has the Obama administration done in response to this aggression by Russia? Not really much, other than impose toothless sanctions on Russian businessmen close to Putin (but not the Russian president himself), which have done little to make Russia change course," he wrote. "Is this what Ronald Reagan would have done?"
Actually ... yes. In 1982, the Reagan administration tried, unsuccessfully, to impose sanctions on the USSR in an effort to derail its Siberian gas pipeline.
Statements like these could prove problematic come 2016. But Carson and his fans have plenty of time to up their chops before then.