American Imprisoned in Cuba: 'Life in Prison Is Not a Life Worth Living'
Alan Gross said goodbye to his family during their most recent visit to Havana.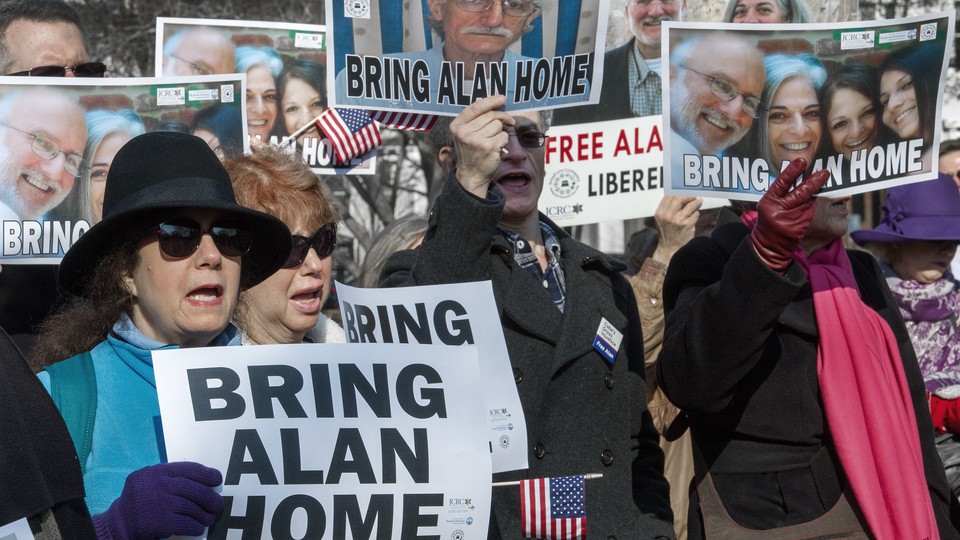 After spending more than four years in a Cuban prison, Alan Gross, an American, told his attorney that "life in prison is not a life worth living." He said goodbye to his wife and youngest daughter, and asked the Cuban government to return his body to the U.S. if he should die in prison. His request was denied.
Gross was arrested in 2009 in Havana, where had been working to set up Internet access for the Cuban Jewish community using satellite technology that the Cuban government would be unable to track or control. Gross had traveled to the island five times in 2009 as a part of a USAID program that sprouted from the 1996 Helms-Burton Act, which allocated money to set up information networks outside of the Cuban government's reach. Although Gross said he was not specifically aiding dissidents, any work for the Helms-Burton Act is considered illegal in Cuba, and Gross was charged with crimes against the state in 2011. He is serving a 15-year prison term.
Since Gross's arrest in 2009, USAID has come under additional fire for its operations in Cuba. After a social network called ZunZuneo, a Cuban version of Twitter, was exposed as a USAID-sponsored tool, lawmakers chastised the agency for overstepping its mission. "Does it taint all USAID employees as spies?" asked Sen. Patrick Leahy, D-Vt., in an April hearing.
Well into his fourth year of imprisonment, Gross's health is failing. He's lost much of the vision in his right eye, his hips are failing, and his "emotional deterioration has been severe," according to his lawyer, Scott Gilbert. "Both governments need to know that Alan plans to end his life in an effort to end this agony," Gilbert said in June.
The Cuban government has previously indicated that it would consider swapping Gross for three Cuban prisoners that have been held in the U.S. since they were arrested in 1998. Two Cuban agents that were arrested alongside them were released in June and are pushing for the prisoner exchange. The agents see a precedent in the American deal that swapped five Taliban detainees for Sgt. Bowe Bergdahl, who was being held in Afghanistan, in May. "The only thing missing is political will," said Fernando Gonzalez, one of the Cubans that was freed in June, after his release.
A letter signed by 300 American rabbis urged President Obama this week to "take action" to secure Gross's return. The U.S. has repeatedly demanded his release, but rejects the prisoner transfer Cuba proposed.
Before Gross's capture or the ZunZuneo scandal, when Obama had just begun his first term, the president called for a "new beginning with Cuba." The White House maintains that the dispute over Alan Gross is the biggest reason why there is no such fresh start in sight, but little time remains to overcome the obstacle. If no deal is struck and Gross passes away in a Havana jail cell, a new beginning seems even less likely than it did in 2009.