2016 Republican Field Offers Obama Advice on Iraq
Contenders with no foreign policy experience go to the mic with suggestions for the president's handling of Middle East crises.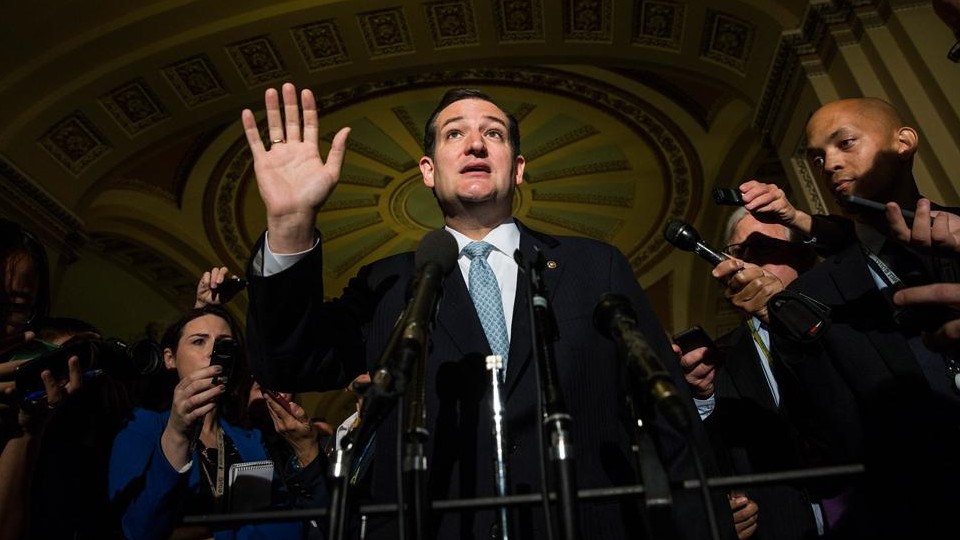 AMES, Iowa — A crop of Republican 2016 hopefuls offered varying advice for how to handle the situation in Iraq, but all called on President Obama to offer a more coherent and comprehensive explanation of his plans going forward.
While most of the would-be presidential candidates said they support Obama's decision to authorize targeted air strikes on the Islamic State of Iraq and Syria, they called on him to outline his foreign policy vision as it relates to Iraq and the Middle East more broadly.
Five Republicans — Sen. Ted Cruz of Texas, former Arkansas Gov. Mike Huckabee, Louisiana Gov. Bobby Jindal, Texas Gov. Rick Perry, and former Sen. Rick Santorum of Pennsylvania — addressed the issue with reporters following their respective speeches at the Family Leadership Summit in Ames, a gathering of religious conservatives.
Cruz called on Obama to seek authorization from Congress should the air strikes continue, calling the rise of ISIS the "latest manifestation of the failures of the Obama-Clinton foreign policy" and saying the congressional authorization process would help force Obama to "articulate a clear military objective."
ISIS is "the face of evil," he said. "I'm glad that President Obama is finally beginning to take the threat of ISIS seriously."
Their comments came just days after the Obama administration announced the air strikes, with the president writing in a letter to Congress that the strikes would be "limited in scope and duration." Over the course of the daylong event, the 2016 prospects and other speakers blasted Obama's overall foreign policy leadership on issues ranging from ISIS and Iraq to the U.S. relationship with Israel.
Santorum said Obama should have used his "incredible powers of persuasion" to keep more troops in Iraq in 2011.
"It's stunning that they fall back on that it wasn't their fault," Santorum said. "I just think that's false."
Huckabee did not think additional ground forces were necessary, but said the United States should be arming Kurdish forces directly.
"Should we have ground forces? No, we don't need them," Huckabee said. ""¦If we had good sense, we would arm the Kurds as we said we would."
In his speech to the crowd of religious conservative activists, Perry criticized Obama's overseas outlook as a whole, saying his foreign policy is "absolutely — it's not distinguishable from anything."
Jindal praised Obama's decision to order the air strikes, saying it helped prevent "the imminent slaughter" of Christians and other religious minorities, but that Obama has yet to explain a "coherent" foreign policy.
"One of the things that frustrates me, we've still not heard a coherent strategy when it comes to dealing with ISIS," he said. "I think [Obama] owes it to the American people, he owes it to our troops in uniform, to define what the strategic vision is, what the strategic plan is."