16 People the Media Considered Presidential Contenders at This Time in 2006
A handy reminder that speculation is just that — speculation.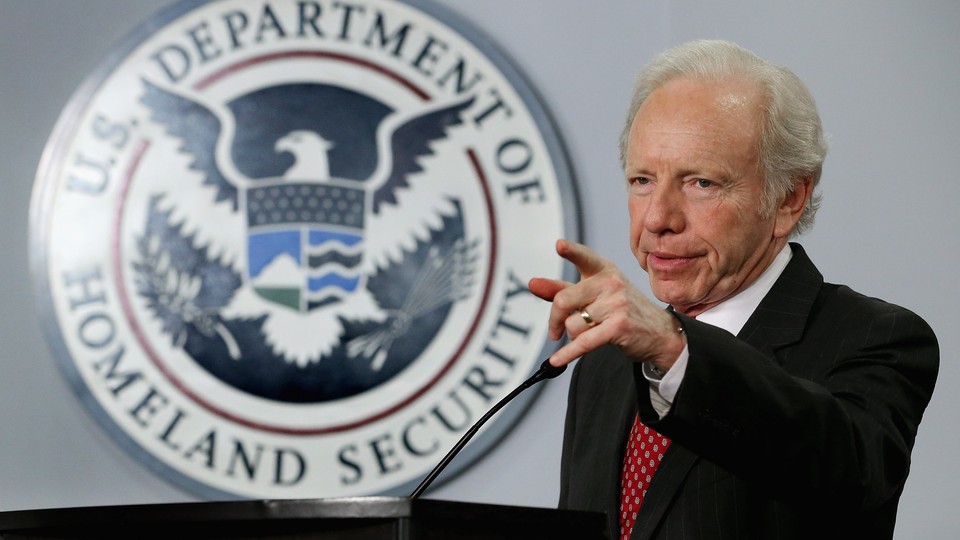 Considering how many 2016 think pieces bombard our collective consciousness on a daily basis, it's useful to remember that we're a long way off from knowing anything truly worthwhile about how the next presidential election will play out.
Case in point: A Nexis search of media coverage from the summer of 2006 shows that, two years out from the 2008 presidential election, there was a lot of buzz about different candidates — mainly Hillary Clinton — but almost none about the man who now occupies the White House. And while most news outlets took Sen. John McCain as the given Republican nominee, there were some wacky propositions on both sides of the aisle.
Of course, political reporters and columnists are wont to prognosticate — it's practically in our job description, and it's the closest thing we have to celebrity gossip. Even the best of us gaze into the crystal ball from time to time, only to discover it's a knockoff.
So, if you need a reason not to take 2016 predictions too seriously — or to just ignore them completely — look back at these articles from the summer of 2006 that speculated about a variety of candidates, Republican and Democratic, who didn't even wind up in a party primary two years later.
Chuck Hagel?
"Sen. Chuck Hagel, R-Neb., a potential dark horse candidate for the GOP presidential nomination, also will vote against the House-passed embryonic stem-cell legislation, said spokesman Mike Buttry.
'He's always been with the president on this,' Buttry said. The debate 'hasn't changed enough to be something he would vote for.' "
- Congressional Quarterly, July 17, 2006

John Kerry, Round 2?
"There is no legal restriction on Kerry's transferring all $14 million in the old presidential account to a presidential primary campaign, said former Federal Election Commission Chairman Scott Thomas.
Counting the $14 million in the two 2004 presidential campaign accounts and $179,000 in his Friends of John Kerry Senate reelection account, Kerry could have the largest war chest at the start of the 2008 presidential primary. Whether he does will depend how much Clinton raises and spends in her reelection race."
- The Hill, July 19, 2006
Former Iowa Gov. Tom Vilsack?
"Cementing a set of national policy goals and bridging the party's factions could pay dividends for Vilsack, should he continue taking steps toward running in 2008.
'Vilsack's done the kind of things this year that put him in a stronger position, should he decide to run,' said Al From, the Democratic Leadership Council's founder and chief executive officer."
- The Des Moines Register, July 23, 2006
Former Wisconsin Sen. Russell Feingold?
"This time, with so many senators thinking about running, the primaries and potentially the general election could find the candidates squaring off against colleagues who are operating in close proximity. Mr. Kerry served in Vietnam around the same time as Mr. McCain, who defended him against Republican attacks during the 2004 race. Senator Russell D. Feingold, Democrat of Wisconsin, devised a landmark campaign-finance bill with Mr. McCain (and has since traveled with him and with Mrs. Clinton)."
- The New York Times, July 29, 2006
+ (Andy Jacobsohn/Getty Images)
Dick Cheney? Arnold Schwarzenegger? Jeb Bush?
"There should be more heavy hitters, three in particular, and in each case a distinct anomaly keeps them out.
No. 1, the vice president. Apparently, Dick Cheney meant it when he said he had no aspiration for the top job. In consequence of this decision, he is likely going to be the most-studied vice president in history among those who did not go on to the Oval Office. And no, it's not a health problem. If he'd been working the past six years to prepare the way for his own accession, especially if that's what Mr. Bush had in mind also, then Mr. Cheney would be the front-runner (and as buff as the current occupant).
No. 2, the world-famous governor of the most populous state. Arnold Schwarzenegger has had his ups and downs in California, but were it not for his Austrian birth, and thus his constitutional ineligibility for the presidency, he would undoubtedly be a major contender. He dazzles crowds like the Hollywood superstar he is, and he has proved wrong all the caricatures questioning his substance.
No. 3, the very popular and successful governor of a big swing state. Jeb Bush may get to run for president one day, but not as his brother's immediate successor. Were it otherwise, party bigwigs and money would be flocking to Florida in a way reminiscent of the 1999 procession to Texas."
- The Washington Times, August 1, 2006
Joe Lieberman?
"Joe Lieberman is not a friend of the Bush administration. He may, however, remain the Democratic Party's last hope of recapturing the White House."
- The Baltimore Sun, August 8, 2006
Former New York Gov. George Pataki?
"Pushing an energy plan relying heavily on ethanol made from corn was sensible strategy for a relative unknown in the early caucuses in corn-growing Iowa, said Arthur Sanders, an analyst at Drake University in Des Moines.
'The hope for somebody like Pataki is that we end up with a lot of Republican conservatives dividing up the vote' while he builds up support with moderates, Sanders said. 'But then Pataki could be vying for the same voters' with another potential GOP candidate from New York - former Mayor Rudy Giuliani, Sanders said."
- New York Daily News, August 8, 2006
Former Virginia Gov. Mark Warner?
"Connecticut Sen. Joseph I. Lieberman's loss in a Democratic primary in Connecticut is not great news for former Virginia Gov. Mark R. Warner's presidential ambitions, a political analyst said yesterday.
Stuart Rothenberg, author of a widely read political newsletter, said Warner, like Lieberman, has portrayed himself as a centrist who can work well with Republicans."
- Richmond Times Dispatch, August 10, 2006
(STAN HONDA/AFP/GettyImages)
Condoleezza Rice?
"For many Republicans, Secretary of State Condoleezza Rice is the reason to hope. She is the answer for GOP plans to continue the Bush White House legacy. More importantly, she's the conservative woman to put a stop to Hillary Clinton."
- The Salt Lake Tribune, August 29, 2006
"Rice might be able to help the GOP in 2008 even if she were not at the top of the ticket. "I do believe that the eventual Republican nominee is almost certain to have her on the list for vice president," [Republican political consultant Charles] Black said."
- National Journal, August 12, 2006
George "Macaca" Allen?
"Most presidential hopefuls don't have to campaign for reelection this year. Among those free to focus on 2008 are Republicans such as former New York mayor Rudy Giuliani, Massachusetts Gov. Mitt Romney, and Sens. John McCain of Arizona, Sam Brownback of Kansas and retiring Senate Majority Leader Bill Frist of Tennessee. Democratic Sens. Joseph Biden of Delaware and Russ Feingold of Wisconsin and Iowa Gov. Tom Vilsack also don't have to worry about the elections Nov. 7.
Even so, Allen and Clinton loom large in the field.
According to data compiled by the Center for Responsive Politics, a nonpartisan group that tracks campaign finances, both senators rank among the nation's top political fundraisers. Whatever they don't spend on their Senate races could be used to launch a presidential bid."
- USA Today, August 15, 2006
Former Indiana Sen. Evan Bayh?
"If Democrats want to sink deeper roots in the heartland, they can't just offer better candidates. They must bring the heartland onto their national stage.
Let's face it, Nancy Pelosi, Chuck Schumer and Ted Kennedy sound like chalk on the blackboard, even to those who are used to them. Wouldn't it be nice if the Democratic spokesperson weren't always from California, New York or the Commonwealth of Massachusetts? Why not try a Hoosier for a change, like Sen. Evan Bayh of Indiana?"
- RealClearPolitics, August 24, 2006
(Spencer Platt/Getty Images)
Michael Bloomberg?
"Imagine that it is two years from now, summer of 2008. The national party conventions are over. The nominees: Democrat Hillary Rodham Clinton, Republican Rudolph W. Giuliani and the Reform Party candidate, Michael R. Bloomberg."
- The New York Times, August 27, 2006
Kansas Gov. Sam Brownback?
"One of the most intriguing possibilities at this point is that Sen. Sam Brownback of Kansas will get into the race, in effect running for vice president. He's got the conservative bona fides and an activist streak on such issues as halting genocide in Darfur and human rights more broadly. If conservatives demonstrate support and enthusiasm for him during the primaries, he might well be the one."
- The Washington Times, August 29, 2006
Al Gore, Round 2?
"Although saying he has no plans to run for president in 2008, former vice president Al Gore has nonetheless left the door ever so slightly ajar. It's a good bet that door will swing open a good bit wider come next May.
That is when Gore is scheduled to publish his next book."
- The Washington Post, September 17, 2006
* * * * *
Of all the major national newspapers, then-Sen. Barack Obama's name cropped up in only a handful of headlines — mainly from Illinois-based outlets. One Chicago Tribune article from September 18, 2006 is headlined, "Iowa Democrats see contender in Obama."
At that point in the cycle, they were the only ones.