Young Immigrants Are Watching and Waiting For Concrete Action
They're also organized and numerous enough to make political demands.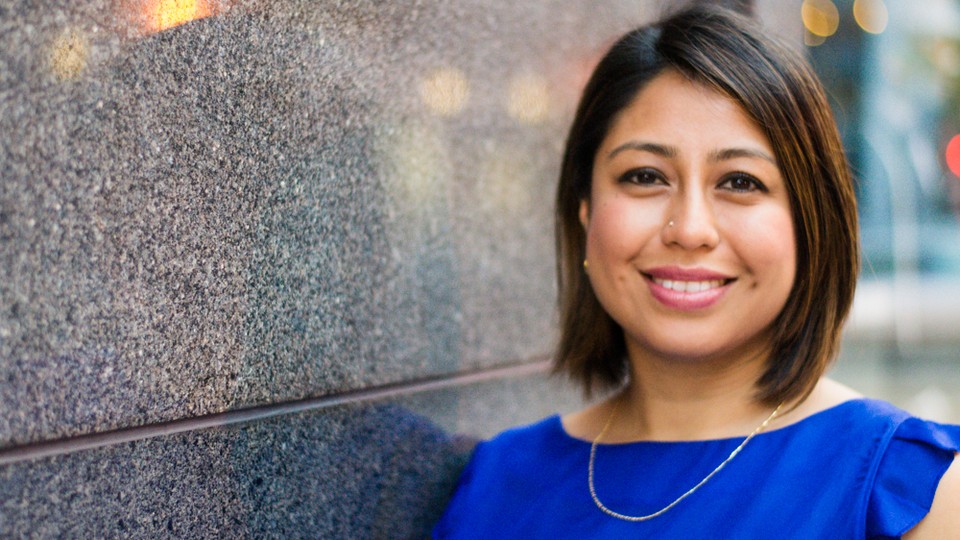 President Obama's announcement last week that he will take executive action on immigration was a pivotal moment. While the President needs to follow up the promise of his words with concrete actions, the announcement itself was significant. Despite congressional inaction, it was the sustained energy and activism of those who understand the impact of our inhumane immigration policies that led to the President's announcement in the Rose Garden.
After months of wishful thinking that the legislative process was alive, all observers now agree that House Republicans have no intention of delivering on immigration reform. Relief for our families will have to come through executive action and not the halls of Congress.
Throughout 2014, United We Dream has been relentless in directing pressure at the White House and congressional Democrats, calling for substantial administrative relief. United We Dream's We Can't Wait campaign draws attention to the most pressing and most painful issues facing our community: deportations and family separation. While we have acknowledged that House Republicans were to blame for blocking a permanent legislative fix, we argued that Democrats and the President needed to deliver for our families regardless, especially in light of the record-setting number of deportations that have taken place during Obama's terms in office. From targeting and converting Senate Democrats to join our cause to a sustained campaign of state-by-state organizing and action, we have been fighting to make executive action on immigration a reality.
United We Dream affiliates organized registered voters to pass state Democratic Party resolutions in Florida, North Carolina, Washington State, and Texas calling on President Obama to use his executive authority on behalf of our families. Our 53 affiliates in 26 states engaged directly with prominent Democrats and cheered when they joined our push for executive relief.
We have also recognized that our community's anger and disillusionment at the immigration status quo can be a powerful prod. So, we've demonstrated our political power. Colorado is a key 2014 political battleground state and the home to both the current chair of the Democratic Senatorial Campaign Committee, Senator Michael Bennet, D-CO., and Senator Mark Udall, D-CO. Udall is running for reelection in a competitive race. As a result, we made our presence felt in the state, taking direct action to highlight devastating stories of families separated by deportations and urging both Senators to call for executive action. Both Senators agreed, with Sen. Bennet's spokesperson saying, "If the House continues to drag its feet we encourage the administration to pursue its efforts to prevent these innocent families from being ripped apart" and Senator Udall himself stating, "If Republicans in Congress won't act on behalf of Colorado families and businesses or the millions of immigrants living in the shadows, then the President should take action to stop tearing apart families whose only crime is seeking a better life for themselves."
But despite optimism about the Rose Garden executive action announcement and being proud of our role in making executive relief closer to a reality, our work is far from over. After all the promises and rhetoric in support of immigration reform in recent years--only to be followed by excuses and inaction--we are past the point of celebrating mere words.
We need to see actual substantive steps forward that protect immigrant families. Just as the President did with the Deferred Action for Childhood Arrivals (DACA) program, we expect the President to create a mechanism for all individuals with family or community ties to this country to request deferred action. Building on the success of DACA, the President must now include the parents and families of Dreamers, and make it easier for families torn apart by deportation to reunite. We expect him to ensure that all Dreamers can benefit from the DACA program by expanding eligibility by raising age of entry requirement from 16 to 18, eliminating the current age cap which leaves Dreamers older than 30 ineligible, and creating a fee waiver that would make DACA attainable to low-income Dreamers. And we demand that he put a stop to the record-setting deportations changing the lives of hardworking members of our community who have roots, families, business and homes in the United States.
United We Dream also strongly opposes the Obama administration's cruel approach to the humanitarian crisis happening with unaccompanied Central American children fleeing violence. A potential step forward for immigrant families already established in the United States should not mean we deport children at risk of physical harm or even death. It is our moral obligation as a nation to ensure we protect them from harm and treat them with the dignity they deserve.
It is clear that Congressional Republicans are not on the side of immigrant families. They have attempted to defund DACA and advocated for the mass deportation of Dreamers. The President's executive action announcement was a rebuke that shows they overplayed their hand. After Republicans attempted to use the child migrant crisis to attack DACA and Dreamers again and to bully the President away from taking broad executive action, President Obama made his plans clear. The President's announcement left Congressional Republicans and their real goals exposed: blocking immigration reform legislation and mass deportation. The immigrant community won't soon forget who is on our side.
Two years ago, President Obama held another Rose Garden ceremony to announce DACA. Since then, more than 600,000 DACA recipients' lives and futures have been changed. We stand ready to once again force the President's hand so our families can experience the same protections afforded to young immigrants.
Cristina Jimenez is Co-founder & Managing Director for United We Dream, the largest immigrant youth-led organization in the nation.
HAVE AN OPINION ON POLICY AND CHANGING DEMOGRAPHICS? The Next America welcomes op-ed pieces that explore the political, economic, and social impacts of the profound racial and cultural changes facing our nation, particularly relevant to education, economy, the workforce and health. Interested in submitting a piece? Email Janell Ross at jross@nationaljournal.com with a brief pitch. Please follow us on Twitter and Facebook.