Working the Drive-Thru Window for 12 Years Without Papers
An undocumented woman from Honduras counts the days until her deportation from South Carolina.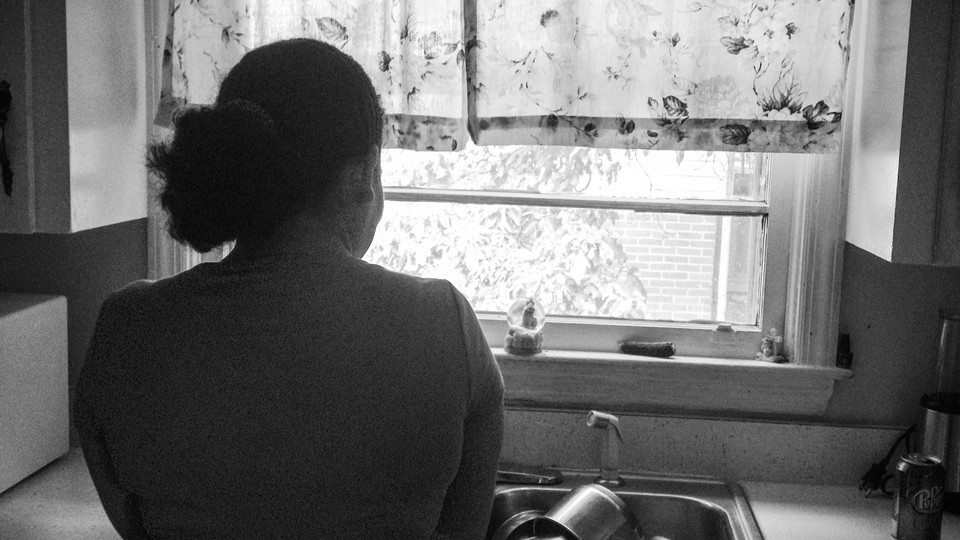 National Journal recently visited Greenville and Spartanburg to explore the changes happening in Upstate South Carolina. In the coming weeks, Next America will publish a series of stories about the people who are shaping this conversation.
SPARTANBURG, S.C. — Brenda won't let her two boys play soccer because she's too afraid to drive them to practice. She worries that police might pull her over and discover that she's undocumented, so she only leaves the house to go to the grocery store or to work.
Brenda asked National Journal to withhold her last name out of fear that her comments might affect her immigration case. She says she knows at least six families that have been separated in recent years as part of the state's crackdown on illegal immigration. Until March, South Carolina law required police to detain drivers suspected of being in the country illegally. Although a legal settlement banned that practice, police still nab immigrants at traffic checkpoints throughout the community.
"Sometimes I have important things to get done, but I get so nervous that I won't go out," says Brenda, who came to Spartanburg in 2000 from Honduras. "Because we can't get driver's licenses, we're all stuck in our homes."
Brenda, 35, works the assembly line at a product-packaging plant in Spartanburg, boxing everything from dog food to water filters. It's four miles away from the mostly white, working-class neighborhood where she lives with her husband and sons. On a recent day off from work, Brenda and a friend chat in her living room about how hard it is to live in a city that doesn't want them. Even so, Brenda says she's glad that her sons--who are American citizens--don't have to live in a house with a dirt floor or quit school to put food on the table as she did in Honduras.
Hurricane Mitch destroyed her coastal village of Sabá in 1998, and Brenda's fiancée left to find work in the United States. For two years he washed dishes in Spartanburg and saved money to bring Brenda to South Carolina. He managed to get temporary protected status, which grants temporary work authorization to people from certain countries affected by disaster. By the time he saved enough money, Brenda no longer qualified for TPS.
But that didn't stop her from making the trip. After all, Honduras was suffering from widespread hunger and unemployment. In 2000, Brenda flew to Mexico, rode a bus to the border, and swam across the Rio Grande in a rubber tire. As she walked into Southern Texas, a border-patrol agent stopped and detained her. Her fiancée wired $3,000 to bail her out and she was released pending an immigration hearing scheduled two years later.
Spartanburg seemed like a big city to Brenda when she got off the bus from Texas. She didn't speak English and relied on the help of other immigrants in the same situation. Within a few weeks, she got a job working the drive-thru window at a national fast-food chain. No one asked for her Social Security card.
Brenda worked at the drive-thru window for about 12 years, making minimum wage and putting up with abusive behavior. Angry customers often yelled and told her to go back to Mexico. She stopped counting the times people threw food and drinks at her if an order was messed up.
"It's the ugliest feeling to hear someone say you don't belong here and to get out," she says, wiping away tears. "It kills your self-esteem."
Her friend Liliana, who worked with her at the fast-food chain, recalls the time a customer stormed through the door and spit in her face. Neither of them dared to complain, too afraid of losing their jobs.
"We just stay quiet," says Liliana, who's from Guatemala and who asked that her last name be withheld. "It's horribly repressive. On one hand, it's good because you have a job, but on the other hand, you can't express what you feel because you're afraid."
After working for two years in the U.S., Brenda was pregnant and her immigration-court date in Atlanta was coming up. At that point, she knew she didn't want her son to have the same life she had in Honduras. So Brenda ignored the judge's orders to leave the country.
Instead, she got married, gave birth to her first son, and bought a three-bedroom house in northern Spartanburg. She gave birth to her second son two years later.
Then came the moment she had been dreading for more than a decade. It happened before dawn on April 2, 2013 — the height of the state's push against illegal immigration. Brenda was driving to her job at the fast-food restaurant when she saw the blue lights of a police car in the rear-view mirror.
"I felt the world come crashing down," she says.
The police officer said she was speeding and asked for her driver's license. Brenda doesn't have one, so she gave him her Honduran passport. The officer returned to his patrol car, then came back a few minutes later and said he found a deportation order on her record. She went to jail.
After three days in jail, an immigration judge released her from custody to care for her two sons, and scheduled another hearing seven months later near Spartanburg. At the November hearing, an immigration judge gave her a 12-month work permit so she can earn money to buy a plane ticket to return to Honduras.
Now Brenda works at the packaging plant, making $8.50 an hour — $1.25 more than she made at the fast-food restaurant. She hopes immigration reform will happen before her November deadline to leave the country. Undocumented immigrants aren't asking for American citizenship, she says — all they want is some form of legal status so they can live without fear.
"I'm asking God for reform," says Brenda. "I don't want to go. A reform, or a miracle, I don't know."