Why Isn't Obama Going to the Border?
The president will be raising money in Texas, but doesn't plan to see the migrant crisis for himself. His critics will have a field day.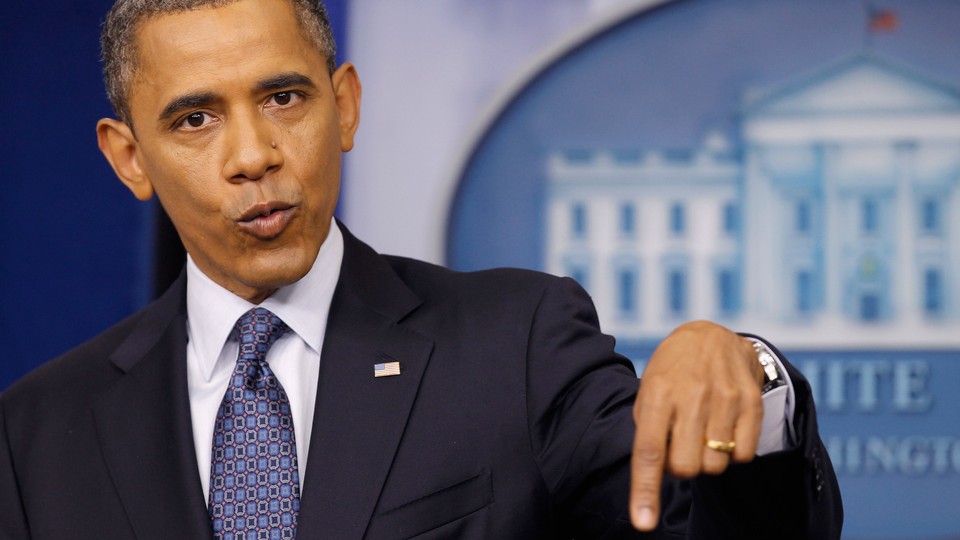 President Obama evidently has decided not to put a human face on the crisis unfolding at the southern U.S. border—not even his own.
The White House said over and over again Monday that Obama will not travel to the border with Mexico despite flying to Texas this week to raise money for Democratic candidates there.
It's certainly in part a political decision, one meant to avoid taking ownership of a difficult issue on which the White House would prefer to share blame. But it's also one that will inflame Obama's critics on both the right and left who say the administration has been too passive in response to the thousands of young border-crossers swamping U.S. detention facilities.
In other words, if Obama goes to the border, he owns the problem. If he doesn't, he's blasted for a lack of leadership.
Obama's press secretary, Josh Earnest, said the administration is "not worried about [the] optics" that the Texas visit will present, despite the fact that the president is expected Wednesday to attend a fundraiser at the home of a wealthy Dallas lawyer and then go to another in Austin at the home of filmmaker Robert Rodriguez, according to The Dallas Morning News. Tickets for each event will range from $10,000 per person to $32,400 a couple.
Earnest said the president is "very aware of the situation that exists on the southwest border" and noted several administration officials had traveled there to review the situation.
On NBC's Meet the Press Sunday, Homeland Security Secretary Jeh Johnson said the president "can't be every place he would like to be, or even should be."
But even Democrats are raising eyebrows about Obama's response. Rep. Henry Cuellar of Texas, for instance, has charged that the White House was "not reacting fast enough."
The timing of the Democratic fundraising events, planned long in advance, couldn't be worse for the president politically.
More than 50,000 unaccompanied children, mostly minors from Central America, and another 40,000 women with children have been apprehended at the border this year, straining U.S. border resources to the limit.
If Obama goes, his presence there would give both liberal and conservative critics further ammunition as they argue Obama's policies are to blame for the influx. It might even make it more difficult for Obama to marshal public support for any executive actions he may soon take to reform current federal immigration rules. At the same time, being seen at a detention facility among children that face deportation could make him appear uncaring.
But not going makes the president look like he's avoiding something that is increasingly being called a crisis.
Texas Republican Gov. Rick Perry did his part to increase pressure on Obama on Monday. Perry's office said it would be sending a letter to the White House ahead of the president's visit that would invite Obama for a sit-down in Texas on the crisis.
"I appreciate the offer to greet you at Austin-Bergstrom Airport," Perry's letter reads, "but a quick handshake on the tarmac will not allow for a thoughtful discussion regarding the humanitarian and national security crises enveloping the Rio Grande Valley in South Texas."