Why Is Harry Reid Raising Money for a House Candidate in a Safe Seat?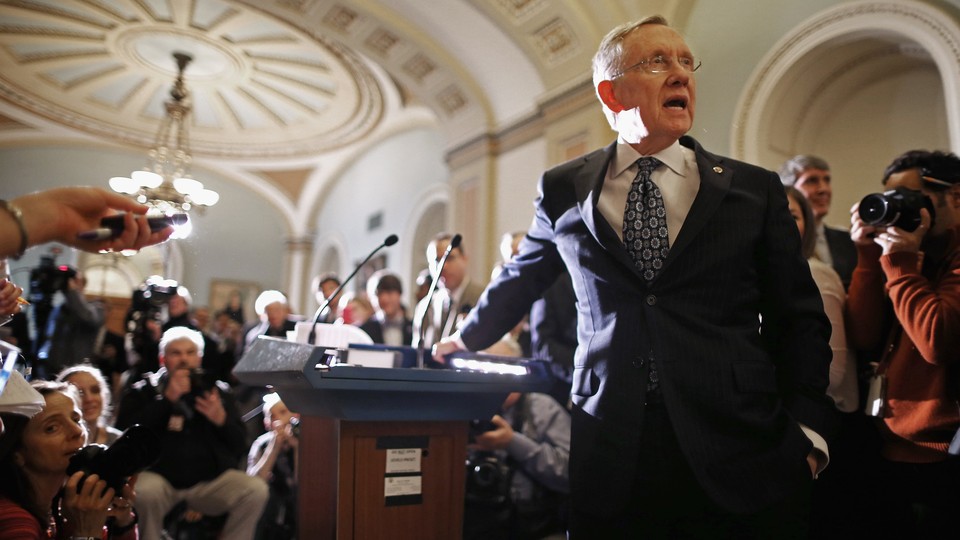 Senate Majority Leader Harry Reid's office is in jeopardy this year. That means he's spending hours upon hours on fundraising and strategy sessions with Democratic candidates and the Democratic Senatorial Campaign Committee, all with an eye toward keeping his party in command.
So why, then, is Reid heading to New Jersey next month to raise money for a House candidate — in a safe Democratic seat, no less?
The Star-Ledger in New Jersey reported that Reid will be a star guest at an Aug. 4 fundraiser for Donald Norcross, a Democratic state senator running for the seat vacated when Rep. Rob Andrews resigned earlier this year. Norcross is expected to win easily. But he isn't your average first-time congressional candidate: Norcross's brother George is South Jersey's major Democratic power broker, a deep-pocketed fundraiser, and a member of the Democratic National Committee.
Reid and elements of his political operation have a long-standing relationship with the Norcrosses, explaining the majority leader's brief midsummer detour from Democrats' all-consuming efforts to keep the Senate this year. "George has stepped up to help Senator Reid a few times over the years, and I think this is reciprocal loyalty," said one source close to the South Jersey Democratic Party apparatus.
Reid's office did not respond to questions about the fundraiser.
George Norcross, a wealthy insurance executive, donated to Reid's Senate campaign in 2003, according to federal records. But their relationship goes beyond those $2,000. The two have a friendship going back 10 or 15 years, according to multiple sources, and Reid has helped Norcross's local party on several occasions. Ken Shuttleworth, a spokesman for Donald Norcross's campaign, recalled Reid appearing at a Camden County Democratic Committee fundraiser sometime between 2007 and 2010. (Donald Norcross is a cochairman of the county party.)
Shuttleworth said such celebrity speakers — such as Al Gore — are not uncommon at those events but that Reid has fostered a particular connection with his hosts from that occasion. "There is a good feeling and connection between George Norcross and Donald and Harry Reid," Shuttleworth said.
Last year's New Jersey elections also highlight a connection between Reid's political advisers and Norcross. Former aides to Reid run a network of powerful super PACs; the biggest, Senate Majority PAC, is Democrats' principal conduit for outside money in Senate races. But some of the same people are also involved in boosting Democratic state legislators via different groups.
One of them — the stodgily named Fund for Jobs, Growth, and Security — helped New Jersey Democrats keep control of their state Legislature in 2013, even as Republican Gov. Chris Christie won reelection in a landslide. Susan McCue, a New Jersey native and a former chief of staff to Reid who cofounded Senate Majority PAC, ran the New Jersey group. JB Poersch, another Senate Majority cofounder who ran the Democratic Senatorial Campaign Committee for three election cycles while Reid led the party, was the group's treasurer. And George Norcross helped raise funds for it, according to multiple reports.
The New Yorker's April profile of Christie outlined Norcross's political power in a lengthy aside. Republicans and Democrats alike said that Norcross controls the state Legislature.
In other words, this is no normal safe-seat House fundraiser — and it's not just because the Senate majority leader will be in attendance.