Why Harry Reid Is Sidelining Independent Super PACs
Democrats are actively discouraging independent PAC operators from getting involved in 2014, a campaign funding approach that couldn't be more unlike the GOP strategy.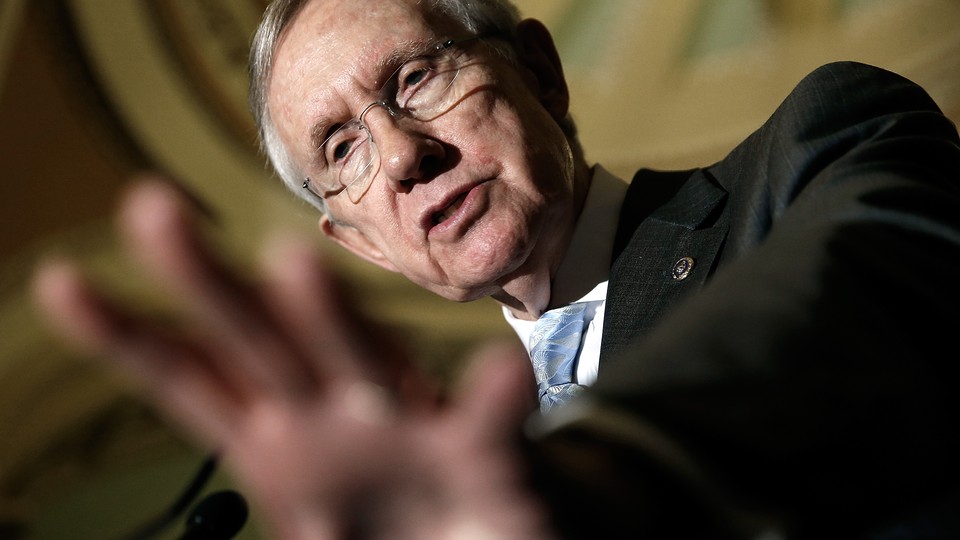 In spring 2013, supporters of Sen. Mary Landrieu formed the Blue Pelican PAC for one purpose — to save the vulnerable Southern Democrat from defeat. Ben Chao joined the group as a consultant in the fall of last year to plot strategy and raise money from big national donors; and, at first, he said, Blue Pelican elicited interest. As he saw it, and sold it to contributors, there were few better ways to help the three-term incumbent than contributing to a super PAC dedicated singularly to her.
But top Democrats disagreed. The Senate Majority PAC, the biggest of Democratic outside groups focused on the statewide races, was not eager to cooperate with Blue Pelican, Chao said. And in the months thereafter, big-dollar commitments never materialized into real donations.
The message was clear. Party leaders saw Chao's effort not as a boost for Landrieu but as a dangerous siphon of resources that would otherwise go to Senate Majority PAC, a group with the implicit backing of Majority Leader Harry Reid that employs many of the party's most well-regarded strategists.
"There is the traditional mode of thought that the committees ought to be in control," said Chao, who works for the Joe Trippi & Associates political consulting firm. "I think a lot of that pre-Citizens United thought has carried over into the current super PAC world."
The Democratic Party's decision to marginalize groups like Blue Pelican marks one of its most important actions this midterm cycle, and one that is central to its plans to retain control of the Senate next year. In the absence of the kind of billionaire backers Republicans rely on — industrialists Charles and David Koch, for example — Democrats say they can't afford to allow niche groups that won't spend the money wisely or, even worse, that represent little more than glorified scams to separate donors from their money.
But it is a move that has left these independent operators stunned, and concerned that Democrats are going to lose out as the age of 501(c) groups and super PACs marches on. "The approach that we don't share anything with anybody, I understand why they do it," said Chao. "It worked in the old world. I don't think it's going to work in the new one."
Blue Pelican's experience isn't unique. Two others PACs that Chao tried to help — Delta Diamond PAC in Arkansas (formed to support Sen. Mark Pryor) and Wolfheel PAC in North Carolina (for Sen. Kay Hagan) — raised even less than cash than Pelican's $20,000. A group Chao isn't associated with, the Lexington-based We Are Kentucky, has raised more money, over $300,000, but still hasn't been able to afford TV ads in the Senate race between Democrat Alison Lundergan Grimes and Republican Mitch McConnell, a battle that's already featured millions of dollars' of paid media from the campaigns and other outside groups.
Even ostensibly independent, state-specific efforts, like the Mark Begich-allied Put Alaska First, receive the overwhelming majority of their funding directly from Senate Majority PAC. There are exceptions, such as the billionaire environmentalist Tom Steyer's proposed $100 million-dollar midterm operation, but even NextGen Climate Action, while defying the implicit guidelines of Democratic third-party action, is playing nicely by avoiding red states were his anti-coal message would backfire on Democrats.
The Democratic approach is strikingly dissimilar from the super PAC strategy promoted by Republicans. Indeed, if Democrats are focused on growing a few well-cared-for plants, and weeding everything else out, the GOP's approach is akin to letting a thousand flowers bloom. Republicans and their allies run multiple outside groups, each with its own agenda — multimillion-dollar organizations such as American Crossroads and Americans for Prosperity that are mingling with a varied collection of tea-party organizations and single-state super PACs.
The reasons are many. Democrats contend that Republicans simply have more millionaires and billionaires willing to fund outside-group efforts. Plus, the confrontation between establishment Republicans and their tea-party rivals has given rise to a legion of groups with different agendas in the GOP, a process yet to be replicated among the more ideologically in-sync Democrats.
But as the case with Blue Pelican PAC demonstrates, Democrats are also actively policing their own ranks to prevent freelance groups from getting involved.
While Renee Schaeffer, who helped found Blue Pelican PAC, said donors told her that Harry Reid had told them to route their money through Senate Majority PAC, the truth is there's nothing dramatic about how this elbowing-out is being handled. Chao and others working for Blue Pelican were not threatened, or told to stop, or even contacted directly by anyone. Instead, donors simply decided to take their money elsewhere, sometimes after an unsubtle nudge from Democratic operatives connected to Senate Majority PAC and Harry Reid.
"There's no effort to shut them down," said one Democratic operative familiar with how outside groups raise their money. "We don't deter them. We just try to educate donors on what works and doesn't work for the candidate."
As another strategist familiar with the inner workings of the party's outside groups put it: "It's very easy this year to say, 'If we're not disciplined, we're going to lose. And if you have more people in there freelancing and creating chaos, it increases the chances of losing.' "