Why Don't You Ever See TV Interviews With Inmates?
A Supreme Court decision 40 years ago this summer allowed states to block access to specific prisoners. What does that mean for freedom of the press and our justice system?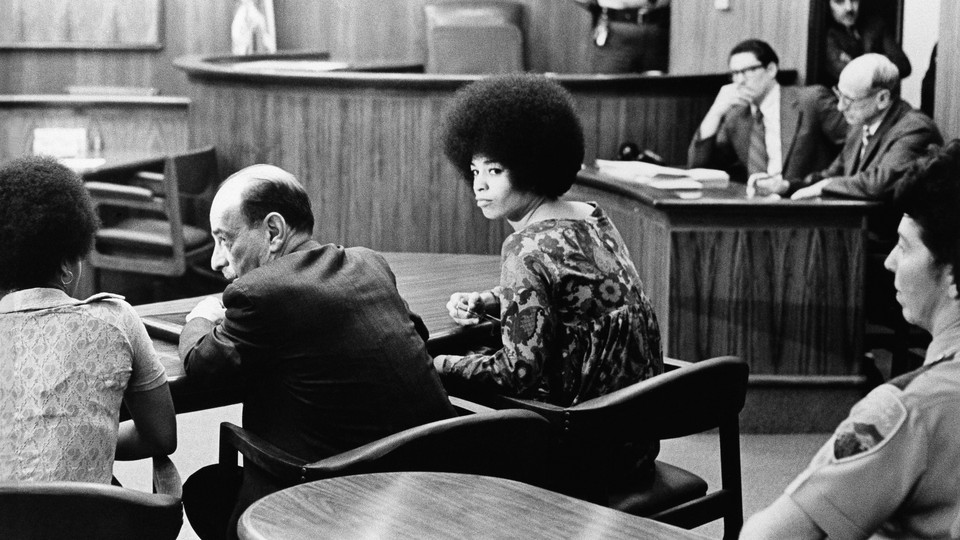 In 1972, Angela Davis was interviewed on film for television from the basement of the San Rafael County Prison. She was being held under charges of conspiracy, kidnapping, and first-degree murder—for a crime she was neither complicit in nor present for. Davis had been in prison since 1970, three months after 17-year-old Jonathan Jackson held a courtroom hostage, kidnapping the judge and three jurors with firearms licensed in Davis's name. The incident left Jackson, the judge, and two inmates dead, and at the time, California state law held "anyone who aid[ed] a major crime as guilty as the direct participants." Davis went on the lam but was captured and jailed three months later.

Her interview took place in a powder blue cement-block cell. In the video, she's pale, her lips cracked and gummy, but she's angled fiercely forward. Cigarette smoke curls between her and the interlocutor, Swedish journalist Bo Holmstrum. Mentioning her participation in the Black Panther Party, Holmstrum asks Davis whether she thinks violence is the right way to achieve justice for black Americans.
She smiles. "Oh, is that the question you were asking?" And then she laughs.
See, that's the other thing. When most people think of revolution, they think of violence, without realizing that the real content of any kind of revolutionary thrust lies in the principles and goals you're striving for, not how you reach them. On the other hand, because of the way this society is organized, because of the violence that exists on the surface everywhere, you have to expect that there are going to be such explosions .… I grew up in Birmingham, Alabama .… I remember the sound of bombs exploding across the street, I remember my house shaking. I remember my father having to have guns at his disposal at all times because of the fact that at any moment we might expect to be attacked .… So when someone asks me about violence, I just find it incredible, because what it means is that the person who's asking that question has absolutely no idea what black people have gone through, what black people have experienced in this country...
I first saw this interview in the 2011 documentary The Black Power Mix-Tape. While I found Davis' ethical indictment of her questioner—and by virtue the viewers, too—regal and chilling and still deeply relevant, I was also stunned by the realization that I had never in my lifetime seen an inmate interviewed on TV.
This summer marks the 40th anniversary of Pell v. Procunier, in which four prisoners and three journalists challenged the constitutionality of what was a recently revised section of the California Department of Corrections Manual which states that "[p]ress and other media interviews with specific inmates will not be permitted."
The plaintiffs lost. On June 24, 1974, the Supreme Court held that the regulation did not violate the freedom of the press guaranteed by the First or 14th Amendments. The primary argument was that because there are other means of direct communication (for instance, by mail or through inmates' attorneys and loved ones) the rights of neither prisoners nor the press were impeded.
In many ways, the ruling was a product of the social turbulence of the 1970s. In less than a decade, there had been five major prison riots, multiple organized liberation efforts for political prisoners, and media exposure of prison abuses, including revelations of lethal medical experimentation on inmates that had gone on for decades. The failings of the correctional system were visible to even the most politically apathetic American and the negative publicity threatened to discredit state correctional boards.
But, of course, the system's defense didn't put it that way. While, in 1974, the California State Department of Corrections was defending the manual revision in court, they argued that giving notoriety to certain inmates was causing, in part, violence within facilities and other "undue grievances," and that such public interface with the press might disrupt the "rehabilitative procedures," and thwart the state's attempts to "deter crime, [ ] protect society by quarantining criminal offenders ... and to maintain the internal security of penal institutions." In essence, the "security interests" of the state were pitted against the public's constitutional right to information.
Since Pell v. Procunier, access to inmates has diminished steadily from coast to coast. In 2013, media-access scholar Jessica Pupovac noted in The Crime Report that today, "at least five states (Arizona, Alabama, Georgia, Louisiana and Michigan) make any access the exception to the rule" and that Kansas and Michigan flat out refuse to arrange interviews with specific inmates. In Florida, Kansas, Michigan, New York, and New Hampshire, inmates must "put reporters on their visitation or phone call list if they wish to speak to them, thus forfeiting a visit or call with family or friends." In Wyoming, officials can screen all questions ahead of time, and if an interview veers from the approved list, a minder can end it. Even state correctional departments that don't explicitly deny media access to specific inmates still have sanction under Pell to make ad-hoc restrictions and deny access on a case-by-case basis. Meanwhile, the California State Correctional Manual remains unchanged.
The fact that journalists are still allowed direct contact through mail protects a decent portion of testimonial integrity. But what if the inmate is illiterate? Or dyslexic? Or simply can't communicate well on the page? The ruling also assumes that visual and sonic information is not integral to reporting and does not carry its own unique body of information. In Freedom of the Press: A Reference Guide to the United States Constitution, Lyrissa Barnett Lidsky and R. George Wright propose that while a document like Martin Luther King Jr.'s "Letter from the Birmingham Jail" may have had deeper and broader effects than any number of broadcast interviews, a "televised interview may convey a sense of visual immediacy and dynamism far beyond the capacity of typical letter writing or letter reading."

Where would we be without that filmed interview with Angela Davis? There's no direct link between the footage and Davis's eventual release; hers was already a major press story, and she a public figure. But without the media attention she received—filmed and otherwise—would her legacy of activism for black Americans' civil liberties and against the American prison system, have been quashed? In Ronald Reagan's California, Davis's charges carried the possibility of the death penalty. (She was tried and found not guilty.)
It was 1972. Had it happened just two years later, the interview wouldn't exist. The video's freshness serves as a reminder of what the public might know, or hear, or feel, were the press allowed back into the jailhouse. It reminds us of all that we're likely missing now.