Why Democrats Are Ditching the 'War on Women'
The party that deployed "war" rhetoric to help defeat Mitt Romney is looking for less divisive ways to reach female voters this cycle.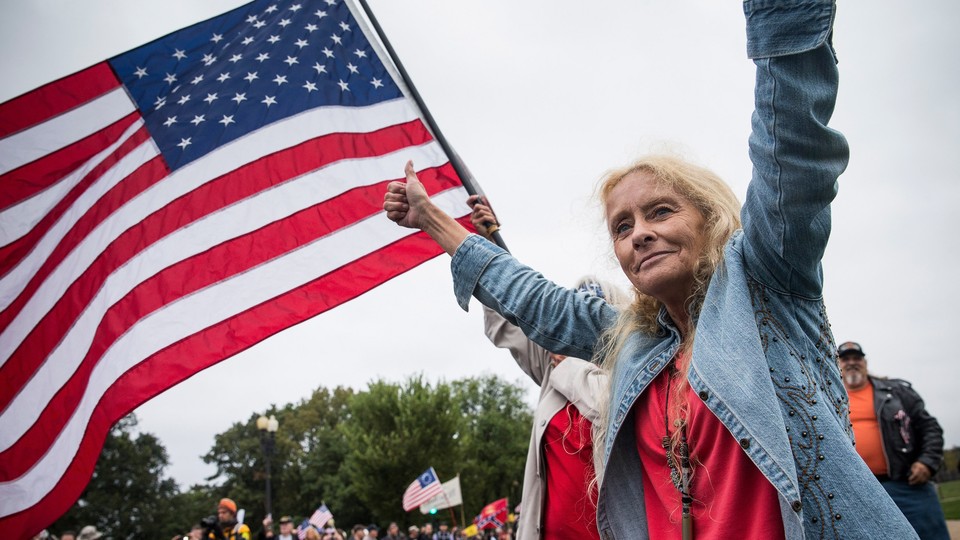 Democrats want to talk about "personhood" and reproductive freedom. They want to tell voters about a stubborn pay gap and women hurt by a low minimum wage. But what they don't want to do is talk about a "war on women."
Indeed, the party that so effectively deployed the "war" rhetoric to help defeat Mitt Romney in 2012 has now sworn off its catch phrase, dropping it almost completely from a campaign strategy that, in so many other ways, is still very much about women's issues.
"[Saying] 'Republicans are waging a war on women' actually doesn't test very well," said Democratic pollster Celinda Lake. "Women find it divisive, political — they don't like it."
So Democratic candidates, who need to expand their margins among female voters and bring unmarried women to the polls in November, are shifting the language they use to pitch these issues to voters. Instead of the "war," Lake said, testing has shown more effective language casts Republicans' positions as "too extreme" or the GOP as "out of touch with women's lives."
The phrase "war on women" arose fairly early in 2012, around the time radio commentator Rush Limbaugh referred to activist Sandra Fluke as a "slut." The party used the notion of a Republican "war on women" to help bring down Romney's presidential bid and appeal to women in swing states who ultimately helped President Obama secure a second term.
Those same issues remain potent in many of the most competitive Senate races across the electoral map: Colorado, Kentucky, New Hampshire, and North Carolina, to name a few, are places where women's issues have already played prominently.
"I think that phrase was a 2012 thing — but the issues are very much alive and well, especially here," said Chris Harris, communications director for Sen. Mark Udall of Colorado.
Udall's campaign against GOP Rep. Cory Gardner has focused in large part on Gardner's previous support for a "personhood" amendment; that issue showed up in Udall's first TV spot of the year. "It comes down to respect, for women and our lives," the ad says. "So Congressman Cory Gardner's history promoting harsh antiabortion laws is disturbing."
Notably, it's Republicans who most often invoke the "war on women" these days, usually as a condemnation of Democratic tactics and an effort to turn the negative connotations of the phrase back on the Democrats.
Senate candidate Terri Lynn Land told Michigan voters in an ad that Democrats "want you to believe I'm waging a war on women." Former Hewlett Packard CEO Carly Fiorina launched a super PAC to "shame Democrats who play the 'war on women' game." And Ted Cruz described a piece of legislation as "a very real manifestation of a war on women."
"Republicans would much rather talk about the rhetoric surrounding women's issues than the issues themselves because they don't really have an agenda to run on," charged EMILY's List press secretary Marcy Stech.
The more effective way for Democrats to make their case with female voters, strategists say, is by using concrete examples of issues that affect women to prove their point: equal pay, abortion, and contraception, among others.
"We are on much stronger ground when we talk about the specifics than when we talk about the category," said Democratic pollster Mark Mellman. "And so when we talk about Republicans who want to make abortion illegal, Republicans who want to ban equal pay for equal work "¦ the specific policy issues matter. That's where the power is."
That issue set is different in every state, operatives say: Equal-pay issues play particularly well in Southern red states on the map this year, for example.
Kentucky Democrat Alison Lundergan Grimes's latest ad features a female voter talking about equal pay and the Violence Against Women Act as proof that Senate Minority Leader Mitch McConnell is out of touch with women in the state. "Senator [McConnell], why did you vote two times against the Violence Against Women Act and enforcing equal pay for women?" asks Ilene Woods, a voter from Lynch, Ky.
Grimes follows by saying McConnell "must be forgetting that over half the voters in Kentucky are women like Ilene."
Republicans say the "war on women" rhetoric — whatever the terminology used — is Democrats' way of taking the focus off of other issues like the still-struggling economy.
"The playbook's the same," said GOP pollster Kellyanne Conway. "They may be dressing it up in kinder, gentler terms, but it still ignores the fact that the reason the majority of women disapprove of the president's performance is because they don't see the economy doing well."
{{ BIZOBJ (video: 5140) }}