Why Border-State Gubernatorial Candidates Can't Solve Their Voters' Most Pressing Issue
Immigration is a hot-button issue, so border-state politicians talk a big game about it. There's only one problem.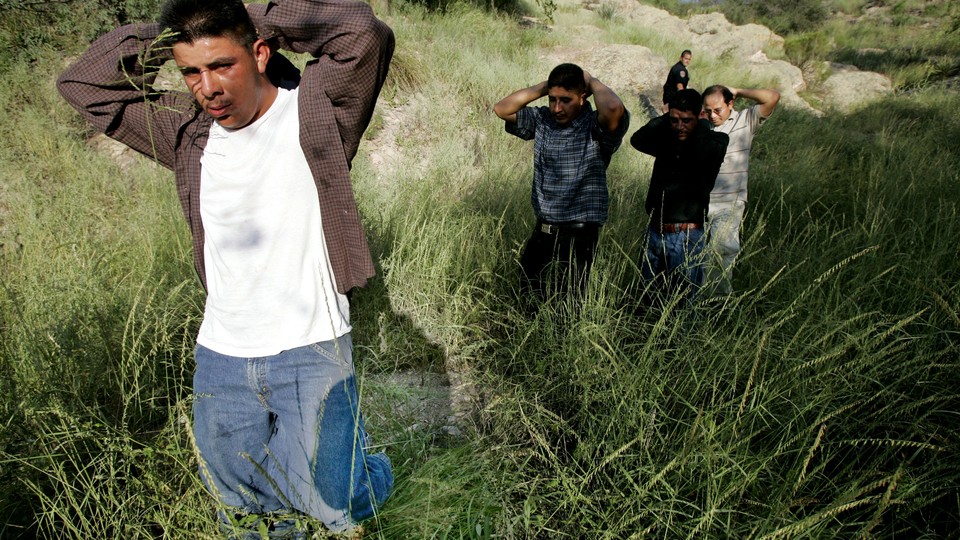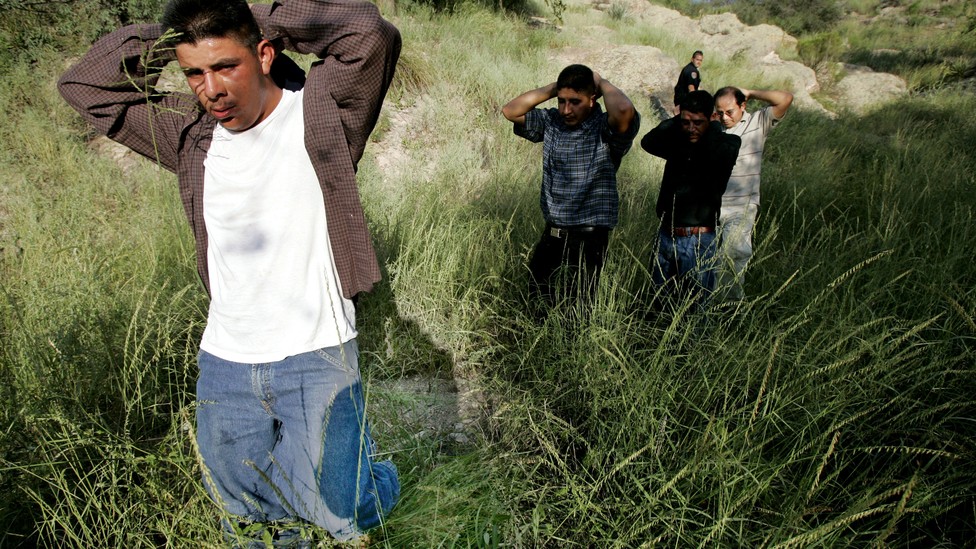 Arizona state Treasurer Doug Ducey is running for governor, and he's promising to fix the immigration crisis by putting more "fencing, satellite, guardsmen, more police and prosecutors" on the border. GOP rival Christine Jones vows to do him one better: She says she'll send "1,200 troops to the border, use technology to monitor who's coming and going, finish the fence, and send Obama the bill."
It all makes perfectly good sense: Immigration is a hot-button issue, so candidates — especially in border states — are going to want to talk about it.
The catch: There's just not much they can actually do about it.
Immigration is the province of the federal government, not the states. That's determined by the Constitution and confirmed by recent Supreme Court rulings, including one that struck down significant parts of Arizona's controversial 2010 immigration law.
Governors can sign legislation that allows or denies undocumented immigrants access to in-state tuition to public universities or driver's and business licenses, popular options for incumbents. They can try to sue the federal government to recoup immigration-related costs, but the courts rejected a 1994 attempt by Texas, California, Arizona, and Florida to do that.
And governors have some control over the local National Guard, but federal law — including laws that forbid military personnel from performing civil law enforcement — prevent the Guard from doing more than supporting federal border-control efforts, according to immigration-law experts.
So for all the bold talk, all governors can really do is beg, plead, and work with Washington in the hopes of getting the kinds of responses they want.
"That's pretty fundamental," said former Arizona Attorney General Terry Goddard, a Democrat who ran for governor in 2010. "That's Founding Fathers work."
At least some Republicans agree. The legal framework limits governors — and those who want to be governor — to "criticizing the federal government," said Republican strategist Matt Mackowiak, who used to be press secretary for former Sen. Kay Bailey Hutchison of Texas.
That's worked politically for many governors and candidates. Govs. Jan Brewer of Arizona and Rick Perry of Texas have raised their national profiles during immigration crises. New Mexico Gov. Susana Martinez, as she runs for reelection, has called Washington's immigration policy "a failure of leadership."
Texas Democratic gubernatorial nominee Wendy Davis and her presumptive counterpart in Arizona, Fred DuVal, use the immigration issue to separate themselves from the national party. Davis criticized Obama for not visiting the border personally and has called for the federal government to cover border-related expenses Texas is incurring right now. DuVal blamed both the White House and Congress for "the lack of federal solutions" in an interview.
But on the current crisis, governors and candidates can't really do much more than call for federal action. Smith, Davis, and California Republican Neel Kashkari are all asking the federal government to increase the rate of deportation.
"What is a state going to do?" said Bill McCamley, a Democratic state legislator representing a stretch of New Mexico's southern border. "We can talk about important but relatively minor things like driver's licenses. But in general, it's going to be up to the federal government."
Mesa Mayor Scott Smith, another Republican running for governor in Arizona, said that the candidates making big promises about immigration are guilty of "empty rhetoric." In one Web video, Smith's campaign plays back Ducey's promises and then asks, "And the governor controls how many satellites?"
Smith says there's an absurdity to campaigning, and that it "has not played out any greater than in immigration. Candidates pandering to the crowd, throwing red meat, and not offering a real solution. The unfortunate thing is that sometimes that works."
Asked if Ducey's plan for immigration is actually legal, a spokesman for his campaign said via Twitter that Arizonans are "tired of being Obama's doormat" and that, if elected, Ducey would "use every tool that is legally available to him."
Likewise, Jones said that Arizonans want assurance that something — anything — will be done about immigration.
"People want to shoot holes in this thing," Jones said. "They want to talk about whether we can use the National Guard, they want to talk about whether the federal government's going to reimburse us."¦ We just need to get something done."