When Supporting a Family Means Running Two Businesses
When her parents became ill, Ericka Trinh took over her mom's St. Paul beauty salon and started a bakery business on the side. She doesn't sleep.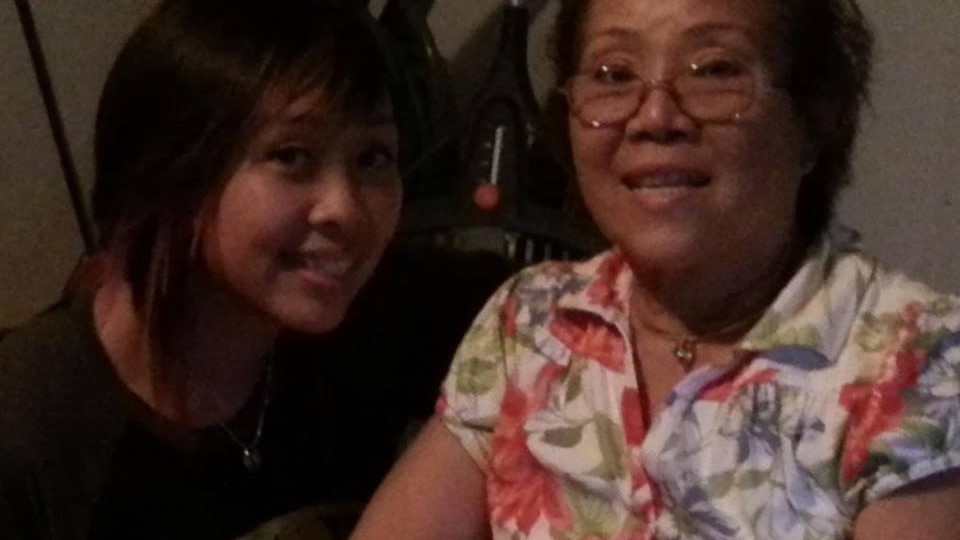 This profile is part of a Next America series on the experiences of minority small-business owners in the United States.
From 9:00 in the morning until 6:00 at night most days, Ericka Trinh can be found cutting hair, setting perms, manicuring nails, and waxing limbs at her beauty salon in St. Paul, Minn. In the evenings, she heads to Minneapolis and starts work on her second business. "Sleeping is not a big thing that I do," Trinh jokes. She might stay up all night baking taro-flavored cupcakes or draping fondant over wedding cakes.
Trinh, 33, enjoys styling hair. She also enjoys baking. But she's not running two businesses for fun; she's doing it for financial security. "I started right after my mom got better from cancer," Trinh says of her bakery. "That was kind of a wake-up call: you can't just ride on the money you make now, because it's just enough for you, and if something were to happen to the family again, I don't know how we'd survive."
Trinh's parents were Vietnamese refugees. They met in St. Paul in the late 1970s. Her dad worked as a lab technician at a pharmaceutical company, and her mom, Anh, owned and operated a beauty salon, called Anh's Hairstylists. The Trinhs bought an old house in St. Paul's Frogtown neighborhood, tore it down, and replaced it with a two-story clapboard building. The salon took up the ground floor, and the family lived upstairs.
Frogtown has always been a working-class neighborhood, with a large immigrant population. Anh's Hairstylists looks out onto on University Avenue, the neighborhood's main commercial street. Trinh and her two younger siblings grew up doing chores in the salon, folding towels, sweeping the floor, and taking out perm rods. The salon stayed small, but grew a loyal clientele.
Trinh learned to perm hair by the time she was 12, and to cut hair by the time she turned 16. She left home at 19 to earn a bachelor's degree in computer animation from the Minnesota School of Business, a for-profit institution. Shortly after she graduated, her dad had a stroke. Trinh came home. Her mom had to care for her dad, and couldn't spend as much time in the salon. Then her mom was diagnosed with cancer. Then the global economy collapsed.
"I find that whatever challenge comes up, I just kind of deal with it. I don't really think about how hard it was," Trinh says. But still, for about three years, as her mom battled cancer, Trinh was the only person working at Anh's Hairstylists. She was also trying to look after her parents, as well as her younger sister, who has a mental disability.
Fortunately, Trinh's mom recovered, and the salon survived the recession, thanks in part to its low prices. "People who used to spend $50 to $60 on a haircut would start coming to me for a $15 haircut," Trinh says. She took over as owner of the salon about two years ago. Her mom works part time, her sister helps out, and her cousin plans to join the team after beauty school.
In 2011, Trinh started Silhouette Bakery,a catering business, as an extra source of income. She rents commercial kitchen space in the Midtown Global Market, a small-business incubator in Minneapolis, and bakes desserts for birthday parties, weddings, and other celebrations.
"I do fusion flavors," Trinh says. Her elaborate creations — like a two-tiered cake shaped like a castle — look like they belong on a cooking show. Her younger brother, who has a culinary arts degree, is her business partner, and her boyfriend works with them. Recently, Trinh's parents gave her another property they owned, a duplex next door to the salon, which Trinh plans to remodel into a brick-and-mortar bakery storefront.
Frogtown has become one of the most diverse neighborhoods in the Twin Cities. It's home to immigrants from Southeast Asia, Africa, and Latin America, and is dotted with small businesses from noodle shops to medical practices. It's also benefited from public investment: earlier this summer, a gleaming new light-rail line started gliding past the front door of Trinh's salon.
To capitalize on the new transit, a neighborhood nonprofit is trying to brand the area around Trinh's business as 'Little Mekong,' a destination district where visitors can get a taste of Asian culture. The Asian Economic Development Center now organizes summer night markets, outdoor events featuring dancers, Lao drummers, and lots of food. Trinh learned to make Japanese-style custard buns to sell at the market.
It's never easy to run a small business — let alone two — but this is a good time to be a business owner in Frogtown. "I'm hoping the salon will grow a little more. I don't want it to be just a one-man business. As much as I love being here, I'd like a little bit of backup," says Trinh. "I'd hope to bring in maybe a couple more chairs, a few more employees, just to make it a little bigger, a little bit better."
"And then once the bakery's up and built, I'm hoping it will draw in a crowd, and people [will] like what I do. And then maybe I can take a break!" she says, with a laugh. "It would be nice to have a break."