When Fundraisers Cater to Women
When fundraisers cater to women.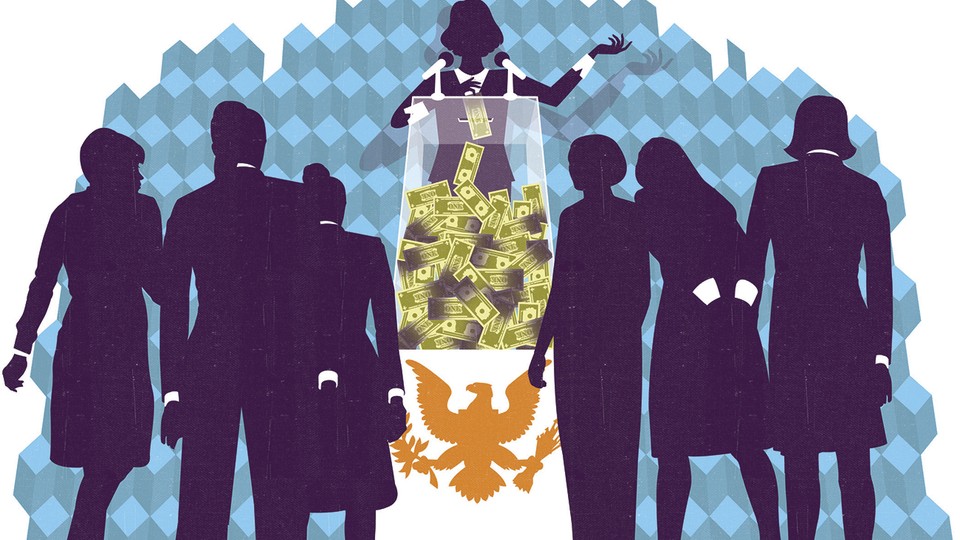 On a Tuesday evening several months ago, in the lobby of a swanky downtown law office, young women in sundresses sipped Kentucky Derby""inspired drinks, snapped pictures with one another, and mingled casually. Peering out from under wide-brimmed hats, they pointed out lawmakers and candidates passing through the room. Eventually, the atrium filled with about 150 people. The event could have passed for a sorority mixer, but the women in hats were on a political mission. Their aim was to raise money for the RightNOW Women PAC, a group that — among its other goals — hopes to create an army of bundlers and fundraisers to support right-of-center female congressional candidates.
(Illustration by Neil Webb)The RightNOW Women event was hardly unique. Fundraising events that cater to women are now part of the fabric of Washington — on both the left and the right. In the past few months, Rep. Diana DeGette (Democrat of Colorado) hosted a spa day at the Four Seasons Hotel, Rep. Terri Sewell (Democrat of Alabama) hosted a "Ladies Power Lunch," and Rep. Loretta Sanchez (Democrat of California) hosted a mani-pedi day at Tammy's Nails on the Hill. All of these fundraisers were attended primarily by women.
These events may sound cliched or even patronizing, but it's also true that they provide an alternative to a dominant fundraising culture that has historically catered to male stereotypes. "The landscape of political fundraising is changing," says Katie Vlietstra Wonnenberg, president of Women in Government Relations, a trade association aimed at uniting women in the lobbying industry. "It's not the same old 'go play 18 holes of golf' or 'cigars and bourbon.' "
The Podesta Group's Cristina Antelo sighed at the prospect of attending some of the recent fundraisers she'd been invited to. "I got an invitation for skeet shooting," Antelo says. "I thought, 'No, I'm not going to go embarrass myself in front of a whole group of people.' " One female lobbyist who asked not to be named cringed at invitations she'd received for cigar-smoking fundraisers. "You just come away smelling so bad," she says. "If I can avoid it, I try." Even women who aren't sure about getting their toes done in front of a congresswoman say they find all-female fundraisers more collaborative, and generally more relaxing, than typical Hill events.
Vlietstra Wonnenberg praised a movement toward more lunch and breakfast events, which she says mothers can attend without having to forgo picking up their kids from school. "I think there's a different camaraderie at an event organized by women for a female candidate," Vlietstra Wonnenberg says. "There's much more of that kitchen-table aspect of talking about issues and throwing around ideas."
Mingling at a RightNOW Women fundraiser in April.  (Richard A. Bloom)Republican fundraiser Lisa Spies also believes in empowering women by asking them for money. During the 2012 presidential campaign, she was the brains behind a phenomenally successful fundraising effort for Mitt Romney: Tasked with the lofty goal of raising $10 million from female donors, she brought in $23 million.
Spies says the effort was bolstered by more women making the financial decisions in their households, but she also credits her success to making women feel that their voices were being heard. "The reason we did so well was because we had a seat at the table," Spies explains. "When you take people seriously, they take you seriously." Spies isn't of the school of thought that fund-raising events for women need to be turned pink. In her experience, she says, women are most invested when they feel they're being treated as equals.
For its part, RightNOW Women hopes it can interest more young Republican women in raising money. The PAC is getting on social media to spread the word about its fundraisers, and it's setting a low price point to be inclusive. "We try to keep these events at $20 to $30 — that's brunch in D.C.," PAC founder Alyson Higgins says. She points to her own recent-graduate salary as a barrier to political giving. "You're not going to spend your rent money to support a candidate," she explains.
Donations of that size may take longer to add up, but the PAC has already supported five female candidates in the 2014 cycle. "We got a lot of great feedback, personal thank-yous," PAC adviser Marlene Colucci says. "I think [the candidates] realize this group is different. It's not coming from a large corporation or an association that has PAC money to spend."
As Spies points out, encouraging women to get involved young builds ties to the candidates and the party — which will someday pay off as these women move forward in their careers and have more to give. "I think with women, when you engage them early, especially in a substantive way, they feel a part of the campaign, and they feel a part of the strategy, and they give more," Spies says. "They will invest their time, and then they'll invest their money."