What Makes Someone a Refugee?
Nearly seven in 10 Americans see children crossing the border as "refugees" rather than "illegal immigrants." What does that say about the moral—and political—obligation to help them?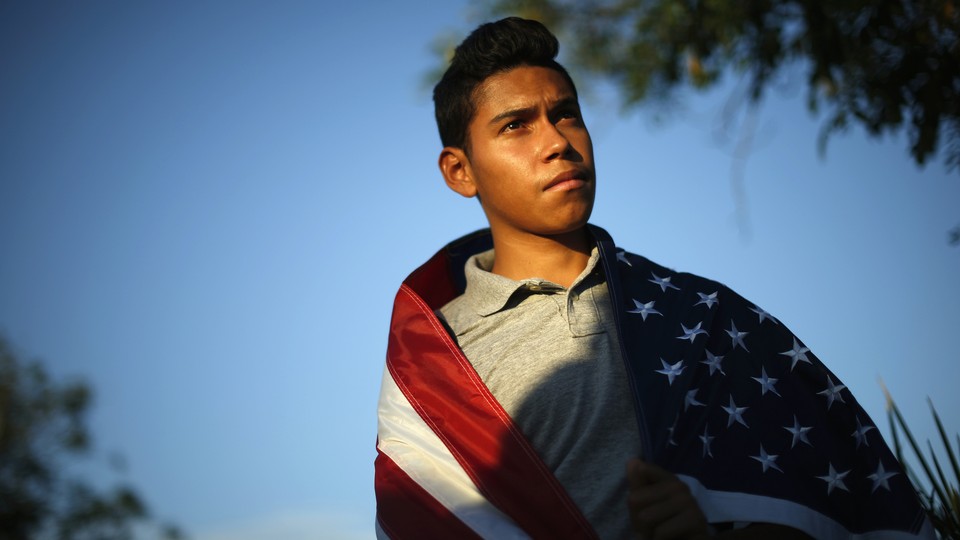 In the last fiscal year, 38,045 unaccompanied children from El Salvador, Guatemala, Honduras, and Mexico arrived at the U.S. border, according to Customs and Border Protection. Between July 1, 2013 and May 31, 2014, 46,188 children have arrived. The Obama administration has called this an "urgent humanitarian situation" and has called on federal agencies to provide housing and support. It's also considering granting refugee status to thousands of young Hondurans.
How does America see the children who arrive at its border? According to a new poll from the Public Religion Research Institute, the answer is "sympathetically." The survey found that 69 percent of respondents thought these kids "should be treated as refugees and should be allowed to stay in the U.S. if authorities determine it is not safe for them to return to their home country," and roughly the same percentage said the government should provide them with shelter and support. Only 27 percent said they "should be treated as illegal immigrants and should be deported back to their home countries."
But the respondents were more ambivalent about immigrants in general. While 56 percent agreed that Central American families are trying to keep their kids safe in "very difficult circumstances," another 38 percent said they are "taking advantage of American good will and really seeking a back door to immigrate to our country." And 42 percent said that immigrants are a "burden on the country" because "they take our jobs housing and healthcare"—a seven-point increase compared to another poll that asked the same question in early July.
What makes someone a "refugee" is actually a legal question that determines a country's obligations toward them. "Refugees are defined in international law as those who are outside of their own countries and unwilling or unable to return because they have a well-founded fear of persecution based on their race, religion, nationality, membership in a particular social group, or political opinion," Susan Martin, the director of the Institute for the Study of International Migration at Georgetown University, explained in an email.
Unlike immigrants, who are generally motivated by opportunities to work, study, or be with family, refugees are pushed to leave. But there often isn't a clear dividing line between "forced" and "voluntary" migration; people's motives are often mixed. To complicate things further, people fleeing violence or war don't automatically qualify as refugees under U.S. and international law. Many of the people leaving Central America for the U.S. face violence, war, and crime—but not necessarily direct, particularized threats.
"Bombs fall or women are raped not because of who they are, but rather where they happen to be," Martin said. Just because 69 percent of Americans view Central American children as "refugees" doesn't mean they fit the technical definition of the word.
So what does this poll actually say about the swell of migrants at the border? For one, it suggests there's political will to help people from other countries, at least in the public. "People realize that these kids do need help—these families need help," said Kate Jastram, the faculty director of UC Berkeley Law's Institute for Global Challenges and the Law. "I think in the general connotation of the word is consistent with our history ... our values of wanting to assist, to help."
But among most political leaders, she said, "there's been a real effort not to characterize these kids as refugees." U.S. and international law says that countries cannot return legal refugees to their country of origin; because of this, the use of the word "refugee" is highly charged. "The fear in the U.S. amongst policy makers is that if you encourage anyone at all, it will be more of a pull factor," she said. (One notable exception is Martin O'Malley, Maryland's governor and a 2016 presidential Democratic hopeful.)
In the poll, politics, not faith, seems to make the biggest difference in people's opinions. White evangelical Protestants, the most Republican major American religious group, were the least likely to agree that the government should offer services and support to unaccompanied minors while their cases are being reviewed—only 56 percent agreed.
But it's also true that for most people, the colloquial sense "refugee" carries a greater moral weight than "immigrant." "Particularly because refugee law grew out of the Second World War and what happened—and didn't happen—for people who were trying to flee for their lives, there is a tremendous moral connotation to the word 'refugee,'" Jastram said.
The use of that word may help to put U.S. immigration into a more moral light., especially as religious leaders become more vocal in advocating for the Central American children who show up at the border. "I think it is consistent with the teachings of many religious traditions to welcome the stranger or assist those in need of care," Jastram said.