What K Street Does All Day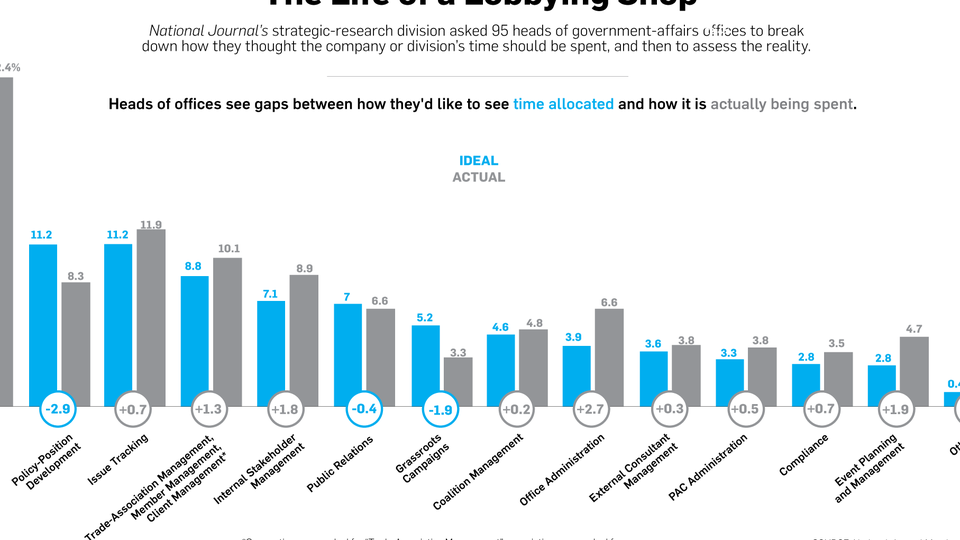 How do lobbyists spend their time? Not exactly the way their bosses would like them to.
National Journal's strategic-research team asked 95 heads of government-affairs offices how they wanted their organization or division to be allocating its hours—and then asked them to assess how the time was actually being spent.
What the team found was that organizations were spending more time than their leaders considered ideal on "inward facing" and administrative activities, such as event planning and client management, and less time on "outward facing" and strategic activities, such as policy-position development and "¦ actual lobbying. On average, those surveyed said their offices spend 22.4 percent of their time in a given day on lobbying. They'd like them to spend 28.2 percent.
Overall, nearly half of those polled said their offices were doing less direct lobbying than they wanted them to, and larger firms or divisions—those with six or more employees—didn't fare much better than smaller ones: Of those that said they were underinvesting in lobbying, the larger offices saw a 9-percentage-point gap between reality and their ideal, while smaller ones reported an 11.2-point gap. Those gaps come at a cost: The average 10-person shop is losing the equivalent of one full-time lobbying staff member to work that its top executive considers less than critical.
So why the time-management disconnect? Some lobbyists argue that there really isn't one—that bosses have wrongheaded expectations about how a shop should spend its days.
One area on which heads of government-affairs offices thought employees were spending too much time was trade-association, member, and client management. But the lobbyists we spoke to say that's not a distraction—it is a crucial part of the job. Some folks spend a lot of time on the Hill, one former automobile lobbyist says; others spend "huge blocks of time" on conference calls, reporting to corporate clients. "If all you have is shoe-leather lobbyists ... that won't work," she says. "Clients are very demanding." One lobbyist whose portfolio includes education policy agrees. "A lot of your time as a lobbyist is servicing the needs of people who call you," he says.
And that's as it should be, says one health care lobbyist: "If anything, I think we need to do a better job of reaching out to our membership and having substantive conversations. We can send out as many emails as we want, but if you're not having substantive, interactive conversations, we can't effectively represent them or get their buy-in."
The current health care landscape also requires lobbyists to understand policy at a different level, she says: "You can't effectively represent your members unless you know what's happening on the ground." Nor can you bring much to your relationships on the Hill if you're not well-informed. "I think a lot of people can get in the door by name alone—people will be polite and accept meetings—but in order to have a good chance to influence policy, or even to be effectively heard, one needs to understand that policy to have a credible voice."
And speaking of managing relationships on the Hill, does that count as "lobbying"? Even some lobbyists themselves aren't entirely sure. "If you're an energy company and you haven't spent a whole bunch of time getting to know John Dingell, you've committed malpractice," says one tobacco lobbyist. "You want to have some relationship with every senator, everyone from the Southern delegation. Is that lobbying? You're not necessarily talking about bill A or bill B." And if you're in the Washington office of a big company, you've got to spend some time maintaining your relationships with Hill staffers. "Every time you go in, you don't want to be asking for something," he says.
If the heads of office are including relationship-building in their definition of lobbying, then the aspired-to numbers "might be right," he allows. But "just saying, "˜I want my guy to lobby more,' is ignorant without knowing the context of each individual person." He says he thinks the gap mainly reflects the average head of office's view that "my people should be working harder." He adds, "That does tell you something, which I've known for a lot of years: Most lobbyists are "¦ lazy unless you put the spurs to them."
The earmarks ban has certainly affected the way K Street does business, but the tobacco lobbyist says its impact has been overblown. "If you honestly think that I haven't figured out a way around the earmark ban, you are not giving me sufficient credit," he says.
But the way Congress operates—or doesn't—definitely influences how lobbyists spend their time. "Congress is only in town a couple of days a week," says the lobbyist who works on education policy, adding that it can be "very hard to access them." The health care lobbyist says that the opportunities to lobby directly—the moments in time, the points of access—simply diminish the less active Congress is. And in its first year, the 113th Congress passed fewer substantive bills than any Congress in the past 20 years, according to the Pew Research Center.
In other words, it's not always simple to find somebody to lobby, or something to lobby on these days. Which leads to more anxious clients, which leads to more client management, which leads to more K Streeters spending less time on the Hill.
For more from National Journal's strategic research team, go to our Presentation Center.