What Egypt Stands to Win From the Gaza Conflict
Even if a second cease-fire proposal fails, Egypt's reputation in the West is getting a much-needed boost.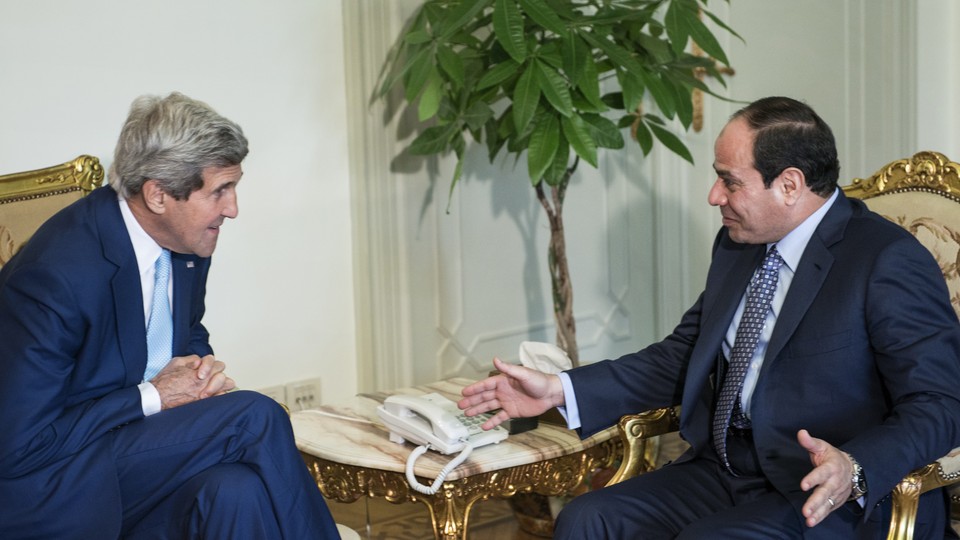 After a conducting an openly unfair election and committing a rash of documented human-rights abuses, the new Egyptian government is running short on legitimacy. But President Abdel Fattah el-Sisi now has his first chance to prove himself to the world by negotiating a cease-fire between Hamas and Israel, putting a stop, however temporary, to an increasingly bloody conflict in the Gaza Strip.
Secretary of State John Kerry arrived in Cairo on Monday night, joining Sisi and U.N. Secretary General Ban Ki-Moon in trying to devise a cease-fire agreement that both Israel and Hamas could agree to. As of Wednesday, Kerry has been shuttling between Israel and the West Bank to meet with leaders from both sides, but an agreement remains out of reach.
This is Egypt's second stab at peacemaking in this conflict. Last week, it put forward a cease-fire proposal that won Israel's acceptance but was rejected by Hamas. The rejection was posted to the official website of Hamas's military wing, the Qassam Brigades, which claimed it was never consulted about the agreement. When it learned of its contents, the Qassam Brigades called the proposal an "initiative of submission," indicating that it was not interested in "surrender."
As Egypt plays host to the push for a cease-fire, it is already seeing positive effects on its global image. "The United States is very grateful for Egypt's leadership and we're here today — I am here personally at the request of President Obama — to immediately try to find a way to support Egypt's initiative," Kerry said after meetings in Cairo on Tuesday. And back in Washington, President Sisi garnered a "round of applause" at a pro-Israel event when the host mentioned how many Hamas tunnels he has shut down.
Egypt is sorely in need of the good Western press after a rash of political moves that earned it worldwide censure over the last year. Sisi led what was effectively a coup against the democratically elected Muslim Brotherhood politician Mohamed Morsi in 2013, leaving his post as commander in chief of the military to take on the presidency. A presidential election in late May of this year to solidify his takeover saw Sisi walk away with almost 97 percent of the Egyptian vote, amid widespread boycotts and allegations of a political landscape profoundly skewed in the general's favor.
Since the election, two separate mass death sentences were handed down to more than 800 dissidents accused of ties to the Muslim Brotherhood, and three al-Jazeera journalists remain in captivity after being sentenced to seven- to 10-year prison terms for "falsifying the truth" in their reporting. The sentences drew the condemnation of U.S. lawmakers, who in June suggested that U.S. aid to Egypt should be pulled as Egypt descended "toward despotism."
Despite all this, Egypt remains the last best hope for a cease-fire in Gaza. Egypt's strong ties to Israel put it in a good negotiating position — these ties were affirmed when Israel quickly accepted Egypt's earlier cease-fire proposal. It is in a better position than even the U.S., whose efforts have been maligned by the Israeli side. A former Israeli ambassador to the U.S., Michael Oren, said that Israeli Prime Minister Benjamin Netanyahu had "not invited" Kerry to try to broker a cease-fire on Monday. Nonetheless, Kerry is playing a leading role in the push for an agreement based on the "Egyptian framework."
Egypt faces more of a hurdle in dealing with Hamas, a group that was close with the previous Morsi administration in Cairo, but which has clashed with Sisi. But Egypt's situation right now is something of a political win-win for Sisi at home: if Hamas and Israel agree to its cease-fire proposal, he looks like a diplomatic hero; if not, then Israeli forces will continue to chip away at an organization that Egypt is happy to see weakened. But the president must be careful: popular support for the Palestinian cause within Egypt could make Sisi look out of touch if his distaste for Hamas gets in the way of negotiating for Gazans' lives.
Even if the cease-fire agreement that comes out of this current diplomatic push falls short of what is necessary, or if Kerry's shuttle diplomacy is altogether unsuccessful, Egypt is likely to come out ahead in the eyes of the West. The fact that the U.S. secretary of State joined the U.N. secretary general in Cairo to regroup and begin the campaign for a diplomatic agreement afforded Egypt's government some much-needed legitimacy and bolstered its fading image. By demonstrating its essential role in the Gaza conflict, Egypt and Sisi make it easy for the world to focus on today's reality in Cairo and begin to ignore the human-rights violations and shady political deals.