What Will America Look Like in 2024?
25 charts that show what the nation expects over the next 10 years
By many measures, the United States has bounced back from the Great Recession, yet the country doesn't seem to have totally regained its confidence. Against this uncertain background, what do Americans anticipate about the next 10 years?
America Looks to 2024: The Atlantic/Aspen Institute Survey marks the 10th anniversary of the Aspen Ideas Festival by asking about impressions of the nation in 2024. The poll finds Americans in a pessimistic mood, worried that U.S. is on the wrong track and unsure about the future. Respondents expect a nation more divided by class and race. They also expect America's standing in the world to diminish, as China and Russia gain in stature. But the results aren't uniform: The poll finds that white Americans have a bleaker view of the future than their black and Latino counterparts, who are more likely to see opportunity today and ahead. Nor is the pessimism absolute. Even as many Americans seem to despair for the nation's future, they're optimistic about their own health, wealth, and well-being over the next decade.
Elsewhere on the site
, Mark Penn and Don Baer analyze the poll, which was conducted by Penn Schoen Berland in partnership with global public-relations and strategic-communications firm Burson-Marsteller.
The full results are here
. Below, a brief summary in charts:
Americans are evenly split about whether the country will be on the right track in 10 years.
---
---
That's about the same number who thought the country was on the right path in last year's survey:
---

---
Americans expect that we will be more divided than we are now and look back on fractious 2004 with rose-colored glasses. 
---

---
Americans expect the country will still be wrestling with many of the same essential issues it does today.
---
---
They think it will be tough to send their kids to college ...
---
---
... or for those kids to find work. 
---
---
Yet most parents still think their children will better off than they were at the same age: 
---

---
Large majorities (far more than currently support either cause in public-opinion polls) believe same-sex marriage and marijuana will be legal in most states by 2024.
---
---
In the next 10 years, Americans overwhelmingly expect the wealth gap to grow:  
---
---
... and they expect a political scene even more dominated by money.
---

---
The dark mood isn't just about what's happening at home. Americans seem skeptical about the nation's future as a superpower.
---
---
They see China eclipsing the U.S., with Russia ascendant.
---

---
But these views aren't monolithic, and they get muddier when you break the statistics down. For example, men are much more optimistic than women about the economy. 
---

---
Democrats feel much better about economic prospects in 10 years, while Republicans prefer the 2004 economy. 
---

---
Overall, the survey shows white America is nervous about its prospects and senses it is falling behind. Minorities, meanwhile, maintain a faith in the American dream. Blacks and Hispanics are more likely to think the country is headed in the right direction now ...
---

---
... and they're more likely to have high hopes for the next decade than their white counterparts.
---

---
A stunning 40 percent of Hispanic Americans expect to own their own businesses, versus just 11 percent of whites. (For comparison, around 12 percent of Americans are currently entrepreneurs.)
---

---
Only a quarter of whites feel positively about opportunity and chances to get ahead with hard work. 
---

---
A stunning 44 percent of Americans, a plurality, think Spanish will overtake English as the most widely spoken language by 2024.
---
---
How about outside the policy realm? The numbers show a surprising optimism. Most Americans say they weighed less a decade ago and they'll be more svelte by 2024. 
---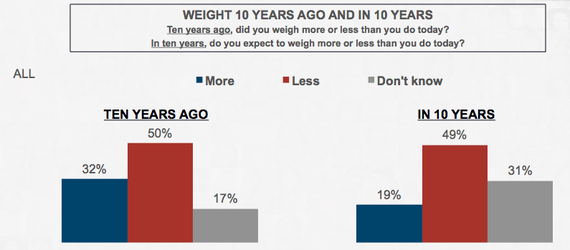 ---
Perhaps equally unlikely, more than half say they'll attend religious services more in 10 years.
---
---
In some ways, people expect to be pretty old-fashioned. Only a quarter intend to cut the cord on their TV ...
---

---
... but they're planning to jettison print—except for books:
---
---
And although they see the tech industry as the providing the nation's most prominent leaders ... 
---

---
They're not exactly bullish on the impact of social media on their lives.
---

---