The Todd Akin of 2014 Is "¦ Todd Akin
No Republican has spouted offensive stuff nearly as well as the 2012 candidate, something Democrats can lament as they are denied a GOP bogeyman this year.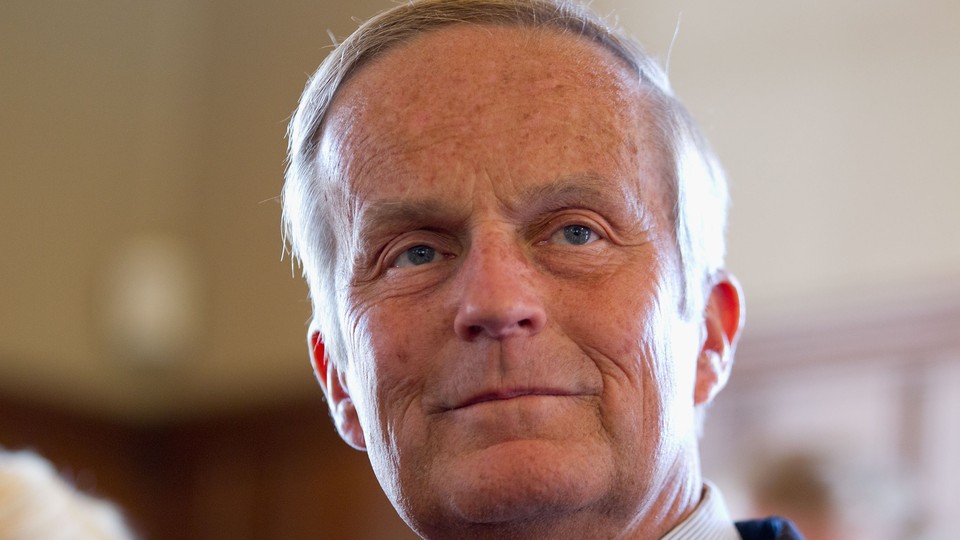 National Republicans worried anxiously this year that a handful of fringe candidates could repeat the dreadful mistakes of Todd Akin, whose "legitimate rape" comments helped tank the GOP's Senate chances in 2012.
But it turns out that the Todd Akin of 2014 is Todd Akin.
Akin's reemergence on the national stage this week — to promote his new book, Firing Back — was an unwelcome surprise for national Republicans, who still credit the former Missouri candidate's comments with losing not just his race against Democratic Sen. Claire McCaskill but tight Senate contests across the 2012 map.
So far, though, his 2014 doppelganger hasn't materialized — and almost all the Republicans whom party leaders saw as problematic are out of the picture now.
Paul Broun, for example, the firebrand conservative congressman who ran for the Senate in Georgia and once called the big-bang theory and evolution "lies from the pit of hell," came in fifth in the state's May 20 primary. Businessman David Perdue and Rep. Jack Kingston, who made it to the July 22 runoff, were the two candidates in that race seen as least likely to deliver a similar gaffe.
The same was true in Senate races in North Carolina and Mississippi: Physician Greg Brannon and pastor Mark Harris both lost the North Carolina GOP primary to state House Speaker Thom Tillis, delivering the nomination to the candidate national Republicans preferred. McDaniel, whose radio-host past unearthed some offensive comments about women and minorities, is — pending his legal challenge — out of the running in Mississippi.
And in Alaska, 2010 Senate candidate Joe Miller is back for a second try in the Aug. 19 primary, but so far he has gotten little traction against former state Department of Natural Resources Commissioner Dan Sullivan, Lt. Gov. Mead Treadwell, and other candidates.
Akin, in his new book, says his only regret of the 2012 campaign was apologizing for the comments that so many found offensive.
"By asking the public at large for forgiveness, I was validating the willful misinterpretation of what I had said," he writes, according to an early copy of the book obtained by Politico.
Some Democrats quickly jumped on the Akin news Thursday, tying him to 2014 candidates. While it shows that Democrats still feel Akin resonates, it's also a sign that no one has taken his place as the GOP bogeyman.
"Todd Akin Is Back "¦ But He Never Really Left," said the headline on a press release from Sen. Mark Udall's campaign, which alleged Thursday that the Coloradan's GOP challenger, Cory Gardner, "carried on crusade" for Akin.
"Akin's remarks were widely condemned by Republicans trying to avoid bad PR, but radicals like Congressman Cory Gardner still agree with Akin's offensive and backward policy views," the release said.
Planned Parenthood, too, put out a release saying three candidates — Gardner, North Carolina's Tillis, and Texas gubernatorial candidate Greg Abbott — "show similar disregard for survivors of rape and incest."
But these references to Akin underscore the fact that, thus far, there's no obvious 2014 scapegoat to fuel Democrats' "GOP war on women" narrative, and no 2014 comment that has come even close to Akin's "legitimate rape." In a year where Democrats must defend so much territory on the Senate map, that's surely not what they wanted.