The Swing Seat at Stake in Arizona Republicans' Civil War
State House Speaker Andy Tobin wants to unseat Democratic Rep. Ann Kirkpatrick, but first he has to beat his "underfunded and loud" opponents.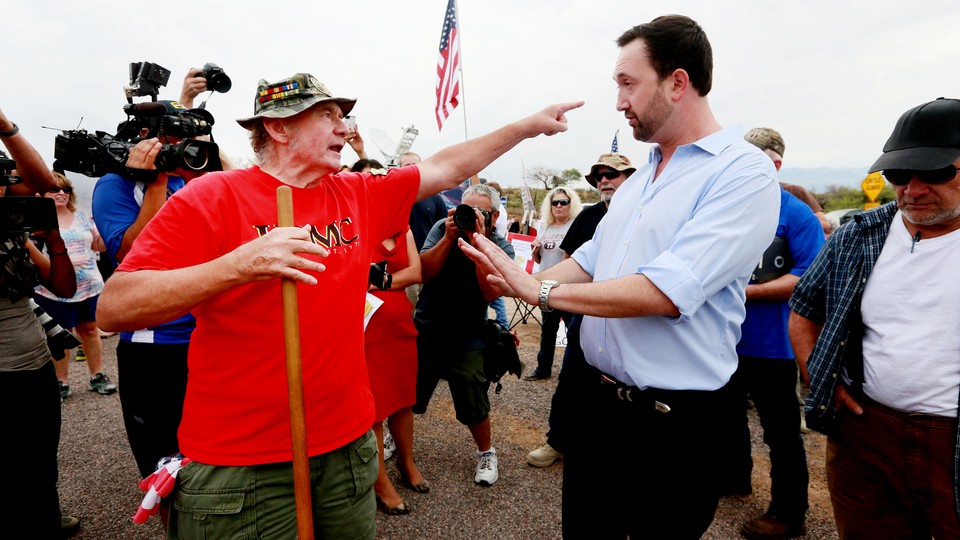 Rep. Ann Kirkpatrick of Arizona is considered one of the most vulnerable members in Congress this cycle, a Democrat in a district that supported Bush, McCain, and Romney in the last four presidential elections.
So when a well-known, respected state lawmaker — House Speaker Andy Tobin — entered the race last October, it seemed Kirkpatrick was in for a fight in her diverse district stretching from the outskirts of Phoenix and Tucson to the state's northern and eastern borders.
Tobin started his campaign with a bombastic tone, harping on Kirkpatrick for opposing efforts to defund Obamacare during the October government shutdown, saying she'd rather support President Obama than reopen Grand Canyon National Park.
But roughly half a year later, the criticism has shifted from Kirkpatrick's record in Congress to Tobin's record in the state Legislature, as his previously anonymous primary opponents started attracting attention, gathering support based on Tobin's most controversial actions as House speaker.
Local Republicans say Tobin is still the favorite, but that if he loses the nomination to first-term state Rep. Adam Kwasman or rancher Gary Kiehne, Kirkpatrick won't face much of a challenge. And Tobin's lead seems tenuous, thanks to Arizona's most conservative Republicans, said Chuck Coughlin, a Republican consultant based in Phoenix.
"A third of the Republican Party reacts negatively to anybody with any legislative experience," Coughlin said.
Playing to that portion of the party, Kwasman and Kiehne have turned the focus to Tobin's shortcomings as a conservative while serving as speaker, and to the fact that Tobin does not live in the district.
"I'd call him a carpetbagger, but a carpetbagger is someone who moves in to run," Kwasman quipped in an interview.
As Kwasman and Kiehne gather supporters, Republicans face the very real prospect of nominating a candidate who is gaffe-prone, financially ineffective, or both. That would effectively end the race before it starts, said Stan Barnes, a Republican consultant and former state senator.
"If Kwasman wins, the NRCC will probably score the district as a loss and may throw some token money at it but won't really go in," Barnes said. So far, the National Republican Congressional Committee has reserved $1.95 million in airtime in the district in the fall.
Earlier this week, Kwasman's campaign hit a low point when he claimed in an interview to have seen migrant children being bused to Arizona, and even recounted "the fear on their faces" before being informed by a reporter that the children he saw were from a local school district on a bus to a YMCA camp.
Kwasman has also struggled to raise funds. He raised less than $75,000 in the second quarter of the year, and had only $88,000 cash on hand. Tobin and Kiehne both had far more cash, and Kirkpatrick has about twice as much as all three Republicans combined.
About two weeks before filing his fundraising report, Kwasman promised "a huge increase from last quarter to this quarter." That was technically true — he raised only $28,000 in the first quarter, which is why his opponents see money as Kwasman's biggest weakness if he were to advance to the general election.
"You've got to have resources, and he doesn't," said Chris Baker, a spokesman for Kiehne's campaign, who described Kwasman's candidacy as "underfunded and loud."
Kiehne, meanwhile, has had even more unfortunate quotes that would come back to haunt him in the general election. He claimed in a debate that "99 percent of [mass shootings] have been by Democrats pulling their guns out and shooting people." He also reportedly compared police officers evacuating residents during a wildfire to the Nazi SS in an interview with The Arizona Republic.
Kiehne "would be a poster child for Democrats if he were able to win" the primary, Coughlin said.
Tobin, meanwhile, has tried to draw attention to Kwasman's and Kiehne's mistakes, although this has directed voters' ire toward the Republican field rather than Kirkpatrick. He called on Kiehne to drop out of the race after his comment on shootings, and his campaign accused Kwasman of playing into liberals' hands after his embarrassing interview.
Tobin campaign manager Bill Cortese called Kwasman a "laughing stock" in a press release, saying, "The video is going viral, and just like that he has turned this issue into a joke — just what the left and the liberal media wants."
If Republicans fail to field a candidate who can put sufficient pressure on Kirkpatrick, it would spoil what has been a perfect record for the party so far this cycle in open seats and blue seats. In every potential swing-seat race that also has a competitive Republican primary, the establishment candidates who were seen as being more electable have prevailed. In New Jersey, Tom MacArthur prevented a Steve Lonegan candidacy that local Republicans viewed as an impending disaster; in Iowa, David Young beat Brad Zaun, whose personal baggage had already derailed a 2010 run; in Virginia, Barbara Comstock emerged from a crowded primary as the favorite in an increasingly purple district; and in New York, the Republican establishment sent Lee Zeldin on to challenge Rep. Tim Bishop and Elise Stefanik won the nomination in retiring Rep. Bill Owens's district.
Qualified Republican candidates have put the party in a strong position nationally by winning tough primaries, said NRCC national press secretary Daniel Scarpinato.
"Republicans have the strongest field of challenger candidates we've ever seen," he said in a statement. "They ran smart, aggressive primary campaigns and are more than prepared to take on the Democrats in November."
Tobin is the clear establishment pick in this race, with endorsements from Mitt Romney and the U.S. Chamber of Commerce. But he has been forced to play defense on even some minor legislative issues. He made enemies in 2012 with then-state Sen. Sylvia Allen and the state's militant wing of border-security enthusiasts when he declined to call a vote on a bill Allen sponsored that would have created a state-sanctioned border militia. He has taken criticism for supporting a bill on state education standards that Kwasman opposed because it aligned with Common Core standards. And Kwasman has faulted him for eventually giving in to Gov. Jan Brewer's efforts to expand Medicaid, which Tobin did not actually support.
Kwasman, meanwhile, has essentially no objectionable votes.
"He hasn't had to wheel and deal," said Allen, who endorsed Kwasman. "Tobin's totally an establishment guy. He owes many, many favors."
Tobin's one other major disadvantage in the primary is that the enthusiastic conservatives supporting Kwasman believe Kirkpatrick is so vulnerable that any Republican could beat her. Kwasman noted that the district has many "copper Democrats" who could support a Republican. Allen agreed, saying the district is too conservative for Kirkpatrick and that the primary should be about conservatism rather than Tobin's supposed electability.
"America is in a civil war," she said. "It's a bloodless civil war, but we're in a civil war. We're so divided on the issues, on our principles."