The Simmering Climate Battle Over Natural-Gas Exports
A fight is brewing over whether Energy Department regulators should weigh the impact of liquefied natural gas on global warming.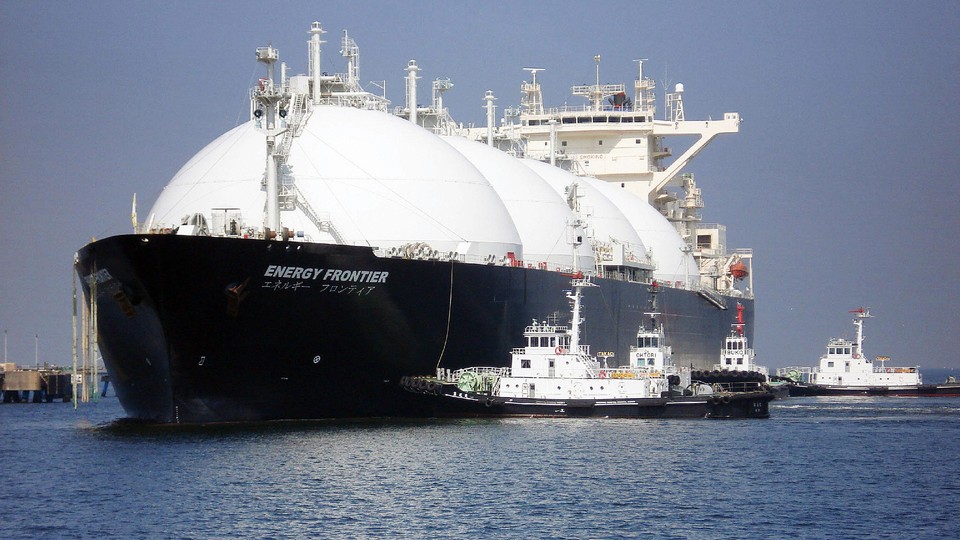 A fight is brewing over whether Energy Department regulators should weigh the impact of liquefied natural gas on climate change before granting companies permission to ship the product abroad.
The dueling pressures on the department from industry officials and green groups are part of a wider dispute over whether natural gas is a friend or enemy in battles against global warming.
Natural gas emits far less carbon dioxide than coal when burned to create electricity. But leaks of the potent greenhouse gas methane along the production, processing, and transit chain eat into that advantage — and how much is a matter of fierce dispute.
Right now, part of the battle over gas and climate is playing out in public comments on an Energy Department report about exports of liquefied natural gas.
"LNG exports will induce increases in U.S. gas production and associated emissions, and LNG exports will displace investments in renewable energy and efficiency in importing markets," state the Sierra Club and several other groups in a letter this month to the department.
In late May, the Energy Department released a draft report on the range of "lifecycle" greenhouse-gas emissions of hypothetical gas exports to Europe and Asia. It explores the combined emissions from producing, moving, cooling, and shipping U.S. gas, then burning it abroad to create electricity.
The draft study, while packed with uncertainties and caveats, showed that these "lifecycle" emissions were generally a good deal lower than using coal mined in those regions, and better than or at least on par with Russian gas sent via pipeline.
But although the report contained good news for export advocates, industry officials are nonetheless pressing the department not to factor the review of these emissions into its decisions on gas-export applications that are piled up before regulators.
An industry group called the Center for Liquefied Natural Gas, in recent comments on the report, argues that weighing the study would run afoul of regulations that govern the National Environmental Policy Act review process.
The industry group also argues that the lifecycle emissions review has no place in DOE decisions about whether applications are in the "public interest" and therefore should be approved.
If the analysis is weighed in those reviews, "DOE could accomplish environmental goals through its own analysis what it cannot do through the NEPA process," such as consider environmental conditions in other nations, the center says in comments submitted last week.
"[S]uch a use outside the NEPA process could lead to inconsistent conclusions on the environmental review ... and subject the public interest determination by DOE to unnecessary legal challenges by those opposing the applications for any perceived deficiencies in DOE's consideration of environmental factors," the group said.
Similarly, the big energy company Dominion doesn't want lifecycle emissions to pay a big role in DOE reviews. The company, which is seeking final clearances to move ahead with a multibillion-dollar liquefied natural-gas project in Maryland, applauded the study as "favorable" to exports, but also notes: "This type of life cycle GHG analysis is in no way required as part of the environmental review of LNG exports."
The company said DOE's approval of export applications doesn't have a clear link to the sum of greenhouse-gas emissions from natural-gas development and use.
"In no sense can DOE's authorization of LNG exports be considered the cause of [greenhouse-gas] emissions ranging all the way from the well-head (wherever that may be for particular feed gas) to the burner-tip (wherever the exported LNG may be burned after regasification under whatever regulatory rules may apply in that country)," the company said.
The draft Energy Department study looks at the so-called global-warming potential of using exported U.S. gas in Asia and Europe over 20-year and 100-year horizons. The latter timeframe is friendlier to gas, because while methane emissions pack a wallop, they are relatively short-lived in the atmosphere.
The study showed that using a 100-year horizon, exported gas is easily more friendly to the climate than using regionally sourced coal in China and Europe. But the advantage shrinks somewhat using the 20-year horizon. And the high end of the estimated climate damage from using imported U.S. gas in China is even slightly worse than the low end of the range of estimates from using coal there.
Overall, the report states: "This analysis has determined that the use of U.S. [liquefied natural gas] exports for power production in European and Asian markets will not increase [greenhouse-gas] emissions, on a lifecycle perspective, when compared to regional coal extraction and consumption for power production."
But several environmental groups, in comments on the study, say the analysis greatly underestimates the climate impact of U.S. gas. They argue that the 1.6 percent estimated methane leakage rate for U.S. natural-gas development that DOE used is too conservative, and cite studies that have concluded it may be twice that high or worse.
July 21 comments to DOE from the Sierra Club, the Chesapeake Climate Action Network, Earthjustice, and other groups also argue that DOE should not just compare exported U.S. gas to other fossil fuels when comparing lifecycle emissions.
"End-use markets in Europe and Asia are rapidly investing in clean-energy infrastructure like wind, solar, and efficiency. U.S. LNG exports would likely displace these energy investments in addition to, or instead of, displacing use of other fossil fuels," it states.
While activists believe the report underplays damage to the climate from natural-gas exports, they do say that climate change should be front and center in DOE's decisions about export applications.
"We will continue to do everything we can to raise our voice on this issue, educate the country on the climate reality of [liquefied natural gas] exports and seek legal recourse and pathways as available," said Mike Tidwell, director of the Chesapeake Climate Action Network.
The Energy Department has previously given one final and six preliminary approvals to applications to export gas to nations that don't have a formal free-trade deal with the U.S. But roughly two-dozen more of these applications, which are subject to careful scrutiny, are before regulators.
DOE said in releasing the draft report that the study would be included in companies' application dockets to help "inform" its decisions, but did not provide specifics.
"The department evaluates each application and issues a public-interest determination based on a number of different factors, including domestic energy security, economic impacts, international considerations, and environmental factors such as greenhouse-gas emissions," a spokesperson said.