The One Number That Will Decide This Year's Election
For the past decade, the working-class vote has determined whether the country swung toward Democrats or Republicans.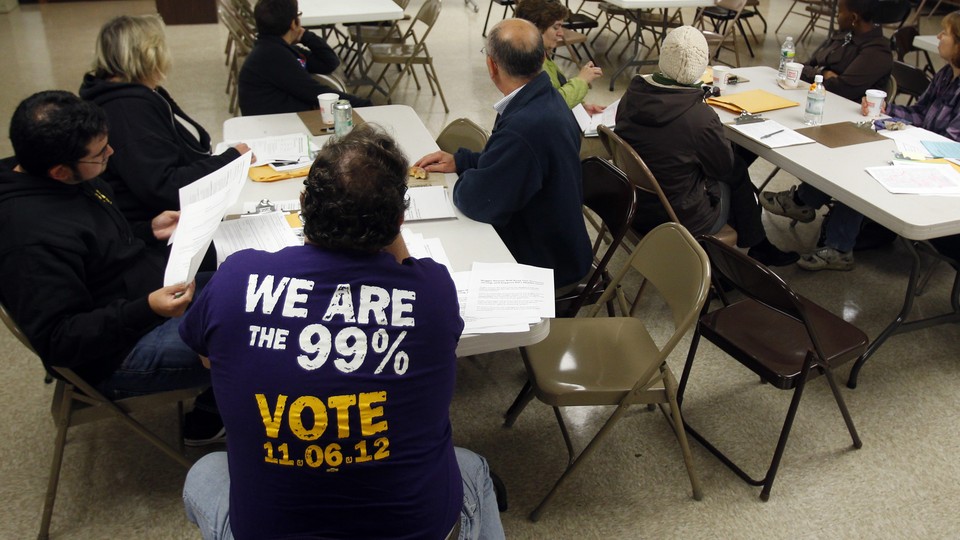 What will be the deciding factor in this year's elections? Will it be Obamacare? The chaos erupting across the globe? The president's approval rating? Will it be single women voters, Hispanics, young people?
Mike Podhorzer crunched the numbers and found there's one factor that, with eerie consistency, explains the way elections have swung for the past decade. Podhorzer, the political director of the AFL-CIO, is one of the top electoral strategists on the left. The crucial factor, he found, is Democrats' vote share among voters making less than $50,000.
Republicans consistently win voters making $50,000 or more, approximately the U.S. median income. The margin doesn't vary too much: In 2012, Mitt Romney got 53 percent of this group's vote; in 2010, Republican House candidates got 55 percent. And Democrats consistently win voters making less than the median—but the margin varies widely. In fact, whether Democrats win these voters by a 10-point or a 20-point margin tells you who won every national election for the past decade.
In 2004, Democrats won the working-class vote by 11 points; George W. Bush was reelected. In 2006, Democrats won the working-class vote by 22 points and took the House and Senate. In 2008, Democrats won by 22 points again, and President Obama was elected. In 2010, the margin narrowed to 11 points, and Republicans took the House back. In 2012, Obama was reelected—on the strength of another 22-point margin among voters making under $50,000.
"It doesn't often get reported, but the key indicator that has been decisive for the last several elections is how people making below the median income vote," Podhorzer said this week. Black or white, Asian or Hispanic, male or female, young or old, it's that simple. To reach these voters, Podhorzer believes, candidates need to focus on the economic issues of the working class. "Economic populism decides who wins elections in America," he said.
Now, as a union man, Podhorzer has an interest in encouraging politicians to cater to this demographic. But the data bears out his claim. In addition to working-class voters' Democratic margin, their turnout rate is also an important variable. Though they make up half of all earners, they consistently comprise less than half of the electorate, because the richer people are, the more likely they are to vote.
But working-class turnout has varied over the years. In 2004, Bush won despite remarkably high turnout among this group. But since then, the larger this group's share of the electorate, the better Democrats have done. If working-class turnout in 2010 had been at its 2006 or 2012 level—about 5 points higher—the election would have been neutral rather than a Republican wave, Podhorzer observed.
So how does this year look for Democrats based on this metric? Podhorzer doesn't sound very optimistic. With a little more than 100 days until the election, Republican voters are more fired up than Democrats: In a new Pew survey released Thursday, 45 percent of Republican voters said they were unusually excited to vote this year, compared to 37 percent of Democratic supporters. Gridlock in Washington prevents Congress from doing anything to help those struggling economically, while giving Republicans more to blame Obama and Democrats for. Similarly, chaos around the world obscures Democrats' economic message while dragging down the president's image.
The Pew report didn't include a breakdown based on the $50,000 threshold, so I asked Pew to crunch the numbers for me. The result: 51 percent of voters making less than $50,000 plan to vote for Democrats, while 40 percent plan to vote Republican. (The rest are undecided, and the GOP wins the more-than-$50,000 vote 49-44.) That's exactly the same 11-point margin that has meant Democratic doom in every election since 2004.
Democrats, Podhorzer said, still need to find a way to frame the election in terms of "who's on your side." They haven't done it so far. If they can't, Podhorzer said, "This is going to be another Republican year, in a powerful way."