The Odds of a GOP Wave Are Increasing
This year's political environment is shaping up to be nearly as bleak as 2010, and that's ominous news for Senate Democrats.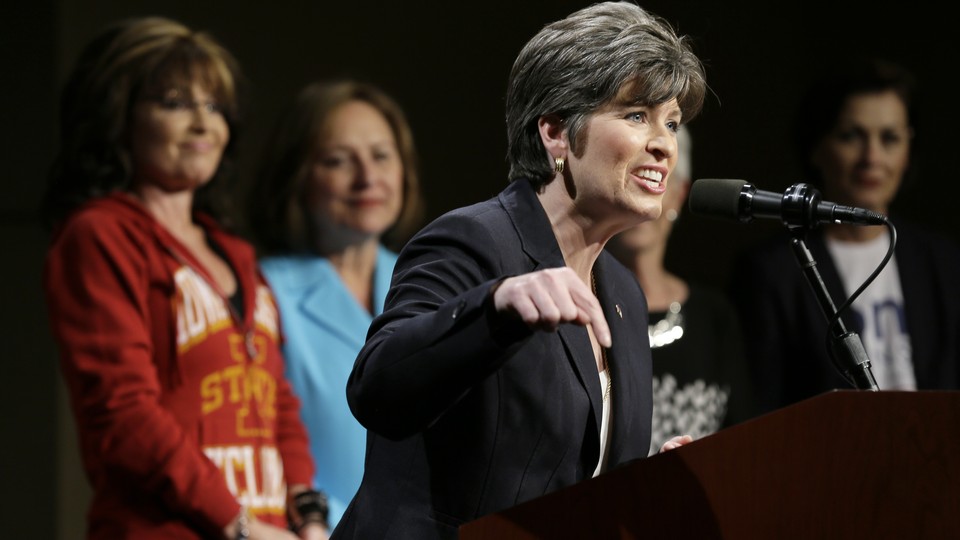 When writing about politics, it's all too frequent to use terminology that often obscures more than elucidates. That's especially true when it comes to the word "wave" — shorthand for a landslide victory for the winning party. I've argued before that the likelihood of 2014 being a wave election has been rising, given the president's consistently low approval ratings and the fact that Republicans are running evenly on the generic ballot (which usually translates into a clear GOP edge) and that the right-track/wrong-track numbers are near historic lows. All these big-picture signs are ominous for the party in power.
But this week, The New York Times' Nate Cohn argued that the threat of a Republican wave is subsiding, thanks to red-state Senate Democrats remaining resilient and the declining risk of blue-state seats — such as those in Oregon and Virginia — flipping in a landslide. This, despite the various political forecasters and Senate models (including the NYT's own Upshot) showing the likelihood of a Republican takeover increasing over time, with more states emerging in play.
What gives?
To be fair, a lot of the disagreement stems from semantics — the definition of the word "wave." Cohn argues that if Republicans merely sweep red-state Democratic seats and perhaps pick off a stray swing seat, it's not a wave election — even if Republicans net seven seats on their way to the majority. To accomplish that feat, Republicans would need to oust four sitting Democratic senators. Over the last decade, Republicans have defeated only three sitting senators (Tom Daschle in South Dakota, Russ Feingold in Wisconsin, and Blanche Lincoln in Arkansas). Surely, a red-state sweep would signify the conclusion of a political shake-up in the South, where voters are so disgusted with the national Democratic Party that they're willing to throw out senators who had previously relied on split-ticket voters to win. If a Republican takeover by picking up seven Senate seats isn't a wave, it's awfully close.
There's also a methodological conflict at hand. Most political scientists define a wave in terms of House seats gained, because Senate contests only take place in one-third of the country. But in the House, gerrymandering and voter self-sorting have limited the universe of competitive seats. With a 234-seat majority, Republicans have already come close to hitting the upper limit of their representation. Emory University political scientist Alan Abramowitz found that even a sizable 5-point generic-ballot advantage for Republicans would net them only 15 House seats. The Cook Political Report, assessing a "2010-lite" environment for Republicans earlier this year, expects GOP gains of just two to 12 House seats. It's very possible Republicans could exceed expectations in the Senate while adding only marginally to their House majority.
Still, there's plenty of race-by-race evidence to suggest that most contests are trending in a Republican direction. Over the past several months, the Iowa and Colorado Senate races have turned from long shots to promising Republican pickup opportunities. In Iowa, Republican nominee Joni Ernst is running evenly with Democratic Rep. Bruce Braley in the Real Clear Politics polling average, a marked shift over the last two months. And in Colorado, Democratic Sen. Mark Udall only holds a 1-point average lead over GOP Rep. Cory Gardner, according to RCP, in a race that's shaping up to be a barn burner.
And there isn't much evidence that red-state Democrats have gained ground in recent months, either. In Arkansas, reliable public polling has been sparse, but GOP Rep. Tom Cotton has led Sen. Mark Pryor (D) in three straight public polls, along with the GOP campaign's last two internals. Pryor didn't release any polling of his own to counter. An April NYT/Upshot survey showing a double-digit Pryor lead, which shaped public perception of the race, is now looking more like an outlier.
In Louisiana, Sen. Mary Landrieu (D) has never hit 50 percent in any of the all-party primary surveys, with most polls showing her well short of the mark. Outside GOP groups are already anticipating a runoff, reserving post-November election ad time on behalf of Rep. Bill Cassidy, her expected challenger. With Republicans on track to nominate a credible candidate in Georgia, Senate Minority Leader Mitch McConnell avoiding a tough primary in Kentucky, and Sen. Thad Cochran renominated in Mississippi, it's looking less likely that Democrats can pick off a stray Republican-held seat.
To be sure, there are several races where Democrats have stabilized their standing. Sen. Kay Hagan has inched ahead of Republican Thom Tillis in North Carolina, thanks largely to the state House speaker's role in a contentious budget fight in the state Legislature. Her numbers are still weak and she remains one of the most vulnerable Democrats, but her strategy of making Tillis an unacceptable alternative is very viable. Michigan Secretary of State Terri Lynn Land is looking like a weak candidate, unable to capitalize on the favorable environment for the GOP in Michigan. And former Sen. Scott Brown hasn't dented Sen. Jeanne Shaheen's comfortable lead in New Hampshire, thanks to his middling favorable ratings and struggles to answer straightforward policy questions.
But even wave elections feature weak candidates and missed opportunities: 2010 was a historic year for Republicans, yet Sharron Angle and Ken Buck proved they weren't ready for prime time in otherwise winnable races. The wave wiped out Democrats in the South and Midwest that year, but it crested in the West. Sens. Patty Murray, Michael Bennet, and Barbara Boxer, top targets that year, all won reelection. That didn't change the reality of rough public opinion for Democrats.
If anything, this year's environment for Democrats is shaping up to be as bleak. Sizable majorities oppose the Obama administration's handling of nearly every issue, including the economy, health care, and foreign policy. The administration looks out of its element, lurching from foreign policy crises to domestic scandal over the past year. Even out of the headlines, Obamacare is still a driving force for Republicans and for unfavorable poll numbers. This week, Democratic pollster Stanley Greenberg released new data showing Obama's disapproval at a whopping 60 percent in 12 Senate battlegrounds, with half strongly disapproving of his performance. Overall, Republicans held a 2-point edge on the battleground generic ballot, 46 percent to 44 percent.
Those are the numbers that foreshadow wave elections. In the House, the outlook is already decidedly favorable toward Republicans, even with a limited pool of competitive seats. The Cook Political Report only ranks four GOP-held seats as toss-ups or worse, while 13 Democratic seats are in the same category. Perennial targets, like suburban Reps. Joe Heck and Mike Fitzpatrick, are looking in strong shape, while Democrats in friendly seats like Reps. Brad Schneider and Scott Peters are facing challenging campaigns. In Senate races, where voters pay closer attention to individual candidates, Democrats are working aggressively to disqualify challengers from capitalizing on the public discontent, hoping that widespread dissatisfaction with the GOP brand will translate into support for their incumbents.
But in an environment like this, it's more likely we'll see more races come into play late than to see close contests fall by the wayside. Republicans aren't guaranteed a wave election at this point, but those dismissing the possibility are whistling past the graveyard.
{{ BIZOBJ (video: 5114) }}