The IMF Wants Your Gas to Be More Expensive
Fuel prices don't accurately reflect their environmental impact, the international body says in a new report.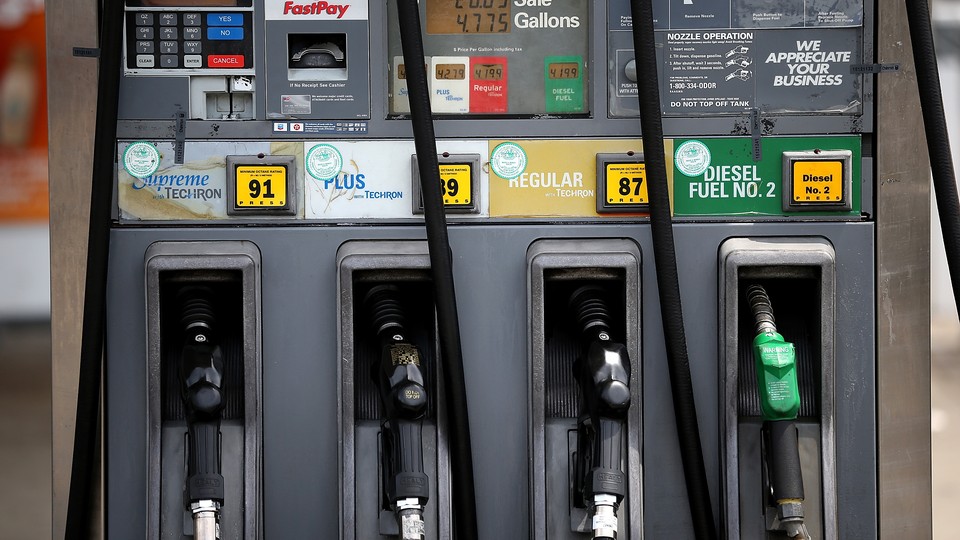 Rising gas prices may be the bane of most drivers, but the International Monetary Fund says those costs aren't nearly high enough.
In a book released today, the IMF states simply, "Many energy prices in many countries are wrong." The international bank backs tax reform that would peg fuel, coal, natural gas, and diesel prices to the cost of global warming, air pollution, and the impacts of motor-vehicle use.
For the U.S., for example, that could mean a $1.60 per gallon corrective tax on gasoline to cover health impacts from car exhaust pollution, traffic accidents, and wear and tear on highways, plus taxes on coal and natural gas to account for the energy sector.
But the benefits, the report says, would be felt across the spectrum. Incentivizing people to use less-dirty fuel would lower worldwide deaths from air pollution linked to fossil fuels by 63 percent (the bulk linked to coal) and slash carbon dioxide emissions by 23 percent. The gains could even be felt in gross domestic product, with an average 2.6 percent boost.
IMF Managing Director Christine Lagarde admitted that imposing a fuel tax hasn't gotten a generous reception in the U.S. or in some other countries. And she also noted that tax reform doesn't necessarily mean a tax increase ("smarter taxes" was the buzzword for the potential to offset taxes elsewhere).
"I know it's not a particularly popular suggestion, but it is our suggestion," Lagarde said today at an event hosted by the Center for Global Development.
"In all of this, fiscal policy must take center stage, and our message is clear: To get it right, price it right," she added.
Echoing the sentiments of other carbon-tax proponents, Lagarde also pointed out that higher energy prices wouldn't just direct more money to climate-change efforts, but could also direct people to use cleaner fuels, reduce their energy use, or shift to a fuel-efficient car. The revenue raised could also be used to offset taxes on income, pay down public debt, or address income inequality, she said.
The report measures the impact of tax reform on 156 countries, noting that the energy tax reform would allow some countries to move independently on climate change rather than waiting for international action. In the U.S., for example, the report offers a proposal for a tax of more than $8 per gigajoule on coal, while natural gas would see a corrective tax of just over $3 per gigajoule.
Of course, raising energy prices is a huge ask. The Australian government this month nixed that country's carbon tax. And even while Congress sweats through another short-term fix to keep the Highway Trust Fund afloat this week, there's little momentum to raising the country's 18.4-cents-per-gallon gasoline tax to cover the upkeep of transportation infrastructure.
Lagarde—who has overseen a shift at the IMF to tackle climate change—said the economic approach to environmental impact was one that made sense to the monetary body, especially as nations prepare for climate change talks in Paris next year.
"It's bad for an economy to be downgraded, but it's even worse for an economy to be degraded," Lagarde said. "A degraded environment leads to a degraded economy."