The Costly Lobbying War Over America's Dying Honeybees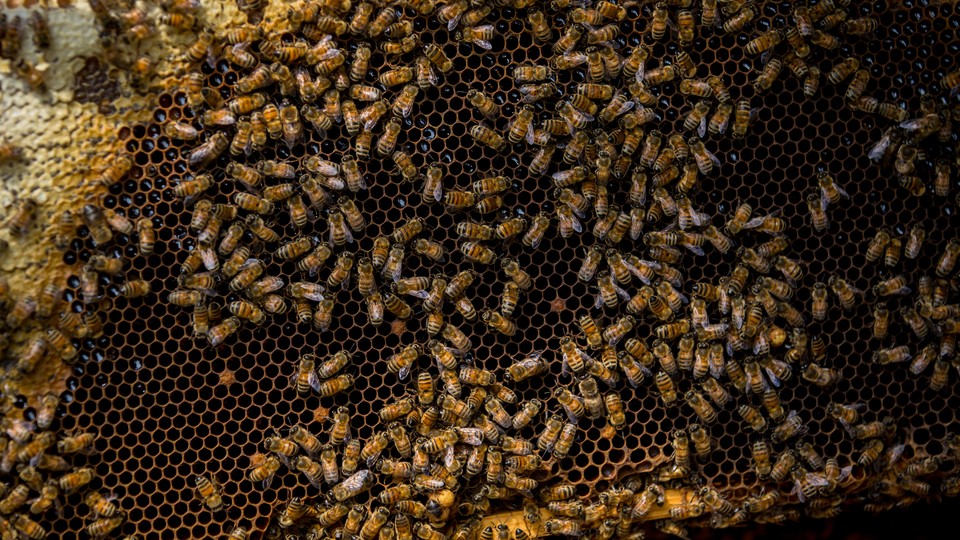 The insect world's biggest murder mystery is moving to K Street.
Honeybees—pollinators that serve as the matchmakers of the floral kingdom—are dying off in droves, frightening environmentalists and scientists who fear the unfilled natural niche that collapsing bee colonies leave behind. Those concerns hit the national stage last month when President Obama launched a federal investigation to find out what is driving the decline.
All of that has made the pesticide industry nervous. Environmentalists have long argued that a widely used class of pesticides known as neonicotinoids, or neonics for short, are a major cause of bee die-offs. And green groups are hoping that White House attention—combined with a growing body of scientific evidence that points the finger at chemical crop treatments—will lead to an all-out ban on the pesticides.
For the industry, that would be a major dent in sales. In 2009, neonics accounted for $2.6 billion in profits industry-wide.
In an effort to protect their product, pesticide makers are loading up on high-powered lobbyists. Bayer, the largest manufacturer of neonics, has signed former House Majority Leader Dick Gephardt's firm to lobby on the issue, according to disclosure records filed at the end of June. Gephardt himself is listed as a lobbyist for the company, along with his former chief of staff, Thomas O'Donnell, and aide Sharon Daniels.
Bayer also signed a contract in April with Cornerstone Government Affairs as part of its honeybee lobbying push.
A Bayer spokesperson declined to comment on the message its lobbyists plan to push. But the company confirmed that it recently hired both lobbying firms, and its line on pesticides has been well-publicized.
"Some critics contend that neonicotinoids may be involved in honeybee losses," Bayer's website proclaims. "However, there has been no demonstrated effect on colony health associated with neonicotinoid-based insecticides."
In addition to its honeybee lobbying, Bayer has launched a public-relations offensive. The chemical giant opened the doors to its North American Bee Care Center in North Carolina in April. And last month, Bayer hosted a reception for members of Congress in Washington to talk about its efforts to help honeybees during National Pollinator Week.
Bayer isn't the only pesticides maker fixing for a fight. Syngenta, the second-largest neonic manufacturer, is registered to lobby on pesticides. A Syngenta spokesperson said the company actively discusses "the pollinator issue" with government officials.
The lobbying push is backed by deep pockets. Bayer ponied up more than $2 million for all of its lobbying efforts in the first quarter of the year, according to lobbying disclosure records. Syngenta, meanwhile, paid out $350,000 in the same interval for total lobbying expenditures.
Environmentalists and public-health and food-safety advocates are also shelling out to make the case that pesticides are killing honeybees, but have spent considerably less cash. The Center for Food Safety, which lobbies against neonics, spent only $10,000 total on lobbying efforts in the first quarter of the year. Friends of the Earth, an environmental group, which contends neonics are the leading cause of bee deaths, spent just under $13,000 in the fourth quarter of last year.
As long as the cause of the declines remains in question, both sides will continue to make their case to the administration and on Capitol Hill. "This issue isn't going away, and what we're starting to see now is lobbying efforts really ramp up," Larissa Walker, the policy and campaign coordinator with the Center for Food Safety said.
The Environmental Protection Agency, which is reviewing neonics, has indicated that it views the link between pesticides and honeybee deaths as far from settled science.
A five-year scientific review of the academic literature released last month reported that pollinators are "highly vulnerable" to neonics. Environmentalists seized on the study as the latest evidence that the chemicals are killing bees.
Pesticide manufacturers, however, say that's simply not true, pointing instead to a host of other factors as likely reasons for a recent decline in native bee populations. One of those factors is the varroa mite, a parasite that preys on bees by drinking their blood.
Democratic Rep. Earl Blumenauer of Oregon has put forward legislation that would require EPA to halt use of the pesticides until a conclusive determination over the link between pesticides and bee health has been either established or disproved. The legislation has little chance of passing, but the European Union has already instituted a temporary, two-year ban on the use of the pesticides, and green groups are hoping the U.S. will do the same.
Meanwhile, bee declines continue at an alarming rate.
Starting in 2006, commercial beekeepers in the U.S. began reporting a loss of nearly one-third of their hives during the winter. Losses last winter were lower than they have been on average during the past eight years. But scientists, beekeepers, and green groups say the rate of decline remains alarmingly high.
Researchers have struggled to explain the insect epidemic, but generally cite stressors—including pesticides, parasites, poor nutrition, and genetics—as likely reasons for the decline.
Pollination is essential to the survival of crops such as apples, avocados, and lemons. Last month, the White House said bee pollination produces $15 billion worth of agricultural yields annually.
"We're at a crisis point here," said Lisa Archer, the food and technology program director for Friends of the Earth. "The question now is whether we're going to listen to the alarm bells that are going off."